How Much Is Coachella Really Costing You?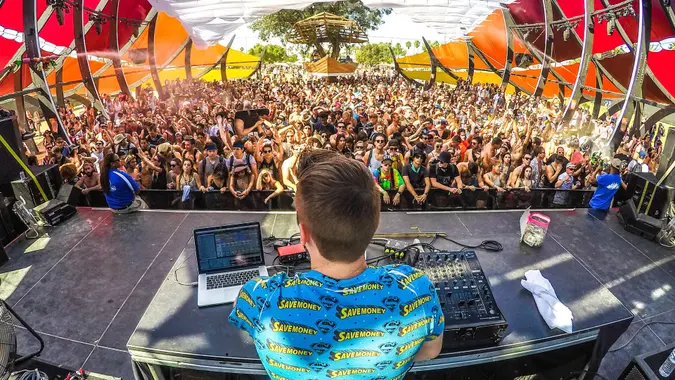 Eric Ward / Unsplash
People who love stylish crowds, dazzling celebrities and fabulous music head to the sunny California desert each year to attend Coachella for a unique experience. In 2018, the popular music and arts festival will be held during two different weekends: April 13-15 and April 20-22. The cost to attend can range from hundreds to thousands per person, depending on your budget.
Read on for how you can save money at a music festival and still enjoy yourself.
How Much Does Coachella Cost?
When considering attending Coachella, you might focus on the cost of passes, but you'll also need to plan for the cost of food, drinks and lodging while at the festival. Coachella prices for hotel stays are higher during the festival than at other times of the year due to the popularity of the event and demand for accommodations, so your lodging costs could be considerable.
You might also want to add in the cost of an outfit if you don't already have something to wear. According to InStyle, Coachella-esque outfits can range from $39 for a halter dress to $60 for a wraparound dress — or you can spend even more depending on the look you want to achieve.
Here is a basic breakdown of the different costs you'll pay to attend the festival.
Check Out: Your Cost to Witness the Most Life-Changing Festivals Around the World
How Much Are Coachella Tickets?
In 2018, general admission passes start at $429; general admission passes plus shuttle service are $504. You can also opt for a VIP pass option that includes admission plus access to the VIP areas that have extra food and drink vendors, an all-cash bar and additional restrooms for $999. And for an extra $150, you can score VIP parking.
Make Your Money Work for You
What Are the Costs of Lodging?
No matter if you choose to camp in your car or enjoy a hotel stay, a variety of accommodations are available for various budgets.
Camping: Both options are $113 per weekend. The first option allows you to camp with your car in a 10-by-30 spot; you cannot move your car during the festival. The second option offers a 10-by-15 grassy spot for tent camping. As many people that can comfortably fit are allowed in the spot, so you can split the cost of renting the campground with your group to save.
Hotels near Coachella: Various nearby hotels offer festival packages. Prices include the hotel stay, shuttle service and passes for either two or four people and start at $2,445 for two people and go up to $7,899 for four people.
Lake El Dorado teepees or tents: Teepees for two people start at $2,458, whereas tents for four people start at $3,316. Passes to Coachella are included.
Related: Luxurious Camping Options for People Who Want to Sleep in a Bed
How Much Will It Cost to Travel There?
Expenses to get to Coachella will depend on your specific arrangements. But by planning ahead, you can save on the cost of travel.
Budget between $200 to $350, depending on your location, for air travel. For example, the cost of a flight from Denver to LAX is $150 plus $70 for the shuttle from the airport, totaling $220. The cost of a flight from Atlanta is $279 plus the $70 shuttle charge, totaling $349.
Driving within a reasonable distance is a much cheaper travel option. For example, driving round-trip from Las Vegas to Coachella in a car that gets 27 mpg city and 36 mpg highway, would cost about $45.
Make Your Money Work for You
How Much Will It Cost for Food and Beverages?
The cost of food and drinks will depend on the vendors you choose or if you opt to prepare your own meals. The most expensive food option is a four-course Outstanding in the Field dinner, made by the finest chefs, which is available for $225 per person, if your budget allows.
Although Coachella 2018 food vendor prices are not publically available, those who prefer much less expensive fare will be happy to know that during Coachella 2017, vendors offered à la carte items priced from $7 to $17 each, as well as three sit-down restaurants with table service for approximately $50 per person. And, if you really want to save, a free shuttle to the local grocery store will be available for on-site campers.
Check Out: Air Travel Mistakes That Are Costing You Hundreds
Coachella on the Cheap
Budget-seekers who live within a day's drive can save big by driving to the festival grounds and car or tent camping for $113. Fuel costs for driving from San Diego in a car that averages 27 mpg city and 36 mpg highway are around $30.
Shopping at the local grocery market and making meals can also help cut costs. According to the USDA, you can prepare your own food and eat for about $11 a day — or $33 for a three-day weekend. Throw in a case of beer for $14.87 — which is the average cost in California, according to Thrillist — and the cost of the $429 pass, and you'll spend around $620, plus any souvenirs you might buy.
Make Your Money Work for You
Check Out: How to Travel the World for Practically Free
Coachella for the Average Attendee
When your budget is somewhere in between counting pennies and an ultraluxurious splurge, you can plan on flying for $220 round trip. A stay at The Days Inn would be $392 per night for two people, which would bring your cost to $196 per night, totaling $588. Budget $70 per day for food and drinks — considering à la carte items are between $7 and $17 — totaling $210; add in the cost of the $429 pass, and your total cost is $1,447 before souvenirs.
Check Out: Woodstock 50 Is Here — How Much Do the Tickets Cost?
Coachella in the Lap of Luxury
In case you're planning to travel like a millionaire, Coachella has options that will allow you to enjoy your time in the lap of luxury. Choosing a top-of-the-line hotel package, which includes event passes, is around $7,899 for four people — or $1974.75 per person. Add in one Outstanding in the Field dinner at $225 each day, totaling $675, as well as an additional $100 for restaurant food each day, totaling $300.
To enjoy Coachella in style, plan on spending at least $2,949.75 per person, plus the cost of travel, souvenirs and any other expenses.
Up Next: Backstage Passes: An Insider's Look at the Cost of Hosting a Music Festival