10 Best Ticket Apps for Sporting Events This Season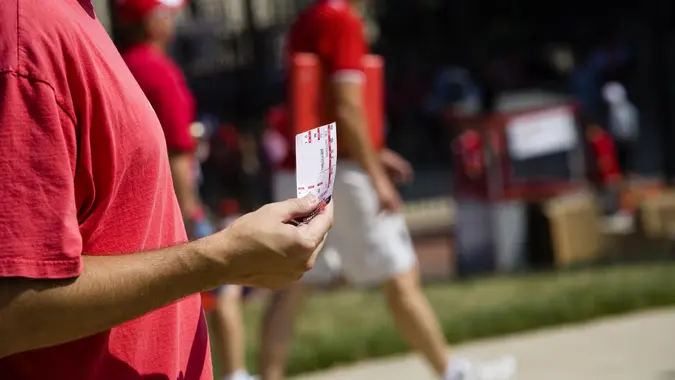 ©Shutterstock.com
Sports fans love the thrill of seeing their favorite teams play live. However, with the ever-present high demand for tickets, finding affordable and legitimate ways to buy them can be a daunting task. This guide will help you navigate the world of sports ticketing and find the best ticket sites and apps for this season.
Best Ticket Apps for Sporting Events
So, which ticket provider is best? While the answer changes based on the event and game, here are the ten best apps to get sports tickets this season.
1. StubHub
StubHub is a platform that offers a wide variety of resale tickets for many major and minor professional sports leagues. One of StubHub's features is its streamlined delivery system, which ensures buyers get their tickets by gameday. The platform also guarantees that purchased tickets are genuine, providing buyers with peace of mind.
StubHub has a range of user-friendly features to make the ticket purchasing process more transparent. The value meter recommends each transaction based on seat quality versus price, and the price alert tool helps buyers stay informed about any ticket price changes.
However, there are a couple of drawbacks. StubHub instates high transaction fees, which can be more than 15% of the ticket's sale price. And due to demand, StubHub may not always have popular tickets for less than face value. 
2. SeatGeek
SeatGeek is a meta-search engine that allows users to search hundreds of ticket resale sites for the broadest selection of tickets to concerts, sporting events and other live performances. While the platform boasts an intuitive interface and easy-to-use search feature, its prices and fees may be higher than those of its primary competitor, StubHub. Further, users have reported availability gaps in comparison to StubHub and Vivid Seats.
Make Your Money Work for You
One advantage of SeatGeek is its formal partnership with Major League Soccer, which means a stable supply of soccer tickets. The platform also has a wide selection of other professional sports tickets. However, SeatGeek cannot guarantee discounts to face value, especially when supply is limited, demand is high, or both.
3. Vivid Seats
The Vivid Seats rewards system is what sets it apart. Regular buyers can earn credit through the Vivid Seats app, making it a convenient choice for those who frequently attend sporting events or book tickets for others. With a wide selection of events available, there's bound to be something for everyone.
Vivid Seats shows mixed reviews on Trustpilot. Some users expressed concerns about not receiving tickets in ample time before an event. And while fees on Vivid Seats tickets are comparable to other sites, they can be hefty and even exceed the cost of the ticket itself. On the other hand, Vivid Seats provides a 100% buyer guarantee that ensures your tickets are valid and will be delivered in time for the event. If an event is canceled, you will be issued a refund.
4. Gametime
Gametime is an online ticket marketplace that offers last-minute tickets to various events, including concerts, sports and theater productions. So, is Gametime a legitimate option for tickets? The company prides itself on its "Gametime guarantee," which ensures that purchased tickets are not only authentic but also delivered on time.
Gametime emphasizes transparent and competitive pricing and promises to match any lower price you find elsewhere. The platform's mobile app allows you to buy tickets, send them to friends and select seats directly from your phone.
5. Ticketmaster
Ticketmaster is a long-standing and trusted platform for buying and selling sports tickets. With over 30 years in the business, it offers a wide range of full-price original tickets, as well as variably priced tickets sold by authorized resellers and private holders. Ticketmaster also verifies that all tickets sold on its platform are genuine.
Make Your Money Work for You
6. TicketNetwork
TicketNetwork operates both primary and resale marketplaces. It has a wide selection of professional and collegiate contests and seats. TicketNetwork also boasts a lower fee structure than some competitors and its customer support department is available for extended hours, making it a good option for late-night and West Coast buyers. However, the platform does not offer a bidding feature, which makes it less suitable for those looking for big discounts, and discounts are not guaranteed.
7. Craigslist
Craigslist is a popular online classified marketplace that often has an extensive selection of goods and services for sale, including tickets for professional and collegiate sporting events.
Craigslist makes it easy to keep up with the latest ticket listings by setting up email alerts. However, the platform's peer-to-peer nature and lack of vetting make it susceptible to fraudulent activity. It's advisable to deal with sellers in person, closely examine tickets for inconsistencies, and request copies of the seller's ticket receipt and state ID.
While Craigslist offers the potential for deep discounts, buyers seeking specific seats may find the selection limited and tickets for high-demand games tend to sell out quickly.
8. EBay
Another popular online marketplace that offers tickets to sporting events is eBay. Buyers can find sports tickets through auctions or fixed-price listings.
However, buyers should take precautions to protect themselves against fraud, such as asking for the seller's receipt and carefully reading the fine print before making a purchase. eBay provides a money-back guarantee for covered items, but it's still good to be cautious. Buyers seeking specific seats may be faced with limited options.
9. ScoreBig
ScoreBig is an online marketplace where you can purchase last-minute tickets for sports and other events such as concerts or plays. It's good for last-minute purchases because it provides electronic delivery for many venues. It can be a good alternative to purchasing from in-person scalpers, but, discounts are not always guaranteed.
Make Your Money Work for You
10. TicketIQ
TicketIQ is a secondary market ticket aggregator that proudly touts its "100% guarantee." This feature promises safety, protection and timeliness for any ticket bought on TicketIQ. TicketIQ offers a 100% refund guarantee on tickets for any canceled event and will replace your tickets with equal or better ones in the event of an emergency. 
Final Take
When buying tickets for a sporting event, make sure to check multiple sites and apps to compare prices. Try to take advantage of sites' low-price guarantees, and always verify their protection plans. If you're buying from sellers on sites like eBay or Craigslist, double-check ticket details, and ask for receipts to confirm their authenticity. 
FAQ
Here are the answers to some of the most frequently asked questions about ticket apps.
What app can you use to buy concert tickets?

SeatGeek can be a good option for live performance tickets. The platform's selection of concert tickets is impressive, making it a worthwhile option for those seeking live music performances.

Is there a cheaper alternative to Ticketmaster?

It's good to have a few apps and websites that work for you and to compare prices in order to try and get the best deals. Different platforms may have higher or lower prices for certain games and events.