Food Stamps: Benefit Reductions and What Else To Know About SNAP Payments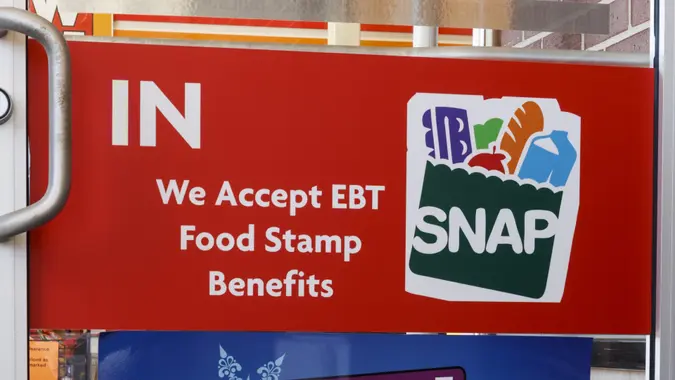 jetcityimage / iStock.com
March heralds a tough month for households that have been relying on the USDA's SNAP (supplemental nutrition assistance program) benefits program.
In March, the emergency allotment benefits that Congress established during the worst of the COVID-19 pandemic will end across the U.S. In essence, SNAP benefits will return to what they were before the pandemic began.
Learn: Surprising Things You Can Buy With Food Stamps
Good Question: What Is the Highest Income Level for Food Stamps in 2023?
Additionally, because of the recent 8.7% cost-of-living increase to Social Security benefits, SNAP benefits might decrease further for some people in both programs. While those households may see fewer SNAP benefits, the cost-of-living increase may offset that difference, depending on where recipients live.
In some states, the EA benefits already ended in January. Those states include Alaska, Arizona, Arkansas, Florida, Georgia, Idaho, Indiana, Iowa, Kentucky, Mississippi, Missouri, Montana, Nebraska, North Dakota, South Carolina (due to higher Social Security benefits), South Dakota, Tennessee and Wyoming.
The remaining 32 states; Washington, D.C.; Guam and the U.S. Virgin Islands will see an end to their EA benefits this month, and those with higher Social Security benefits also might see decreases.
Make Your Money Work for You
Food Insecurity and Poverty
According to the Center on Budget and Policy Priorities (CBPP), the end to EA benefits will translate to a loss of about $90 for the average SNAP recipient, and some families could lose up to $250 per month.
While these households may no longer be in the crises they were during the pandemic, the fact that they are receiving SNAP suggests there is an ongoing issue of food insecurity and financial hardship.
Take Our Poll: Are You Concerned the US Debt Ceiling Issue Will Endanger Social Security?
According to CBPP, the EA benefits helped prevent as many as 4.2 million people from dropping below the poverty line at the end of 2021, which reduced poverty overall by 10% and child poverty by 14% in states that offered them. These poverty reductions had the greatest impact on Black and Latino individuals.
Thus, the loss of the EA benefits may signal a return to food insecurity and a push back toward poverty for some of these households, particularly in light of skyrocketing inflation on basic necessities such as groceries and household goods. 
Make Your Money Work for You
Alternative Food Programs
The USDA does share resources for additional programs that can help SNAP recipients. Some of these include:
The National Free Lunch Program: Since 1946, NSLP, a federal meal program in public and nonprofit private schools and residential child care institutions, has filled some of the food gaps. The program offers low-cost or free lunches to children every day they are at school. 
The Child and Adult Care Food Program: CACFP reimburses the cost of meals and snacks to eligible children and adults enrolled at participating child care centers, daycare homes and adult daycare centers. CACFP also will reimburse meals served to children and youth who are enrolled in afterschool care programs or living in emergency shelters and to adults over 60 or living with disabilities and enrolled in daycare facilities. 
The Commodity Supplemental Food Program: CSFP helps supplement the diets of low-income people who are at least 60 years old. USDA hands out both food and administrative funds to participating states and Indian Tribal Organizations.
The Food Distribution Program on Indian Reservations: FDPIR provides USDA foods to income-eligible households living on reservations and to Native American households residing in designated areas near reservations or in Oklahoma. USDA distributes both food and administrative funds to participating Indian Tribal Organizations and state agencies to operate FDPIR.
Make Your Money Work for You
More From GOBankingRates
Make Your Money Work for You