New Food Stamps Requirements Coming? Supporters Say 'People Who Can Work Should Work'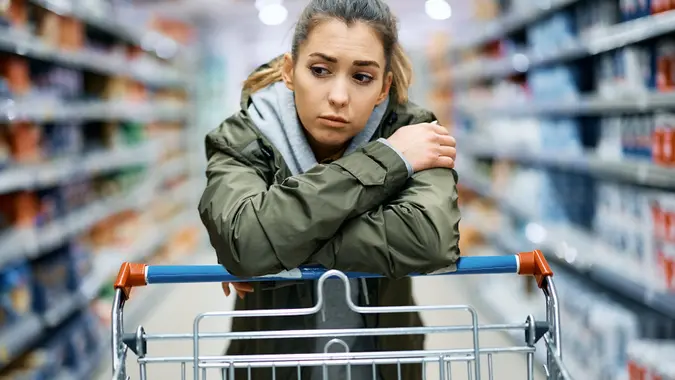 Drazen Zigic / iStock.com
The battle over food stamp reform was ratcheted up a notch on Tuesday, March 14, when nearly two dozen Republican lawmakers introduced a bill that would change eligibility requirements for the program.
The bill, whose lead sponsor is U.S. Rep. Dusty Johnson (R-S.D.), proposes to implement stricter work requirements for able-bodied adults without children, USA Today reported. A total of 23 Republicans co-sponsored the bill, called the America Works Act. Among its proposals are the following:
Raise the maximum age for work requirements from 49 to 65

Limit a state's ability to waive work requirements

Emphasize work requirements for able-bodied adults without children
Food stamps, formally known as Supplemental Nutrition Assistance Program (SNAP) benefits, provide food purchasing assistance to qualifying low-income households. SNAP is overseen by the U.S. Department of Agriculture and administered at the state level.
As USA Today noted, the proposed bill is likely to set up a showdown between Republicans and Democrats as they negotiate the farm bill later this year. The farm bill is the country's largest agricultural and food policy omnibus and is negotiated every five years.
Although the America Works Act might have a chance of making it through the GOP-controlled House, it remains to be seen whether it will pass the Senate, where Democrats hold a narrow advantage.
Johnson, a member of the House Agriculture Committee, relied on food stamps as a child. Following his re-election in Nov. 2022, Johnson discussed his intentions to change SNAP work requirements, National Review reported.
Make Your Money Work for You
"Work is an opportunity. It's not a punishment," Johnson told supporters on Election Day in Sioux Falls, South Dakota. "There is no recipe for escaping poverty that doesn't have work as a requirement."
Supporters say that this bill is vital to reducing cycles of poverty while saving taxpayers money, Politico noted, and it's the first of many expected efforts to set a limit on SNAP by the GOP. House Democrats have not announced their response to the bill and have raised concerns about whether they can withstand blasts to the program during negotiations over the debt limit, budget and 2023 farm bill.
During the pandemic, expanded SNAP benefits provided much-needed relief to struggling families. The allotments boosted monthly SNAP payments by $95. Many were also given a 15% increase that increased the average monthly benefit per person to more than $240, as previously reported by GOBankingRates. SNAP emergency allotments expired on March 1 nationwide.
Vance Cariaga contributed to the reporting of this article.
More From GOBankingRates