If Your SNAP EBT Money Is Skimmed, Take These Steps To Reclaim Food Stamps (and Cross Your Fingers)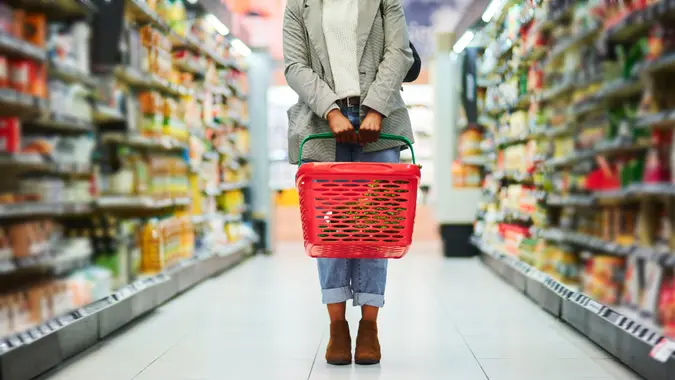 Adene Sanchez / Getty Images
EBT card skimming is on the rise — a common scam where fraudsters place a device on a retailer's point-of-sale machine to copy EBT card information. Card skimmers look like a normal part of the machine, making them difficult to spot.
All over the country, millions of dollars worth of SNAP benefits have been stolen using this tactic, GCN reported. Unfortunately, because EBT cards don't have the same protections as credit or debit cards, state Supplemental Nutrition Assistance Program (food stamp) agencies are providing no help or reimbursement for victims.
On a related note, TikTok user Trinity Kirkland (@trinitykirkland) recently posted a video indicating she went to buy groceries after her EBT card was refilled, only to discover that someone had almost wiped out her account, The Daily Dot reported. Kirkland said she was supposed to have $900 for the month to feed her three children who have sensory disabilities, but now only has $3 to last the month.
Kirkland contacted the Washington State Department of Social and Health Services (DSHS) for assistance. The agency told her that her EBT card was skimmed and there was nothing that they could do besides report the incident to the fraud department.
Make Your Money Work for You
However, the federal government may soon be stepping in to provide victims some relief, GCN added. President Biden's $1.7 trillion federal omnibus spending bill requires states to replace EBT card benefits stolen after Oct. 1, 2022, through September 2024.
A spokesperson from the U.S. Department of Agriculture told MarketWatch that the USDA's Food and Nutrition Service division has received submissions of state plans for reimbursement of stolen EBT benefits from all state and territory SNAP agencies.
Take Our Poll: What Do You Plan To Use Your Tax Refund For?
The USDA urged SNAP recipients to take steps to help prevent card skimming:
Keep your PIN secret: Don't share your EBT card PIN with anyone outside of the household. After you swipe your card, cover the machine when you enter your four-digit PIN.
Check your account regularly: Log into your account on a regular basis to check for any unauthorized activity.
Check card reading machines: Before putting your card in a machine, look for any suspicious overlay or attachment on the card swiper or keypad.
Make Your Money Work for You
More From GOBankingRates