Food Stamps: North Carolina SNAP Benefits Send on These Dates in March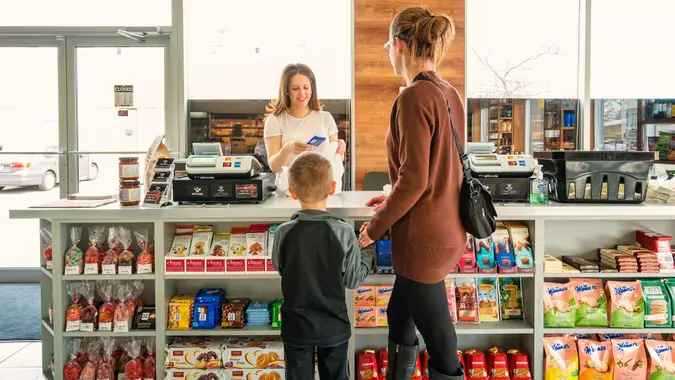 benedek / iStock.com
The North Carolina Supplemental Nutrition Assistance Program (SNAP), previously called food stamps, distributes benefits according to the same schedule every month. The next round of SNAP benefits goes out between March 3rd and the 21st, depending on the last digit of your Social Security number.
See: How Ending Enhanced SNAP Could Hurt Walmart, Dollar Stores
More: 3 Signs You're Serious About Raising Your Credit Score
SNAP is a federal program that provides monthly nutrition benefits to low-income households. North Carolina's SNAP program — which is referred to as Food and Nutrition Services (FNS) — is administered by the N.C. Department of Health and Human Services (NCDHSS). SNAP benefits are deposited into North Carolina Electronic Benefit Transfer (EBT) cards, which work similarly to a debit card.
The NCDHSS determines FNS eligibility by looking at your household size and income. You can apply online through the ePASS portal or in person at your county Department of Social Services (DSS) office, or you can fill out a paper application and mail, fax or drop it off at your county DSS office.
SNAP/FNS benefits are deposited on the same day each month, between the 3rd and the 21st, depending on the last digit in your Social Security number. If you don't have a Social Security number, then benefits are paid out on the third of each month. Here is the March 2023 SNAP/FNS payment schedule in North Carolina:
Make Your Money Work for You
| | |
| --- | --- |
| If your SSN ends in: | Benefits available after 6 a.m. on: |
| 1 | March 3rd |
| 2 | March 5th |
| 3 | March 7th |
| 4 | March 9th |
| 5 | March 11th |
| 6 | March 13th |
| 7 | March 15th |
| 8 | March 17th |
| 9 | March 19th |
| 0 | March 21st |
FNS recipients can use their EBT card at any grocery store and USDA-authorized retailer. To find out where to use your SNAP benefits, visit the USDA's SNAP Retailer Locator to search for the nearest locations.
You can also use your SNAP EBT card at participating farmers' markets. The USDA's Food Nutrition Service (FNS) provides a monthly list of the names and locations of markets nationwide that are currently authorized to accept SNAP benefits. The Double Up Food Bucks program in Western North Carolina matches SNAP/FNS benefits dollar for dollar when you use your EBT card at participating markets. 
SNAP benefits can be used to purchase the following food items:
Fruits and vegetables
Meat, poultry and fish
Dairy products
Breads and cereals
Snack foods and non-alcoholic beverages
Seeds and plants that produce food for the household to eat
The USDA prohibits the purchase of alcoholic beverages, tobacco products, vitamins, medicines, supplements, live animals and other nonfood items using your EBT card. North Carolina doesn't participate in the Restaurant Meals Program, so you can't use SNAP to purchase hot meals.
Take Our Poll: Are You Concerned the US Debt Ceiling Issue Will Endanger Social Security?
Make Your Money Work for You
Your EBT card includes additional perks, like discounts on certain products and services. For example, SNAP recipients can sign up for an Amazon Prime EBT discounted subscription for almost 50% off, and free or low-cost landline or cell phone service is available through the federal Lifeline program. You can also get free or discounted admission to hundreds of museums, aquariums and zoos nationwide by presenting your EBT card. You can bring up to four (and sometimes more) visitors with your EBT card, but make sure to check the museum's policy before visiting.
More From GOBankingRates
Make Your Money Work for You