SNAP Schedule: When Ohio Direction Card Benefits Are Sent in February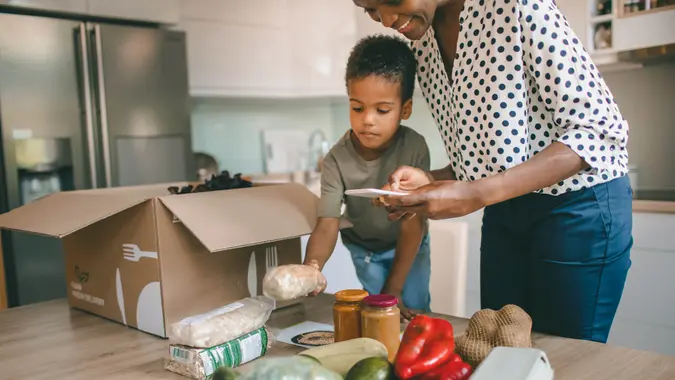 vgajic / Getty Images
Ohio residents who qualify for food stamps, now known as Supplemental Nutrition Assistant Program (SNAP) benefits, receive their payments according to the same schedule every month, based on the last digit of their case number.
See: What Is the Highest Income Level for Food Stamps in 2023?
Find: 3 Ways Smart People Save Money When Filing Their Taxes
Food Stamps in Peril? Record SNAP Costs in 2022 Put Program in Debt Ceiling Crosshairs
SNAP is a federal program that provides nutrition benefits to low-income households. Although it is part of the U.S. Department of Agriculture, the program is administered by the Ohio Department of Jobs and Family Services (DJFS). 
Eligibility for food assistance in Ohio depends on household size and income. You can apply for SNAP benefits online at Benefits.Ohio.gov or submit a completed paper application to your county SNAP office. You can also file a SNAP application through your local Ohio Benefit Bank website.
Once approved for SNAP, benefits are deposited monthly into SNAP accounts linked to your Ohio Direction Card, Ohio's version of electronic benefits transfer (EBT) cards. This card works just like a debit card and can be swiped at the register in stores or used online.
Make Your Money Work for You
Your Direction Card can be used for discounts on certain products and services. Ohio SNAP recipients can sign up for an Amazon Prime EBT discounted subscription for $6.99 per month, which is about 50% off. Your EBT card can also be used for free or discounted admission to hundreds of museums, aquariums and zoos in Ohio and nationwide. If you need help with your phone service bill, the federal Lifeline program provides free or low-cost landline or cell phone service.
Benefits are deposited onto Ohio Direction Cards between the 2nd and the 20th of every month, based on the last digit of your case number. Here is the Ohio SNAP deposit schedule for February 2023:
| | |
| --- | --- |
| Case number ends in: | Benefits available: |
| 0 | Feb. 2nd |
| 1 | Feb. 4th |
| 2 | Feb. 6th |
| 3 | Feb. 8th |
| 4 | Feb. 10th |
| 5 | Feb. 12th |
| 6 | Feb. 14th |
| 7 | Feb. 16th |
| 8 | Feb. 18th |
| 9 | Feb. 20th |
Direction Cards can be used anywhere you see the Ohio Direction Card sticker, including most grocery stores and some retailers. You can also use your EBT card at farmers' markets to purchase fresh produce. Ohio SNAP customers can receive up to $25 per visit in free fruits and vegetables through Produce Perks. This program matches SNAP benefits dollar-for-dollar. For example, if you spend $25 on tokens at a participating market, you'll receive an additional $25 worth of tokens.
Make Your Money Work for You
Take Our Poll: Are You In Favor of More Inflation Relief in 2023?
Expert Tips: How To Pay Half of What Everyone Else Pays on Groceries
SNAP recipients can use their Direction Cards to purchase these food items:
Fruits and vegetables
Meat, poultry and fish
Dairy products
Breads and cereals
Snack foods and non-alcoholic beverages
Seeds and plants that produce food for the household to eat
Among the items you can't buy with SNAP benefits are alcoholic beverages, tobacco products, vitamins, medicines, supplements, live animals and other non-food items.
More From GOBankingRates
Make Your Money Work for You