Proposed SNAP Bill Would Increase Food Stamp Funding by $3.5 Billion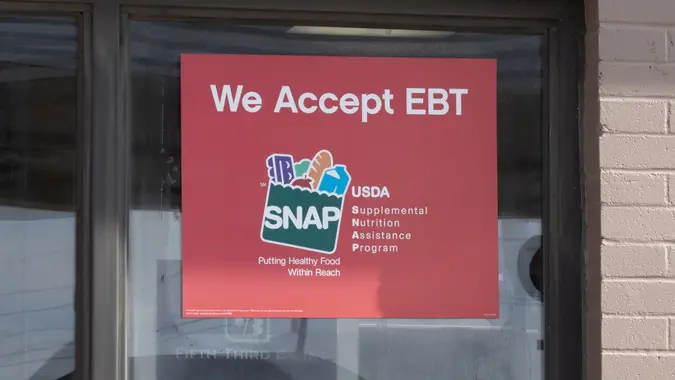 jetcityimage / iStock.com
A leading consumer advocacy group has issued its support for a piece of Congressional legislation that aims to bolster the Supplemental Nutrition Assistance Program (SNAP) by increasing federal funding and improving access to healthier foods for SNAP recipients.
In a June 16 statement, the Center for Science in the Public Interest (CSPI) backed the "Opt for Health with SNAP Act of 2023," or "OH SNAP" for short. According to the CSPI, the bill would strengthen the U.S. government's Gus Schumacher Nutrition Incentive Program (GusNIP) by boosting funding to $3.5 billion over five years and eliminating the state matching requirement. 
"Few Americans consume the recommended amount of fruits and vegetables, and for shoppers utilizing SNAP, cost remains a significant barrier," CSPI President Dr. Peter G. Lurie said in the statement. "GusNIP improves access to fruits and vegetables for shoppers utilizing SNAP by providing a financial incentive. GusNIP nutrition incentives have a proven track record of increasing fruit and vegetable intake."
SNAP, formerly known as food stamps, is a food purchasing assistance program for low-income households that is overseen by the U.S. Department of Agriculture and administered at the state level.
The Gus Schumacher Nutrition Incentive Program, first authorized in 2018, allows the Secretary of Agriculture to fund projects that incentivize low-income consumers to buy more fruits and vegetables, according to the USDA. GusNIP grants are designed to help improve the health and nutrition status of participating households, facilitate growth in states with low participation, and aggregate data to "identify and improve best practices on a broad scale."
Make Your Money Work for You
But as Lurie noted, GusNIP benefits "aren't equitably distributed" to everyone using SNAP. He claims that if all SNAP households received fruit and vegetable incentives, GusNIP funding would be $5.3 billion a year instead of the $21 million currently allocated for it.
"Furthermore, there are barriers for states wanting to apply for GusNIP funding, such as requiring states to provide a one-to-one match for GusNIP funds," Lurie said. "Burdensome grant-match requirements leave SNAP shoppers without access to the GusNIP nutrition incentives, and the funds provided by this bill would alleviate the amount of funds that states have to pay for the incentives."
Lawmakers backing the OH SNAP bill include Sen. Cory Booker (D-N.J.) and Rep. Lisa Blunt Rochester (D-Del.). The CSPI wants Congress to include OH SNAP in the 2023 Farm Bill.  
The OH SNAP bill has already gained support from some pretty heavy hitters in the health and nutrition field. A June 15 press release from Booker's office listed endorsements from 49 organizations, including the American Heart Association, Center for Law and Social Policy, National Grocers Association, Save the Children and the Union of Concerned Scientists.
Take Our Poll: Are You Expecting an Inheritance?

Support for the bill comes during a challenging period for SNAP beneficiaries. Earlier this year, the program saw the end of COVID-era emergency benefits for eligible recipients. More recently, the debt-ceiling bill signed by President Joe Biden includes stricter work requirements for SNAP recipients — a move that some anti-hunger advocates say could put as many as 750,000 adults aged 50-54 at risk of losing food assistance.
Make Your Money Work for You
More From GOBankingRates