SNAP Reform: What's Needed To Cull Food Insecurity Affecting 1 in 10 Households — and Roadblocks Ahead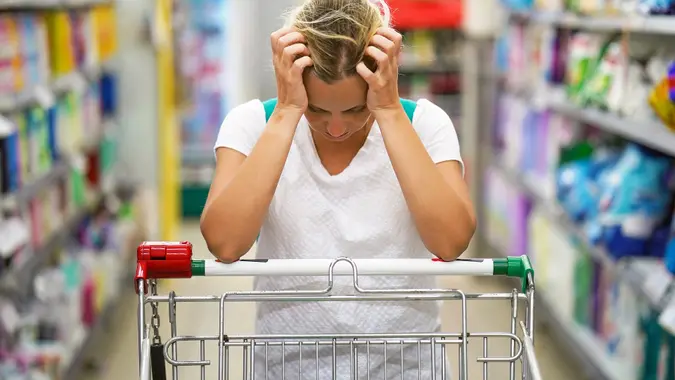 Igor Vershinsky / iStock.com
By almost any measure, a rising number of Americans are vulnerable to food insecurity. That's partly because emergency food stamp allotments approved during the beginning of the COVID-19 pandemic ended nationwide on March 1, reducing monthly payments for many recipients by $95 or more.
The end of emergency food stamps — formally known as Supplemental Nutrition Assistance Program (SNAP) benefits — coincides with a couple of other trends that do not bode well for low-income households.
One of those trends is high prices. Average annual food-at-home prices were 11.4% percent higher in 2022 than in 2021, according to the U.S. Department of Agriculture. To put that figure in context, the 20-year historical level of retail food price inflation is 2% percent per year.
In 2022, prices for all food categories increased faster than their historical averages from 2002 through 2021. Prices for nine food categories increased by more than 10% in 2022 — including egg prices, which skyrocketed by nearly one-third.
Food inflation came at a particularly bad time for low-income households. In 2021, U.S. consumers spent an average of 10.3% of their disposable personal income on food, according to the USDA. But for the lowest-income households, that figure was nearly three times as high at 30.6%, Vox reported. For the second-lowest income bracket, it was 15%. Last year's soaring inflation rate likely pushed those percentages even higher.
At the same time, many COVID-era government assistance programs have ended, including stimulus checks and expanded Child Tax Care credits. These developments have also increased the threat of food security.
Make Your Money Work for You
Fixing the issue has proven problematic because of deep partisan divisions over how best to proceed. As previously reported by GOBankingRates, some Congressional Republicans want to reduce SNAP spending by imposing stricter work requirements on recipients — a policy opposed by many Democrats, who want to expand the program. This division could lead to infighting when the farm bill is negotiated later this year. That bill, negotiated every five years, is the nation's largest agricultural and food policy omnibus.
As Vox reported, the easiest fix for food security among low-income households is to expand SNAP to include more people and provide bigger benefits, at least until food prices moderate again. But that seems increasingly unlikely.
If Congress doesn't come up with national SNAP reform, individual states will have to pass reforms of their own. This has already happened in New Jersey, which recently passed a bill ensuring that every SNAP household in the state would receive at least $95 in monthly benefits starting on March 1, 2023 — a $45 increase over the previous state minimum benefit of $50.
In terms of broader initiatives to address food insecurity, a 2020 report from the Food Research & Action Center recommended scaling up and strengthening the following programs in addition to SNAP:
School Breakfast Program,
National School Lunch Program
Afterschool Nutrition Programs
Summer Nutrition Program
Child and Adult Care Food Program (CACFP)
Special Supplemental Nutrition Program for Women, Infants, and Children (WIC)
Older Adult Nutrition Programs
Commodity Assistance
Food Distribution Program on Indian Reservations (FDPIR)
Make Your Money Work for You
The wild card is whether enough lawmakers are willing to take the necessary steps to reduce food insecurity.
"It's not as if this is an issue where we don't know what to do," Ellen Vollinger, SNAP director for the Food Research & Action Center, told Vox. "There are strategies that are pretty clear and workable and doable, if there's the political will to do them."
More From GOBankingRates