What Is the Highest Income Level for SNAP Payments in July 2023?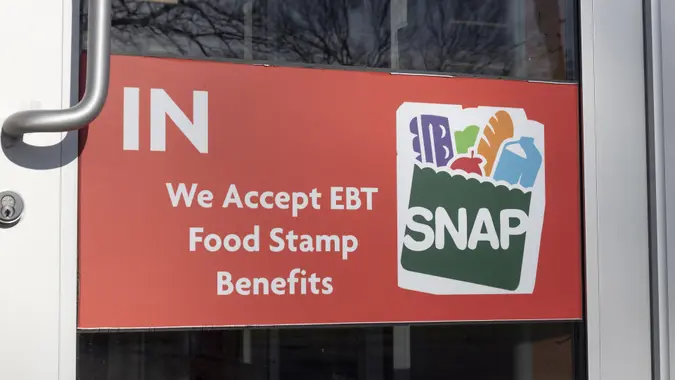 jetcityimage / iStock.com
The Supplemental Nutrition Assistance Program (SNAP), formerly known as the Food Stamp Program, is a vital government assistance program in the United States that provides eligible low-income individuals and families with funds to purchase food.
SNAP is administered by the United States Department of Agriculture (USDA) and plays a crucial role in combating food insecurity and promoting better nutrition among vulnerable populations. It can sometimes be confusing to know whether or not you qualify for SNAP, so GOBankingRates did some digging to figure out how to get and use snap and whether or not it's a fit for you.
How To Use SNAP
SNAP operates by providing eligible participants with an Electronic Benefit Transfer (EBT) card, which functions like a debit card, allowing them to purchase food items at authorized retailers, including grocery stores, supermarkets and farmers markets. This EBT card is loaded with the individual or household's monthly SNAP benefits, and it can be used to make purchases by swiping it at a point-of-sale machine, just like a regular debit or credit card.
Who Is Eligible for SNAP?
To qualify for SNAP benefits, individuals and households must meet certain criteria, including income limits, resource limits and specific citizenship and residency requirements. While eligibility criteria may vary slightly from state to state, the fundamental guidelines remain consistent nationwide. As far as the USDA is concerned, everyone who lives together and purchases food together is considered one SNAP household. 
Make Your Money Work for You
1. Income Limits
The income limits for SNAP are primarily based on the federal poverty level. However, states have some flexibility to adjust the limits within certain federal guidelines. The highest income level for SNAP payments is determined by the maximum gross and net income limits set by the USDA. Gross income refers to income before deductions, while net income is calculated after certain deductions, such as housing and childcare expenses. 
The current income eligibility limits listed below apply to households in the 48 contiguous states and the District of Columbia. SNAP gross and net income limits are higher in Alaska and Hawaii, so if you live in those states, contact your local SNAP administrator.
| | | |
| --- | --- | --- |
| Household size | Gross monthly income | Net monthly income |
| 1 | $1,473 | $1,133 |
| 2 | $1,984 | $1,526 |
| 3 | $2,495 | $1,920 |
| 4 | $3,007 | $2,313 |
| 5 | $3,518 | $2,706 |
| 6 | $4,029 | $3,100 |
| 7 | $4,541 | $3,493 |
| 8 | $5,052 | $3,886 |
| Each additional member | +$512 | +$394 |
2. Resource Limits
SNAP also takes into account the value of certain resources, such as bank accounts and vehicles. However, not all resources are counted toward eligibility. Generally, households must have resources below a specified threshold, although some assets, such as a primary residence and personal belongings, are typically excluded from consideration.
3. Citizenship and Residency Requirements
SNAP is available to U.S. citizens, certain qualified non-citizens and lawful permanent residents who meet specific criteria. Additionally, applicants must reside in the state where they are applying.
Some specific groups, such as elderly individuals, people with disabilities and households with dependent children, may have modified eligibility criteria and resource limits.
How Much Can You Get Each Month?
Once an individual or household meets the eligibility requirements, their monthly SNAP benefit amount is determined based on factors such as income, household size and allowable deductions. The USDA provides detailed guidelines and calculators for estimating benefit amounts on their official website.
Make Your Money Work for You
More From GOBankingRates