6 Best Home Delivery Services for 2022 — For Your Health and Your Wallet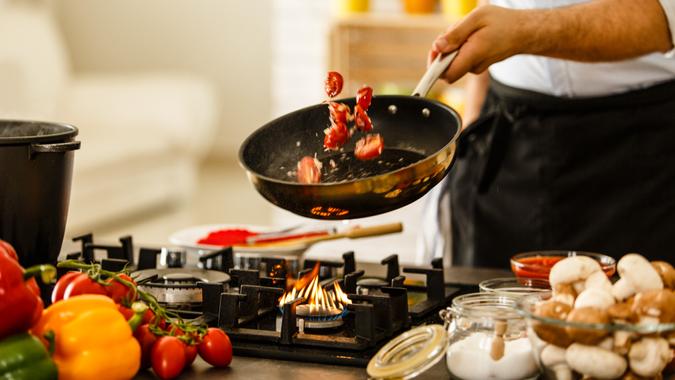 fotostorm / Getty Images/iStockphoto
After a season of holiday cheer and plenty of treats and eats, you may be ready to start eating healthier. Or maybe grabbing something quick to go or eating snack foods from your pantry because you forgot to pick up groceries again are habits you don't want to keep repeating. While making shopping lists and visiting your local grocery store (or picking up curbside) can help you meet your goal of eating healthier, there's another option — meal home delivery services. All you have to do is order and pay for meals that fit in with your lifestyle, and they'll arrive at your doorstep. Unfortunately, when it comes to meal home delivery services, there are a dizzying array of options.
Save More: Shopping Mistakes You're Making and How To Stop
Online Shopping: 23 Secret Ways To Save Money on Amazon
To help you sort it all out, here are the five best meal home delivery services that will benefit your health and your wallet in 2022.
Sunbasket
Sunbasket believes eating healthy should taste good. To that end, the service offers two options — Meal Kits that require 15 to 40 minutes to prepare the meal with the premeasured ingredients and recipes provided and Fresh & Ready meals that only need as little as four minutes in the microwave, which are great if you're short on time. The service offers both meal kit and meal options for any kind of lifestyle, including paleo, keto, pescatarian, vegetarian, Mediterranean and gluten-free — plus, you're free to mix and match. Fresh & Ready dinners start at $9.99 per serving, and Meal Kits start at $11.49 per serving. There's no commitment, and you can skip or cancel anytime. Additionally, Sunbasket offers a 100% mouthwatering guarantee or your money back.
Make Your Money Work for You
See: Costly Mistakes People Make While Grocery Shopping
Home Chef
Home Chef prides itself on having a variety of options to fit the way you want to eat, no matter if you're carb-conscious, calorie-conscious, vegetarian or wanting to double-up on protein. Home Chef's meal kits start at a very reasonable $6.99 per serving and include various options, such as meal kits, 15-minute meal kits, oven-ready meal kits, grill-ready meal kits, premium culinary collection meal kits and Fast & Fresh microwave meals. Plus, the service offers over 30 weekly choices when you use its Customize It feature, so you won't have to worry about being bored with the selections. And if you want to skip a delivery date, you can.
EveryPlate
EveryPlate is a bit more affordable than many meal services, with meals starting at $4.99 per serving because it uses less packaging and simple ingredients. You can choose between ClassicPlate, which features meat, seafood and veggie options; VeggiePlate, which features veggie-only options; FamilyPlate, which is focused on family-friendly, kid-approved options; and EasyPlate, which offers 30-minutes or less prep to cleanup options. You can skip your order when you want and cancel any time — there's no commitment.
Make Your Money Work for You
Budgeting: 19 Money-Saving Secrets Target Doesn't Want You To Know
Daily Harvest
Daily Harvest builds its menu around organic whole fruits and vegetables, so if you're a meat-eater, this one probably isn't for you. You can select from various, healthy options including smoothies, harvest bowls, forager bowls, flatbreads, soups, oat bowls and chia bowls. Prices vary depending on your selection. For example, harvest bowls are $8.99 each; forager bowls are $5.99 each and soups are $7.99 each. The meals are frozen before shipping and can be ready within minutes of arriving at your doorstep. Plus, you can skip, pause or cancel your Daily Harvest order at any time.
Fresh N Lean
If meal kits aren't for you and you just want healthy convenience, Fresh N Lean has you covered with its fresh, ready-made, healthy selections. Meals start at $7.93 per meal, and the ingredients are organic, free-range and cage-free. All meals are gluten-free, and the service features two unique vegan meal plans in addition to the following plans: Keto, Protein + and Whole30 Approved. Meals arrive fresh and are ready to eat after three minutes in the microwave. The service honors order modification and cancellation requests for the following week if you submit them by 12 p.m. the Saturday before.
Make Your Money Work for You
Shopping: The 37 Mistakes We Make When Shopping at Costco, Amazon, Target and Walmart
Freshly
Freshly offers subscribers the option of ordering four to 12 meals per week starting at $11.79 per meal. However, the more meals you order, the less you'll pay per item. Meals can be as little as $8.99 per meal. The service offers gluten-free, dairy-free, low-calorie and plant-based meal options to fit your lifestyle. Plus, you can pick a delivery day that's most convenient for you and you can skip or cancel a week at any time.
More From GOBankingRates
Make Your Money Work for You