10 Best Free Workout Apps for 2022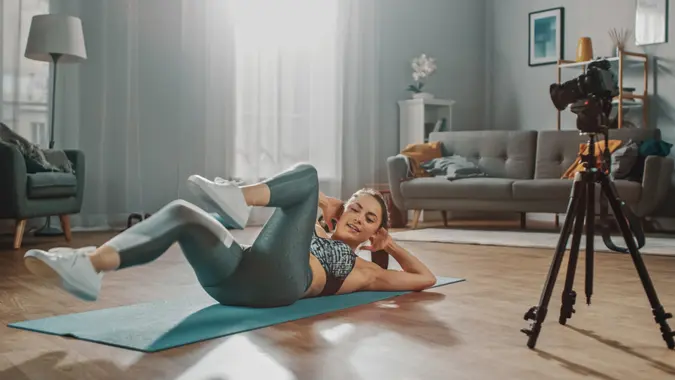 Gorodenkoff / Shutterstock.com
Over the past few years, people's everyday lives have changed, no longer needing to leave the house to run errands or buy essentials. If you can buy groceries, restaurant meals and everything else online and have them delivered, why can't fitness routines be ordered the same way?
Thanks to a bevy of apps, you can do any number of terrific workouts at home in 2022. Whether you're interested in getting in shape to reach a fitness goal or your doctor has advised you to lose a few pounds, you might be looking for convenient and cost-effective workouts. No matter what kind of workout you prefer, it's likely there's a great fitness app to suit your needs. For free.
Fitness apps can help you by tracking your goals and progress, giving you a range of types of exercise programs and making it easy to work out just about anywhere. Review these 10 apps to identify the ones that might fit your lifestyle and fitness goals. Whether you're looking for exercise apps to get in shape, stay in shape or an app to help you lose weight, there's something for everyone.
Read on to learn more about 10 of the best free fitness apps of 2022.
Make Your Money Work for You
Top 10 Best Free Workout Apps
You can replace even a cheap gym membership with a variety of fitness apps and save hundreds of dollars a year. You can find apps that focus on a particular exercise style or a personal trainer app that can help you reach your fitness goals. Here are the 10 best fitness apps to replace your gym membership.
1. ASICS Runkeeper
Available on iOS and Android
Free, with in-app purchases
ASICS Runkeeper is one of the best workout apps available for runners. The fitness tracker app gets you out of the gym and into the great outdoors, as it keeps track of your workouts and motivates you to tackle your runs. When you're ready to invest in your health and need an app to suggest workouts or provide a training schedule, this is a good choice. It tracks your run times so you can see how you're improving over time, giving you a simple way to set and reach your goals.
2. Daily Ab Workout
Available on iOS and Android
Free
The Daily Ab Workout is part of the Daily Workouts app family, which offers a variety of targeted workout apps that you can follow daily. To get the abs you want, choose one of two programs — either five or 10 minutes long — the Daily Ab Workout offers. For doing short workouts wherever you are, these options will come in handy. Full-body workouts that last 10 to 30 minutes also are available.
3. FitOn
Available on iOS and Android
Free, with in-app purchases
Make Your Money Work for You
FitOn is ideal for people who want their workout to target all body areas. Celebrity trainers such as Jonathan Van Ness, Julianne Hough and Gabrielle Union lead you through cardio, strength, HIIT, toning, yoga, guided meditations and stretching workouts, all with no equipment required.
4. 5K Runner
Available on iOS and Android
Free, with in-app purchases
While 5K is in the title, this app is geared to more than just people striving to prepare for a 5K race. Indeed, it's ideal for beginners who spend more time on the couch than in running shoes. The audio coach gives the users progressively more difficult workouts that instruct when to walk and when to run, all to build stamina and fitness — and even preparing those who want to for a 5K at the end of eight weeks' training.
5. 5 Minute Yoga
Available on iOS and Android
Free, with in-app purchases
5 Minute Yoga is a free yoga app, and it's especially beneficial for new followers of the activity who want to try it without a huge commitment in time or money. Experienced followers will also enjoy the short break to their day. Workouts change by the day, and they consist of five one-minute poses. If you're looking for longer workouts, they are available for a fee.
6. Home Workout – No Equipment
Available on iOS and Android
Free, with in-app purchases
Make Your Money Work for You
Home Workout – No Equipment is designed specifically for people who want to work out at home instead of at the gym. The strength training and body-building workouts enable you to use your own body weight to help you get fit. You can set up customized reminders to track your progress and access animations and videos to help you do the exercises correctly.
7. JEFIT
Available on iOS and Android
Free, with in-app purchases
If analytics and statistics are your thing, give JEFIT a try. Designed for strength training and bodybuilders, you have access to exercises and workout plans — and then the app will show you how you're progressing on your goals.
8. Keelo
Available on iOS and Android
Free, with in-app purchases
The Keelo app is a good option if you're interested in high-intensity workouts that include strength training. The workouts change from day to day, which can help prevent exercise fatigue and keep you motivated. You can also track the parts of your body that you've exercised, track reps and measure improvement over time. All options allow you to work out with minimal equipment so you don't need to worry about making it to the gym.
Make Your Money Work for You
9. Map My Fitness App
Available on iOS and Android
Free, with in-app purchases
Among the health apps on the market, Map My Fitness ranks high. There are over 800 exercises to choose from. It focuses on getting you out of the gym and enjoying time outside and enables you to map the routes you want to take. It also tracks your stats — including times and calories burned — so you can see your progress. You can set goals and share running routes with this app, too.
10. Sworkit
Available on iOS and Android
Free, with in-app purchases
Sworkit is a free workout app designed to help people exercise without the gym. You can complete its guided workouts anywhere and choose a routine that lasts anywhere from five minutes to an hour. Use the workout plans to help you reach your fitness goals based on your schedule. There's also a whole library of workouts dedicated to fitness for the kids; it's 100% free and you don't need a subscription to access this feature. Children under 18 will need approval from an adult before beginning.
Make Your Money Work for You
Jami Farkas contributed to the reporting for this article.
Make Your Money Work for You