What Is Ancillary Insurance?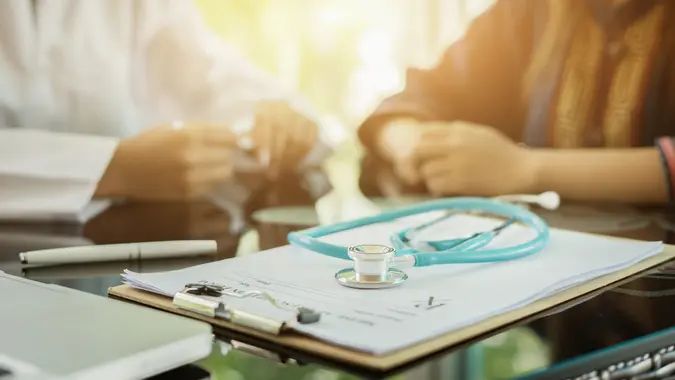 Asawin_Klabma / Getty Images/iStockphoto
Ancillary insurance is a subtype of health coverage, complementing major medical insurance. It covers expenses that may not be included in a primary health insurance plan, such as vision and dental for adults, disability coverage, prescription drugs and more. For example, if major medical doesn't cover prescription drugs, an ancillary policy probably would.
How Does Ancillary Insurance Work?
Most ancillary insurance benefits aren't separate from primary coverage. For instance, someone may have ambulance transportation covered as an ancillary benefit as long as they have current primary medical coverage, too.
Ancillary health insurance policies can vary in their coverages and provisions. As with any insurance, it's important to read the policy carefully and understand what is and is not covered, such as ancillary benefits allowing a health savings account to offset dental care expenses with pre-tax dollars.
Ancillary insurance does not have to be an "all or nothing" deal, either. Depending on care needs, employees may find buying "a la carte" more cost-effective, especially if employers are not participating in the contributions.
Types of Ancillary Benefits
There are a variety of ancillary benefits including, but not limited to:
Vision and dental for adults
Chiropractic services
Ambulance transportation
Home health services
Durable medical equipment (e.g., wheelchairs and prostheses)
Disability insurance
Life insurance
Hearing
Employer-Contributory vs. Voluntary
Some plans are employer-contributive — employers can contribute to premiums between 50% to 100% and are usually processed through employee payroll deductions. But with voluntary plans, employees pay a larger percentage or the entire amount.
Benefit-cost is the deciding factor on which plan to offer. Employer-contributory ancillary benefits are often more expensive but may end up being the most cost-effective in the long run for large businesses with many employees.
Make Your Money Work for You
Employers may opt to offer both types of ancillary coverage, so employees can choose the plan that works best for them.
Why Should Employers Provide Ancillary Insurance?
There are plenty of reasons why employers should provide ancillary insurance, and they center on easing employee financial stress and boosting worker productivity.
Early Detection of Health Issues
Ancillary benefits can help detect major health problems before they start. For example, vision care benefits may include routine eye exams, which can help identify potential vision problems in early-onset. Furthermore, employers will save on healthcare costs and reduce the loss of employee productivity when chronic conditions can be detected early.
Workforce Investment
Ancillary benefits can also attract and retain employees. Many employers realize that ancillary benefits are a "win-win" for themselves and their employees. Employers can set themselves apart from their competitors by offering benefits not typically available in a competitive job market.  
Most employees are more likely to stay with their employers because of good benefits packages. In addition, when employees can maintain their health and well-being, they're likely to remain productive at work.
Peace of Mind
Employees can rest assured knowing their ancillary benefits will cover unexpected health issues and the necessary care along with it. Some might find ancillary insurance especially important if they do not have major medical insurance.
Health Status Management
Ancillary benefits can also help employers manage a workforce's health status. With these preventive measures to maintain employee healthcare, major medical expenses may be lower and less frequent, benefiting the bottom line.
Good To Know

Choosing among healthcare plans depends on one's care needs. Different plans have different tiers of coverage — and likewise different out-of-pocket costs. Ancillary policies work the same way. Typically, ancillary policies vary in price and are less expensive than major medical plans. But, depending on the tier level, they can have more limitations in coverage, too. 
Make Your Money Work for You
What Is an Ancillary Insurance Intermediary?
An ancillary insurance intermediary is an insurance broker or company that helps employers and employees find the best benefits plan for their needs. Intermediaries have a wide range of plans to offer and can help employees compare and contrast different policies. They can also work with employers to negotiate rates and premiums.
How To Find the Right Policy
Research is key for both employers and employees when shopping for the right ancillary insurance, and an intermediary could help make the process easier. Choosing the right policy means figuring out answers to these questions:
What is the most affordable and within budget?
How can the plan be funded?
What are the health needs?
Are there any tax incentives?
What will be the level of coverage?
Will coverage extend to employee families?
What are other businesses offering?
What is the onboarding process? Will there be open enrollment?
How should the effectiveness of the ancillary insurance policy be measured?
Our in-house research team and on-site financial experts work together to create content that's accurate, impartial, and up to date. We fact-check every single statistic, quote and fact using trusted primary resources to make sure the information we provide is correct. You can learn more about GOBankingRates' processes and standards in our editorial policy.