What Is Coinsurance? Coinsurance vs. Copay in 2019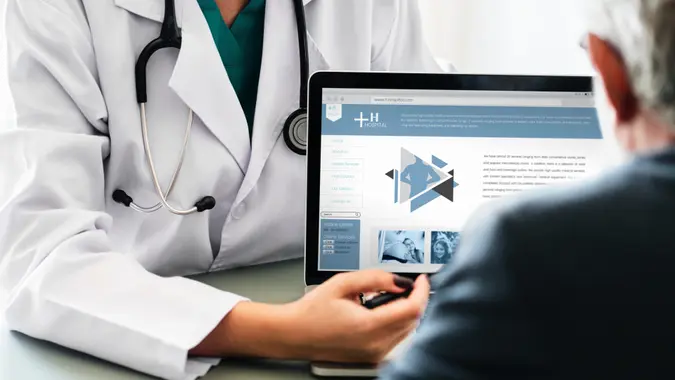 ©Unsplash
Receiving a big bill from your health insurance provider can be frustrating. After all, avoiding healthcare bills is probably a big part of why you get insurance in the first place. And it's all the more frustrating when it's not entirely clear why you owe what you owe. That's why, if you have a plan that includes coinsurance, you need to understand how sharing costs with your insurer might affect what you ultimately owe.
What Is Coinsurance?
Coinsurance is a system of cost-sharing with an insurer in which the insurance company bears a percentage of the cost for an appointment while the insured person will pay for the remainder out of pocket. If your health insurance plan has coinsurance — and most will — it's important that you understand the price of each appointment or procedure because your costs will be higher to access more expensive care.
Up Next: Here's How Bad (or Good) Health Insurance Coverage Is in Your State
How Does Coinsurance Work?
Basically, a coinsurance plan means that your medical costs will be split between you and the insurance provider at a set percentage. It's a way for your insurance company to reflect your cost of care in how much you pay.
You'll probably pay premiums each month — just like any other health insurance plan — and you'll also pay for all costs up to your deductible amount. After you've reached your deductible, you will split any costs with the insurer at the rate you agreed upon when you signed on.
Related: An ER Visit Taught Me the Value of Health Insurance
Make Your Money Work for You
Coinsurance Examples
Say you have an 80/20 coinsurance plan with a $5,000 annual deductible. When you visit the doctor, you discover that you need an outpatient procedure that will cost $10,000.
If this is your first medical cost of the year, you'll owe the $5,000 deductible plus 20 percent of the remaining costs. So, that's $5,000 plus $1,000 (20 percent of the remaining $5,000) and your insurer will cover $4,000.
If you've already paid out $2,500 for medical care this year, you will owe the first $2,500 — the remainder of your deductible — and then 20 percent of the remaining $7,500 for a total of $4,000 ($2,500 plus $1,500) while the insurer is responsible for $6,000.
If you have already had charges in excess of your $5,000 deductible this year, you'll owe 20 percent of the costs, meaning you'll cover $2,000 while your insurer will pay $8,000.
Coinsurance vs. Copay
Many plans will include copays in addition to coinsurance and sometimes even in lieu of it. They usually vary based on the type of appointment, so you might pay $55 for a checkup with your primary care physician but $300 for a trip to the emergency room. These are fixed costs paid on each visit unless you've already cleared your out-of-pocket maximum (more on this later), and the often won't count towards your deductible. You will usually also continue paying copays if you've cleared your deductible, but this can vary depending on your plan, so be sure you understand the details of what your copays are and when they're charged.
Make Your Money Work for You
If you do have a plan that only relies on copays and doesn't have coinsurance after your deductible, that can mean huge savings over a coinsurance plan if you end up needing especially costly care.
Discover: Florida Leads the Country in This Concerning Health Insurance Trend
Out-of-Pocket Maximums
Your plan might have an "out-of-pocket maximum" that places a hard cap on what you'll owe in a given year regardless of how things are otherwise structured. Every plan offered in the health insurance marketplaces are required to have an out-of-pocket maximum, with the 2019 plan year setting the limit for an individual plan at $7,900 and family plan at $15,800. So, even if you do have a coinsurance plan that puts a lot of the costs on you, your out-of-pocket maximum should act as a backstop that limits your potential costs.
Out-of-Network vs. In-Network
Your costs can vary widely depending on which doctor you visit and whether or not they're "in-network" or not. In order to limit the costs of care, most insurance plans have a specific network of approved physicians. If you go outside that network for care, you could get hit with higher, out-of-network costs or even have to shoulder all the costs yourself. So, be sure you look over your insurance documents so that you understand which doctors and locations are in your network.
Related: Policygenius Review 2020
Finding the Right Plan for You
Though this all might make it seem like getting a plan with a really low deductible and coinsurance that heavily favors you is a no-brainer, it's important to remember that these out-of-pocket costs are just part of the picture. Your monthly premiums are significant, fixed costs you'll pay every month whether you see the doctor or not, and plans with low deductibles and little to no coinsurance also tend to have much higher premiums. So, for someone who has higher medical costs, accepting higher premiums to keep your out-of-pocket costs lower could make a lot of sense. But if you rarely visit the doctor, you might save a lot of money with a plan featuring lower premiums in exchange for paying more to access the care you might not end up needing.
Make Your Money Work for You
Click through to read more about how to find the best and cheapest health insurance.