DIY Halloween Kids Costumes for Under $10
Save money with these kids' Halloween costume ideas.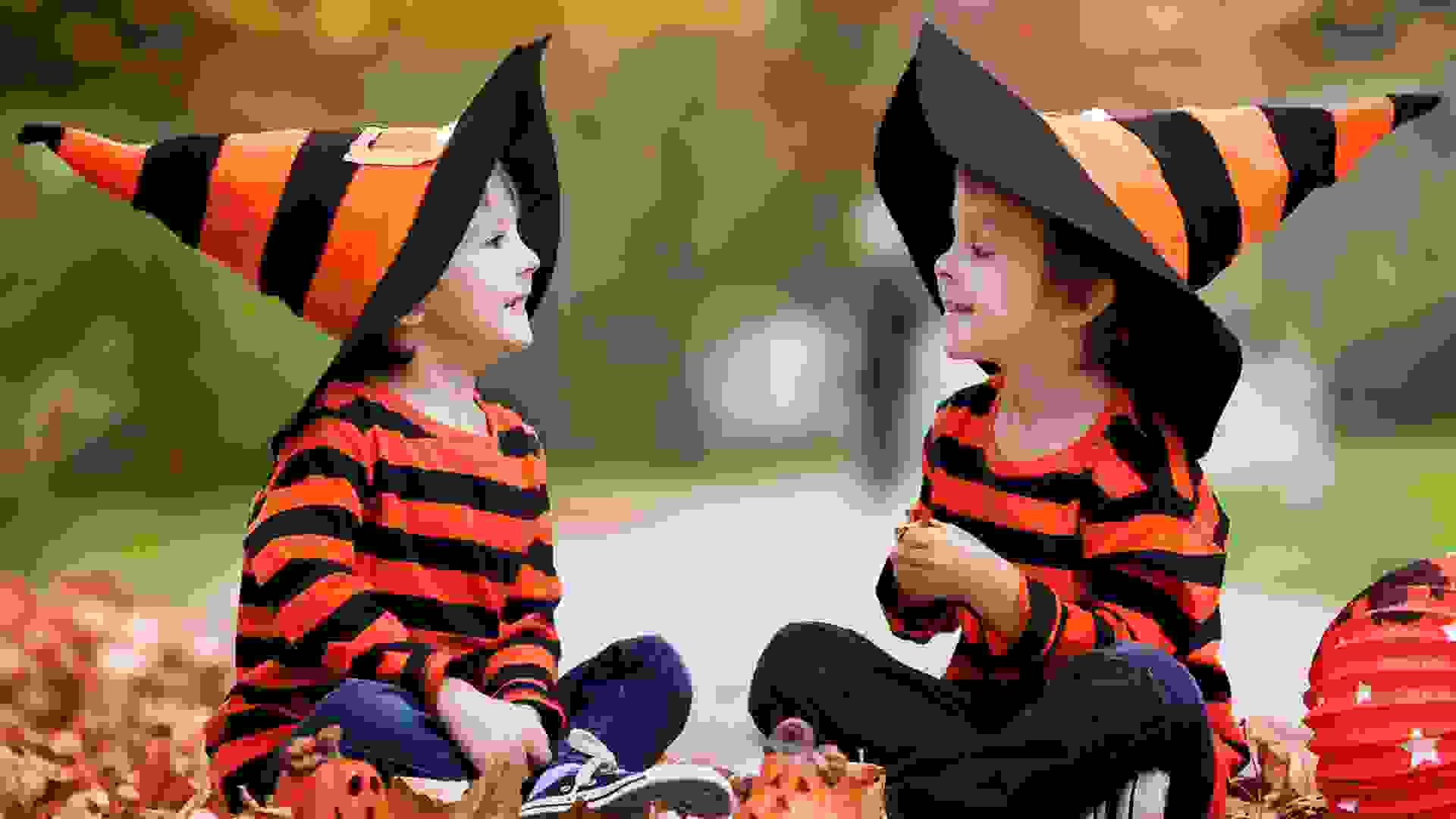 Few things are more adorable than a pack of pint-sized superheroes, witches and zombies showing up at your door demanding candy. According to Huffington Post, the practice of trick-or-treating is thought to have originated in Europe, when costume-clad revelers went house to house singing and dancing in exchange for goodies.
Today you don't have to sing for your Snickers — but you might have to shell out a few bucks. With Halloween spending on the rise, it pays to go the DIY route with costumes for the kids. Here are nine low-cost Halloween costume ideas your children will love.
Make Your Money Work for You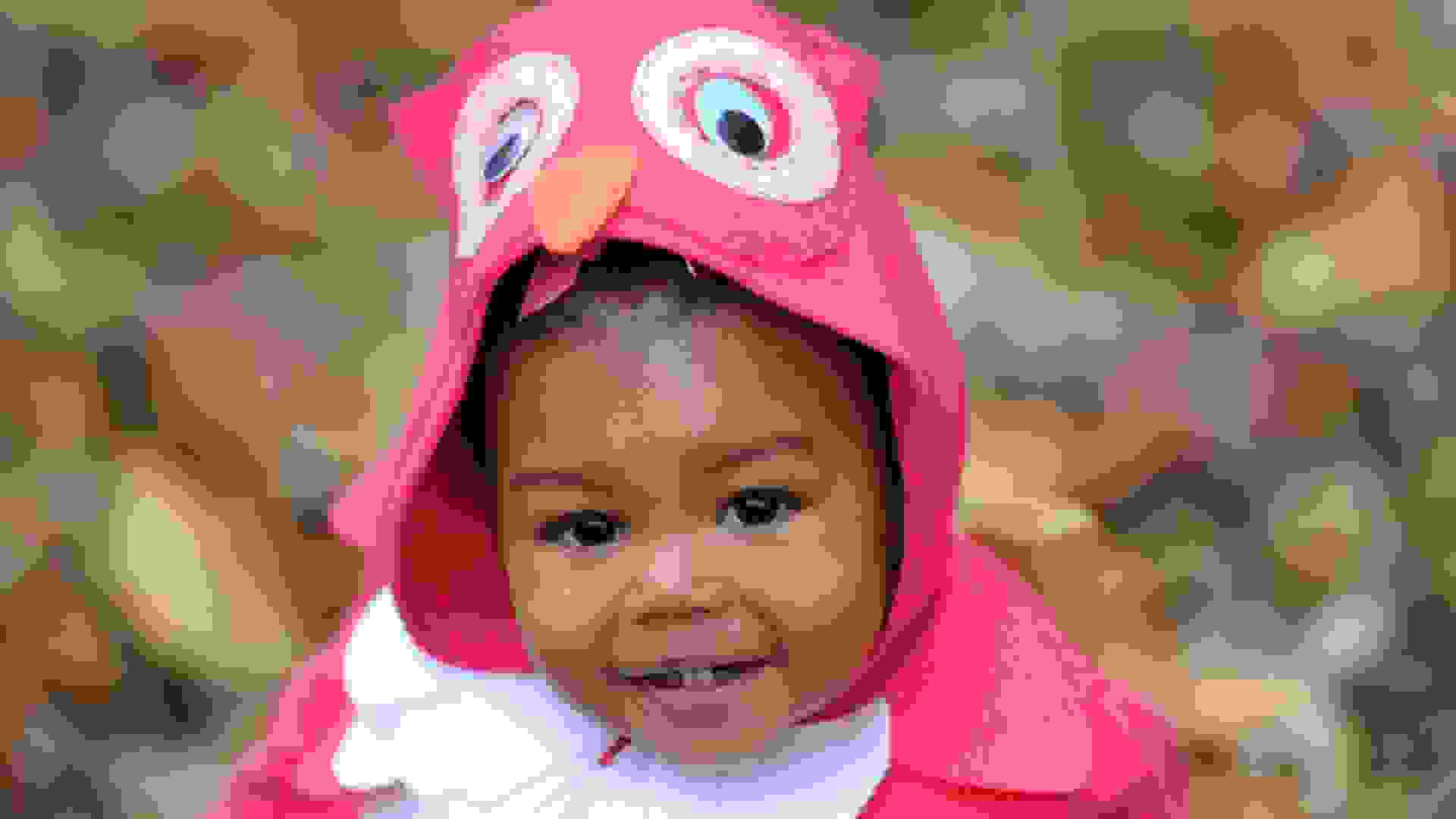 Owl Costume
This year, don't waste your money on Halloween costumes. Instead, try making this DIY kids costume. Mimi Green of the MimiCuteLips lifestyle blog created an adorable owl costume for her daughter for less than $15.
She used a hooded sweatshirt as the base and felt to create the feathers, which she sewed under each sleeve and on the front of the sweatshirt. You can use hot glue to attach the feathers, she said. Just put cardboard inside the sweatshirt, so the glue won't soak through, and stick the sides together. She also used felt to create the owl face, which she stitched to the hood of the sweatshirt.
To get this costume for under $10, pick up a used sweatshirt at a secondhand store, or use one you already own. JOANN Fabric & Craft Stores frequently offer 40 percent to 60 percent off coupons for regular-priced items, and felt only costs $5.99 per yard, or $2.99 when on sale.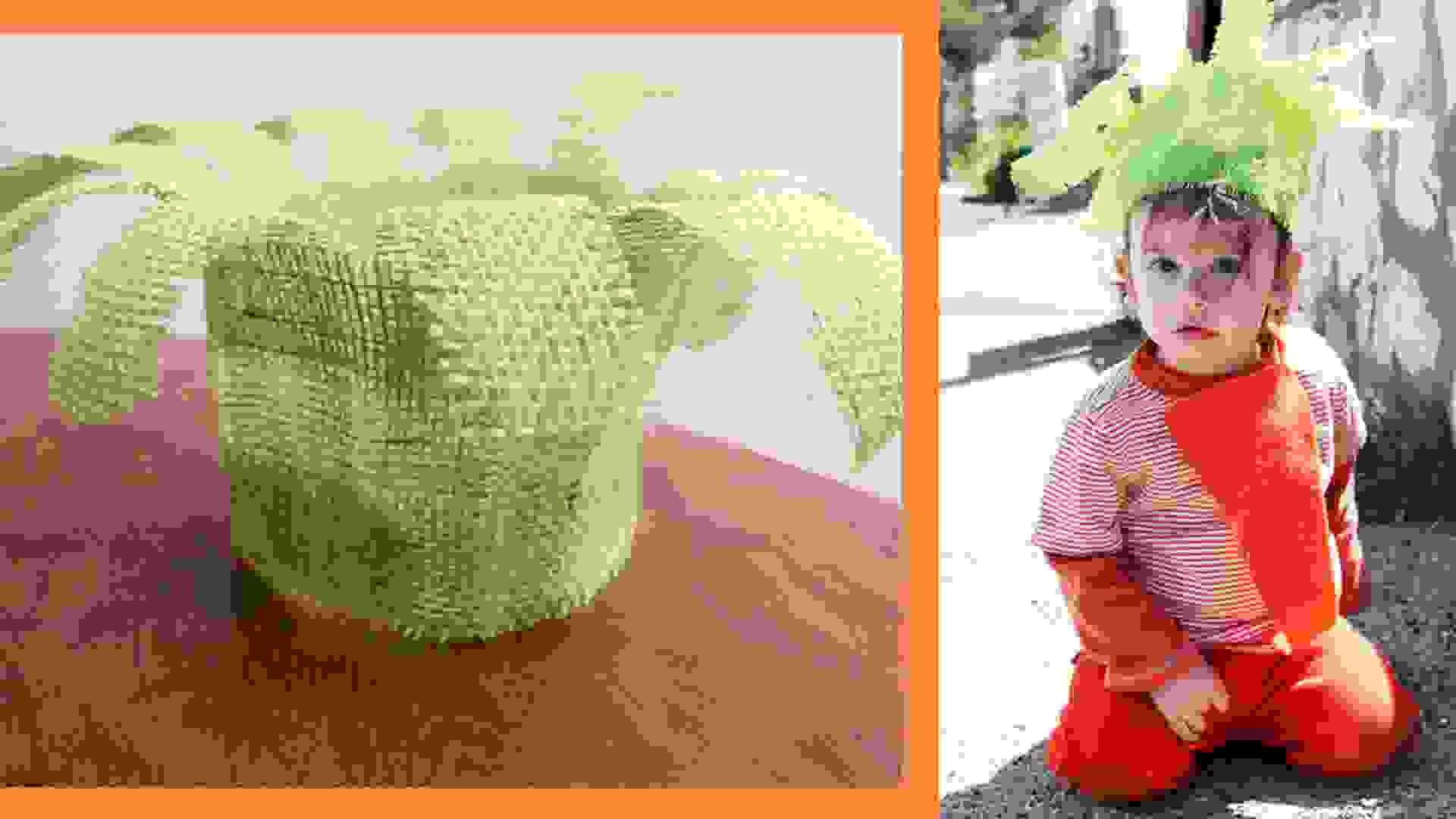 Carrot Costume
The carrot costume Menucha Citron Ceder of the Moms and Crafters blog made for her son didn't require any sewing — just hot glue. She glued an orange piece of felt cut in the shape of a carrot to a shirt and paired it with orange pants. For the carrot top, she made a hat out of green burlap ribbon, using hot glue to hold it together. The end result was an adorable and affordable kids Halloween costume.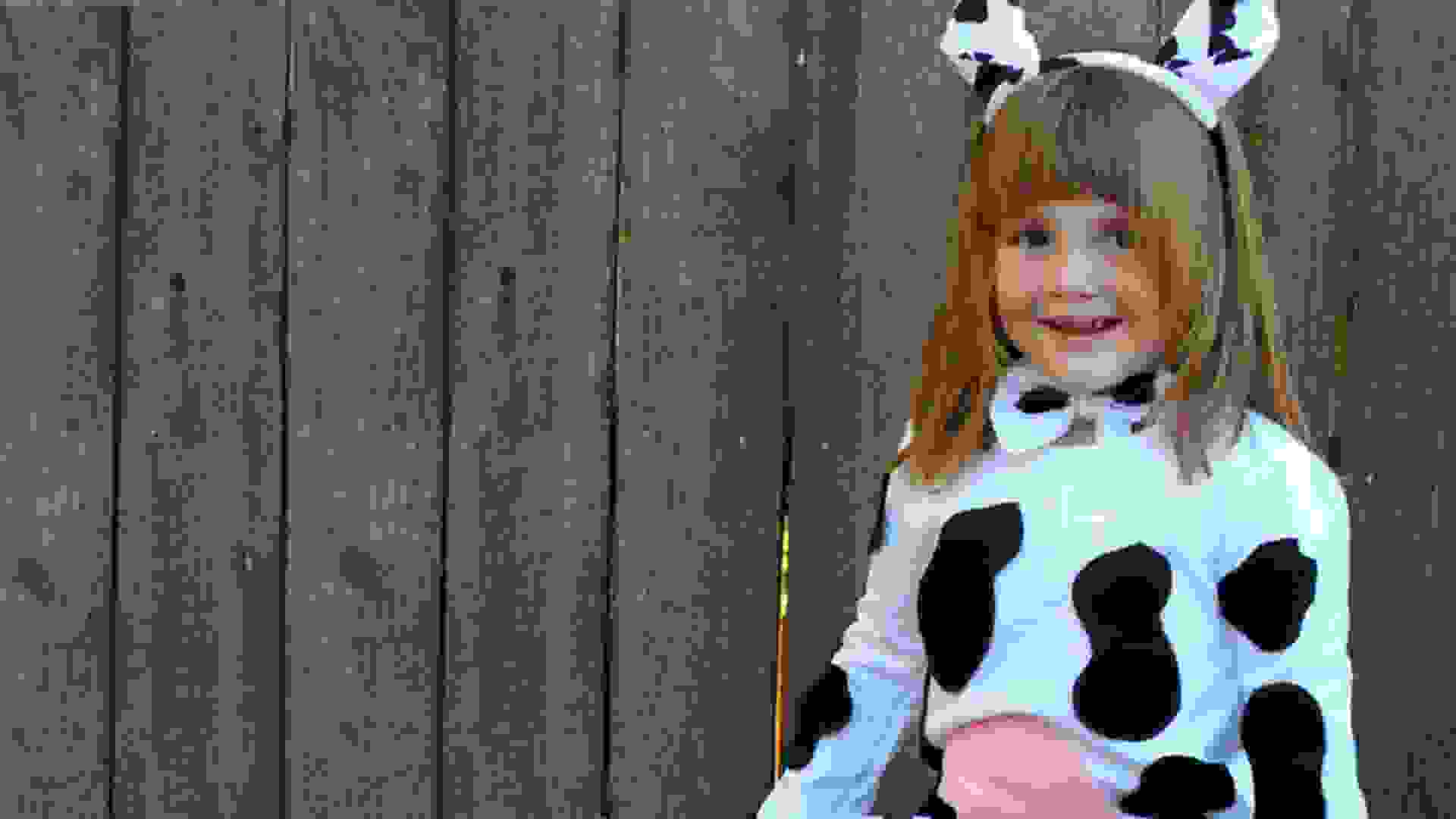 Cow Costume
For this DIY kids costume idea, Lynnae McCoy transformed her daughter into an adorable black-and-white cow on a budget, using a long-sleeved white shirt, black leggings and felt bought at Walmart.
She used fabric glue to attach the black felt, cut into spot shapes, and pink felt for the udders. She found cow ears and a tail at Walmart to complete the look — but you can make them with felt to save on the cost.
Save Money This Halloween: Walmart Shopping Tricks to Get More Bang for Your Buck
Make Your Money Work for You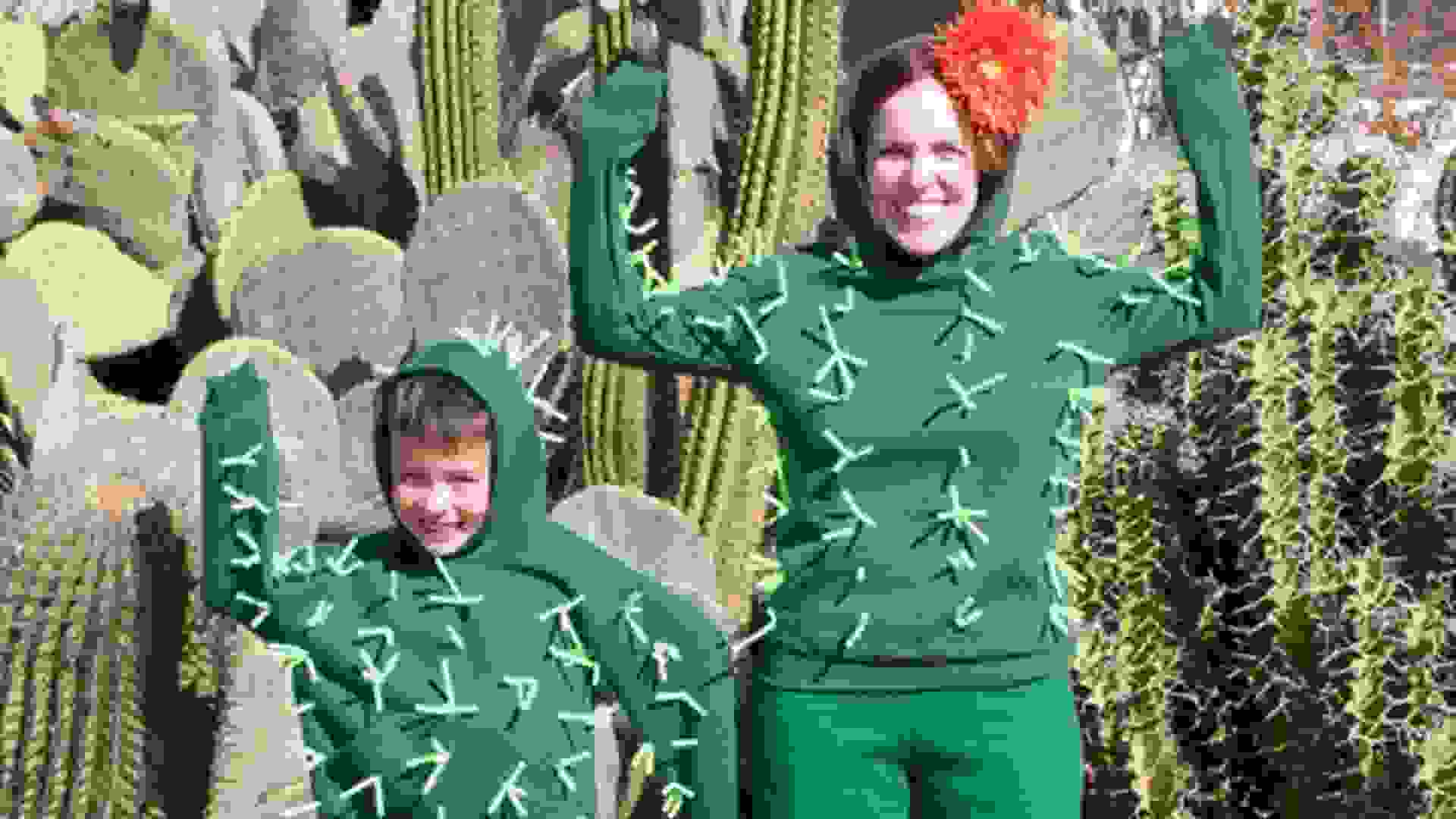 Cactus Costume
If you're trying to save money this fall, look to this cactus kids costume from Rachel Hollis of The Chic Site. The blogger often relies on her DIY skills to make Halloween costumes for her boys, and she once made cactus costumes for her and her son.
All it takes to make this clever costume: a green sweatshirt, sweatpants and pipe cleaners. Hollis cut the pipe cleaners into 2-inch pieces and glued them onto the sweats in groupings of one to four.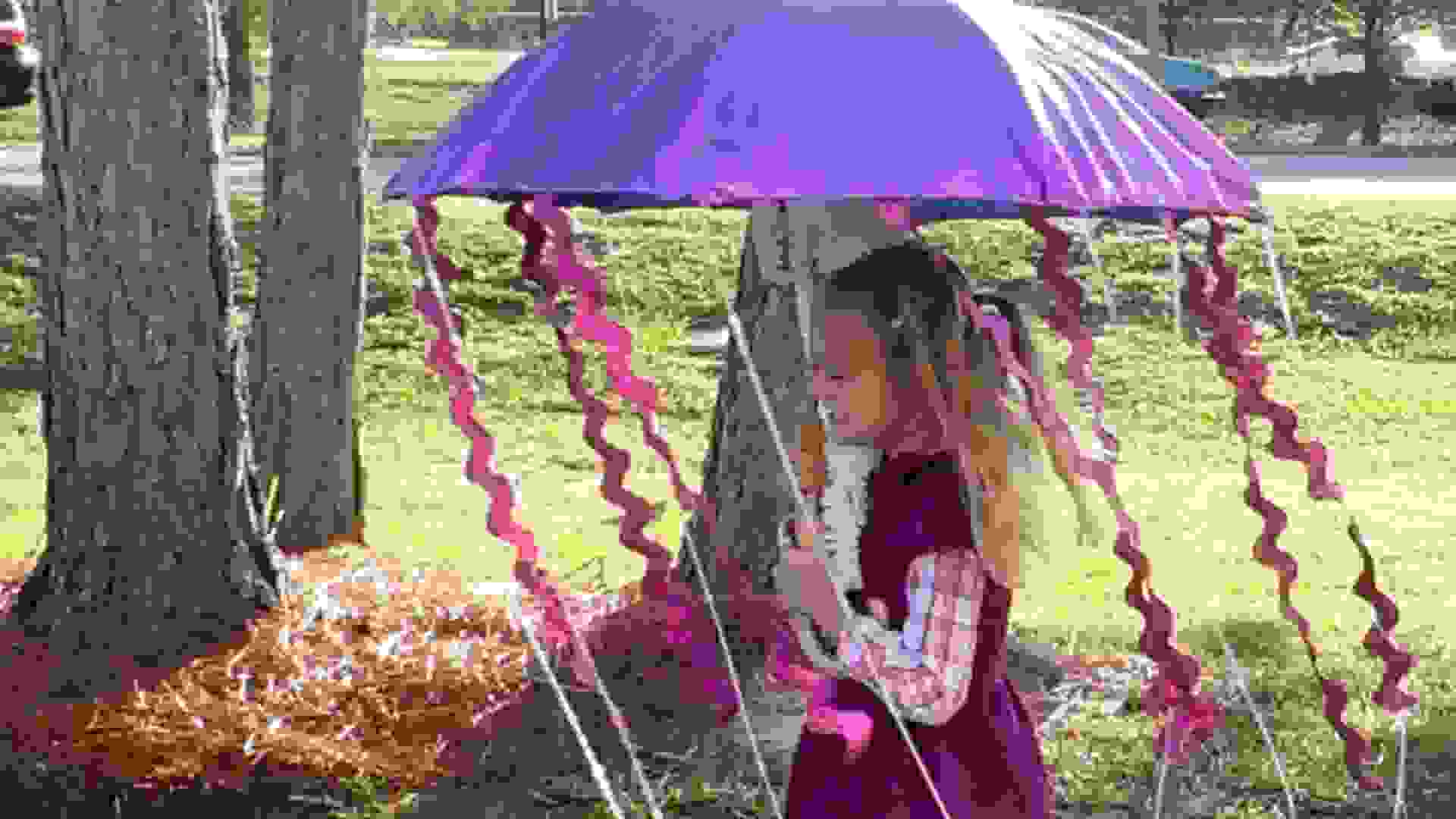 Jellyfish Costume
If your kid wants to be a marine biologist when she grows up — as Erin Burt's daughter does — then a jellyfish is the perfect costume. And hers certainly looks a lot cuter than the real thing.
Burt glued pink material to an umbrella and then attached ribbons with hot glue to create tentacles. She dangled frilly white ribbon from the center of the umbrella to create the jellyfish's "oral arms," as Burt's daughter told her they are called. Then, her daughter held the umbrella over her head while trick-or-treating to give the illusion that she was a jellyfish.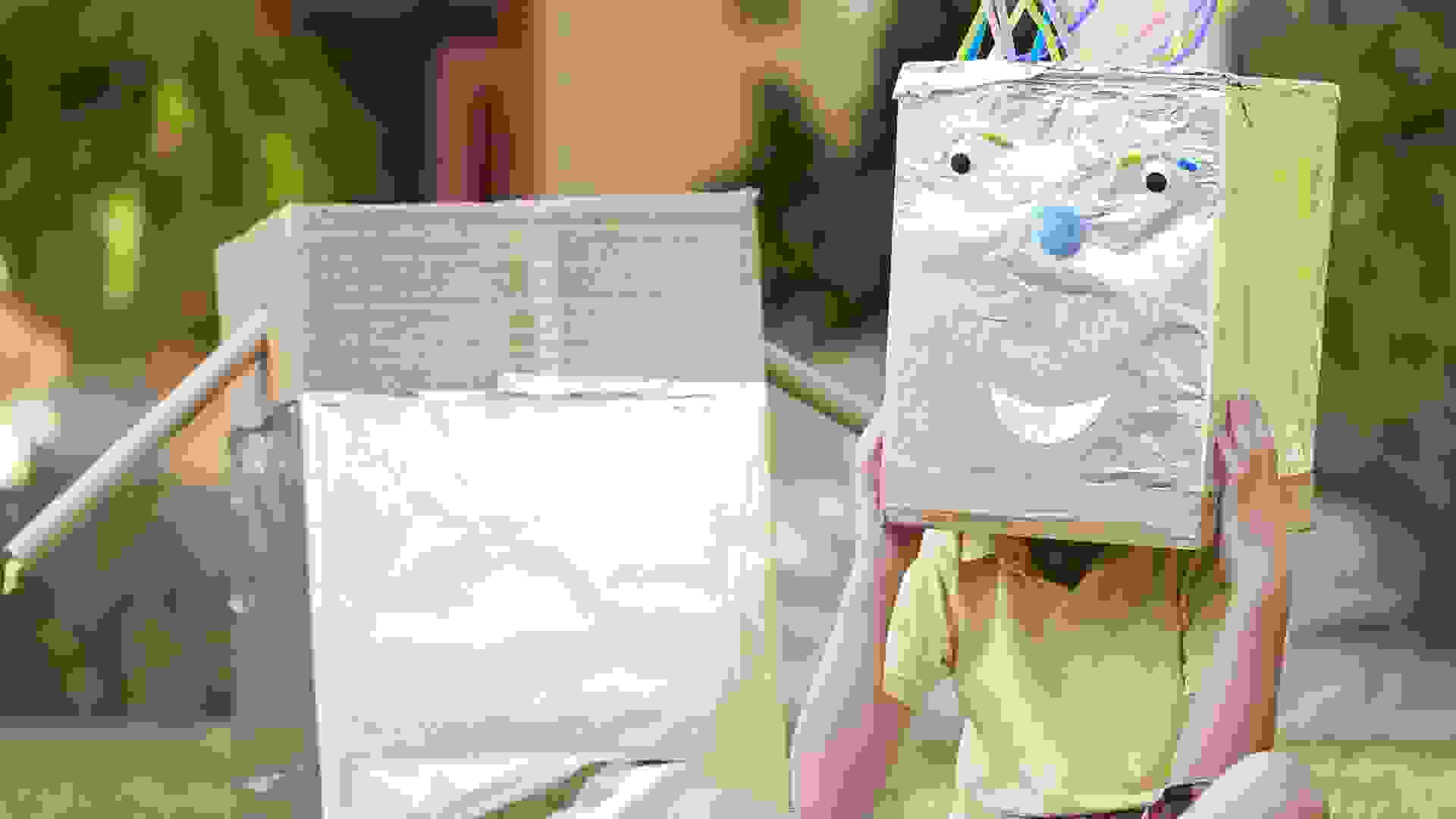 Robot Costume
What little kid wouldn't love to be a robot for Halloween? Jamie Roubinek of the Roubinek Reality blog was able to make her son look like an adorable android mainly with things she found around the house.
She used two boxes covered in foil to create a robot body and head, then added an old CD, bottle caps, solo cups and printouts of gauges found online to accessorize. Dryer duct found at a home improvement store was used to cover her son's arms and legs, and foil was wrapped around his shoes.
It's Party Time: Throw a Killer Halloween Party for Under $50
Make Your Money Work for You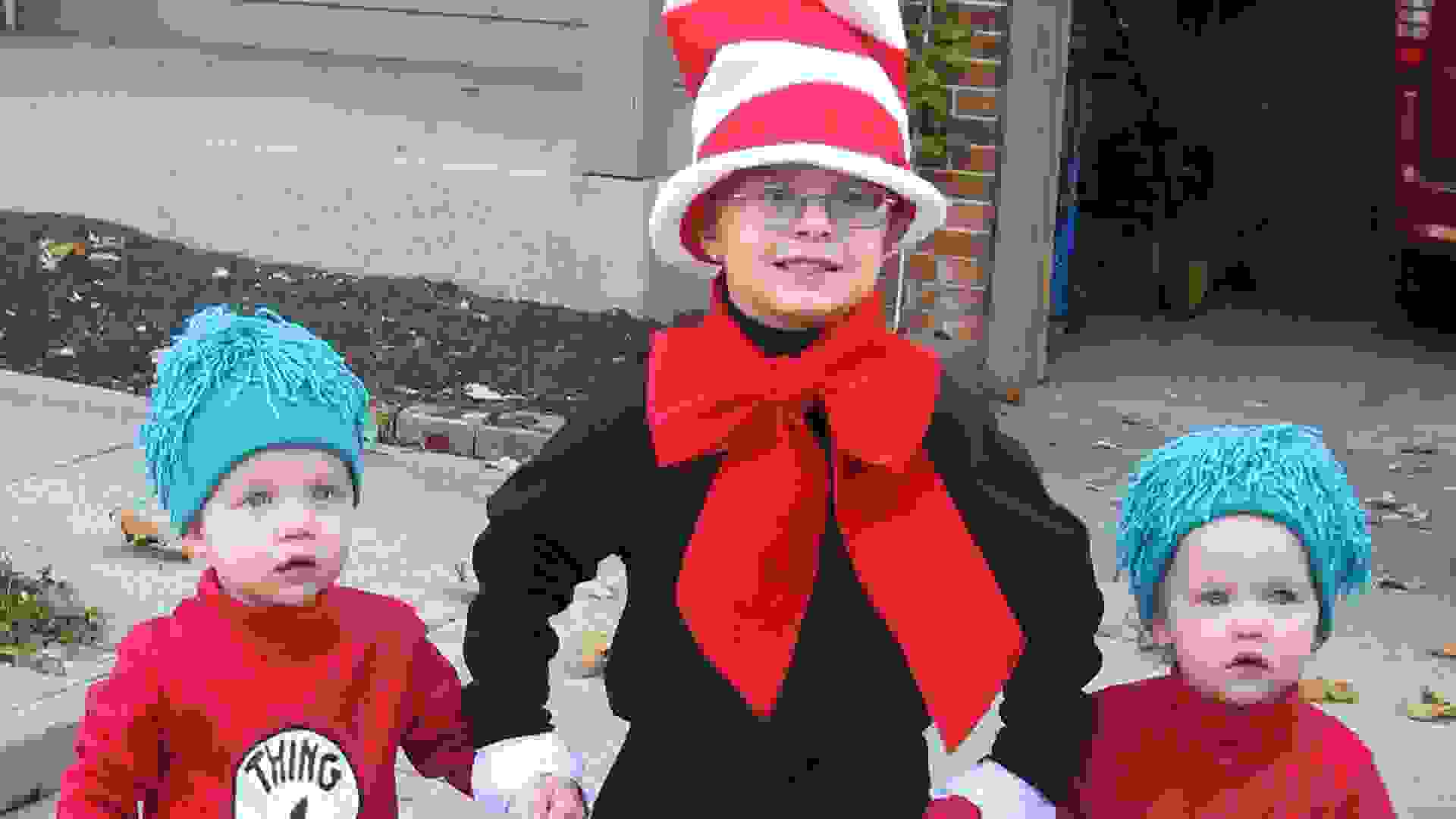 Cat in the Hat Costume
Mary Hoover of the Mission: to Save blog relied on Dr. Seuss for inspiration for costumes for her three sons. She turned her oldest into the Cat in the Hat using a black sweatshirt and sweatpants bought at a thrift store, white gloves, red felt for a bow and a red-and-white hat that she bought but said could be made using felt.
She dressed her younger sons as the Cat's sidekicks — Thing 1 and Thing 2 — using red sweatsuits purchased at a thrift store, blue ski hats and blue yarn. She used white paint and a marker to create the Thing 1 and Thing 2 labels on their tops. Hoover said the yarn could be sewn or hot glued to the caps to create hair for these Halloween kids' costumes.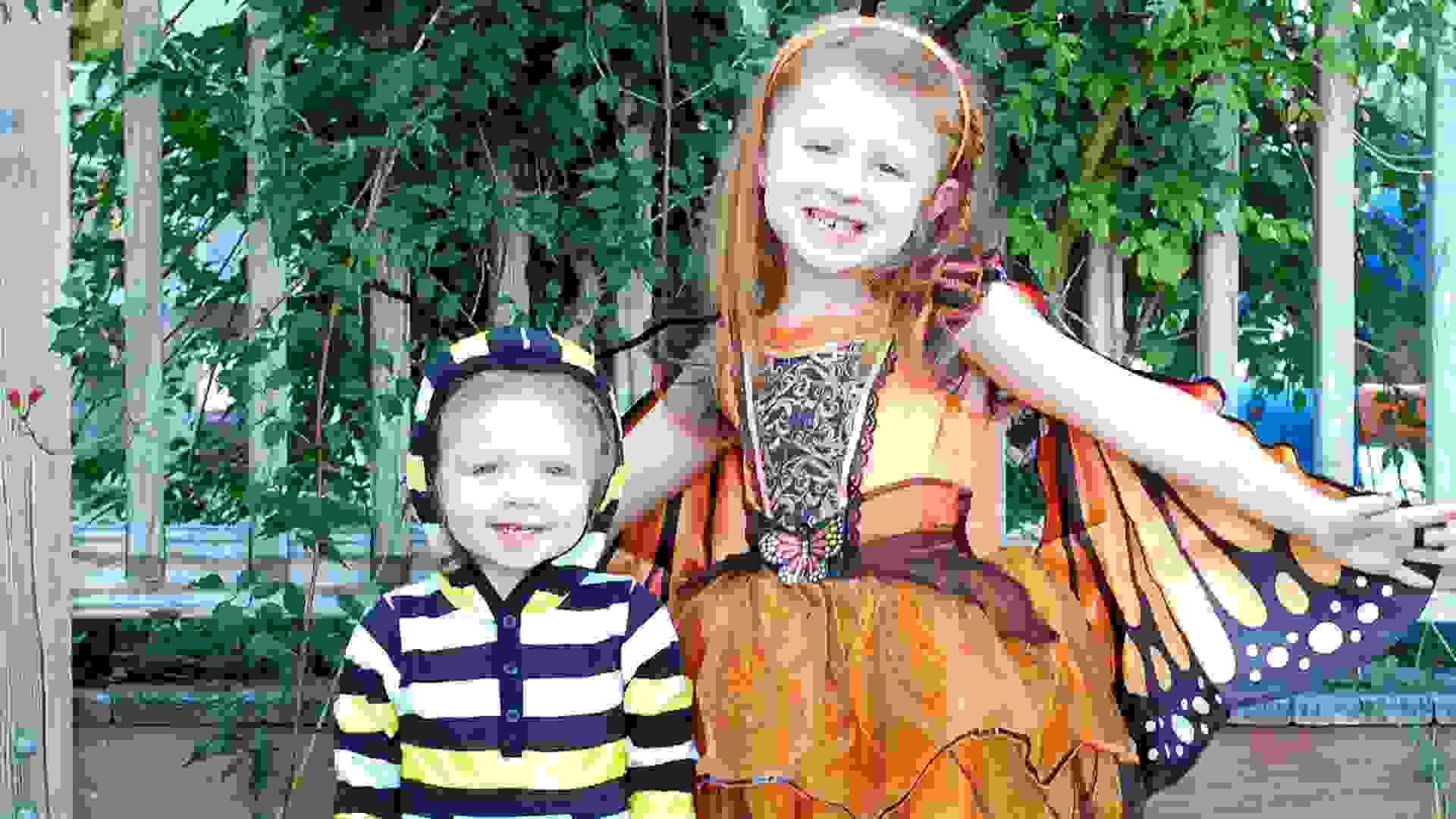 Caterpillar Costume
Maura White bought a monarch butterfly costume for her oldest daughter and wanted a costume for her toddler that would complement it. However, she couldn't find a monarch caterpillar costume. So, the frugal mom behind the Happy Deal Happy Day website opted to make one.
She found a black-and-white romper on Amazon and then used fabric markers to color every other stripe yellow. Then, White fashioned antennae out of black pipe cleaners attached to a black headband.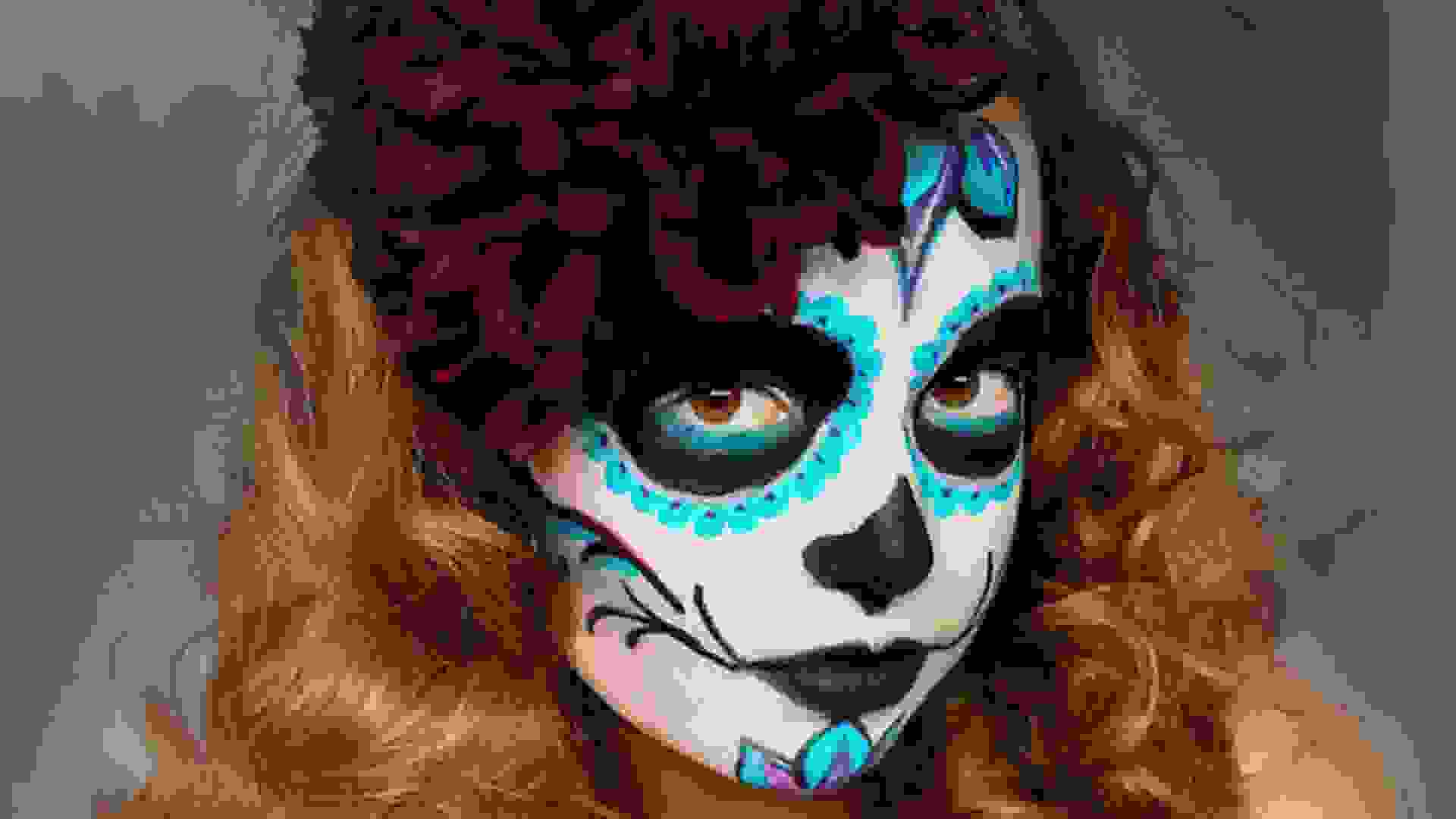 Day of the Dead Costume
Here's an easy costume for under $10. Gina Kleinworth was inspired by sugar skulls used in the Mexican celebration of the Day of the Dead and decided to create a similar look on her daughter's face for Halloween. This Day of the Dead costume only requires face paint — and a very steady hand. She added a large flower to her daughter's hair to complete the look.
You can find step-by-step instructions for creating Day of the Dead makeup and costumes for kids at her blog, Kleinworth & Co.
About the Author