4 Budget-Friendly Digital Gifts That Don't Need To Ship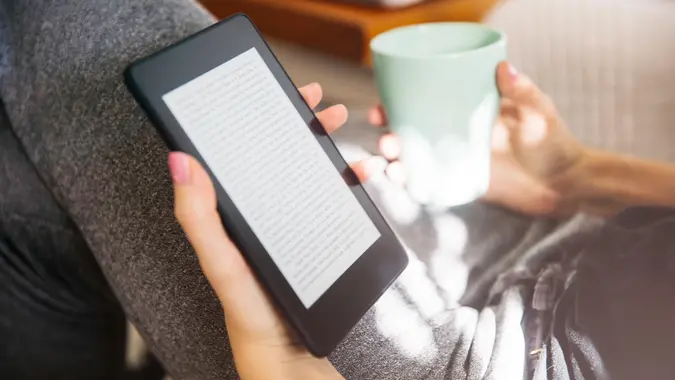 boggy22 / Getty Images/iStockphoto
Shopping doesn't have to include shipping — and that's a blessing in 2021. Inflation has been pushing up the cost of just about everything for most of the year, and much of it has to do with the soaring cost of getting things from here to there. Thanks to clogged ports, a labor shortage, surging fuel prices and a global supply chain crisis, shipping packages costs a whole lot more now than it did this time last year — and the high-pressure holiday season isn't even here yet.
Good To Know: The Ultimate Holiday Etiquette Gift Guide
Check Out: Your Complete Guide To Getting Ahead and Saving on Holiday Shopping

The good news is, you don't have to take any part in any of it.
An internet connection is all you need to give a world-class gift that will be as well-received as anything that would have arrived on a truck. There's a digital gift for every budget and every taste, but you might be strapped for ideas. That's where GOBankingRates comes in.
Make Your Money Work for You
Looking for a great digital gift that lets you get around UPS, FedEx and the USPS? Here are a few ideas to get you started.
Be Aware: How Much Should You Spend on Gifts for Acquaintances?
Online Music or Art Lessons
One thing that never has to be put in a box, cushioned with bubble wrap and placed on the back of a truck for delivery is self-enrichment — and what better gift to give? For the music lover in your life, sites like School of Rock offer one-on-one lessons for guitar, bass, singing, drums, keyboard/piano and songwriting. Most range from $150-$300 per month.
If painting, drawing or other physical art is more your loved one's thing, companies like The Art Studio NY offer group and private lessons both to kids and adults. Right now, classes are $25 off.
See: 11 Gifts You Should Buy for Christmas Now — Before They Sell Out

Academic or Language Courses
Sites like Udemy, Thinkific and Teachable offer online courses on just about any topic that you can think of — all without the college-level prices. Udemy, for example, is currently offering a $90 graphic design course for $14.99. A $95 data science course is going for $16.99.
Make Your Money Work for You
For those who would rather learn a language than a subject, sites like Babbel, Mondly and FluentU bring the world to you with language classes. For $83.40 — just $6.95 per month — you can give a full year of language lessons.
Find Out: Top Holiday Toys, Gadgets and More To Shop Now — And What They'll Cost You
A Subscription
The loved one in your life might be one of the holdouts who still doesn't have a subscription to one of the big music, streaming or shopping sites because they're not convinced that it's worth the money. You could help them make that decision with a year of membership — or whatever you can afford — compliments of you. Consider the following memberships as a gift:
Spotify:

$9.99 per month

Netflix:

$8.99-$17.99 per month

Amazon Prime:

$12.99 per month or $119 per year
Tips: 5 Reasons Why You Need a Cash-Back Card in Your Wallet
e-Books
Books have always made great gifts, and today, you can follow that tradition without paying to ship a heavy paper rectangle across the country. You can give e-books directly to recipients as gifts through Google Play, Apple Books, Barnes & Noble Nook and, maybe most popular of all, Amazon Kindle — Jeff Bezos, keep in mind, started as an online bookseller. The process is similar across all formats. Find a book you like and look for an option that says something like "buy for others" or "give as a gift." Giving on a budget? Good news — e-books are almost always cheaper than hardcovers and even paperbacks.
Make Your Money Work for You
More From GOBankingRates
Last updated: Oct. 27, 2021
Make Your Money Work for You