6 Super Cool Gifts for Kids for $20 or Less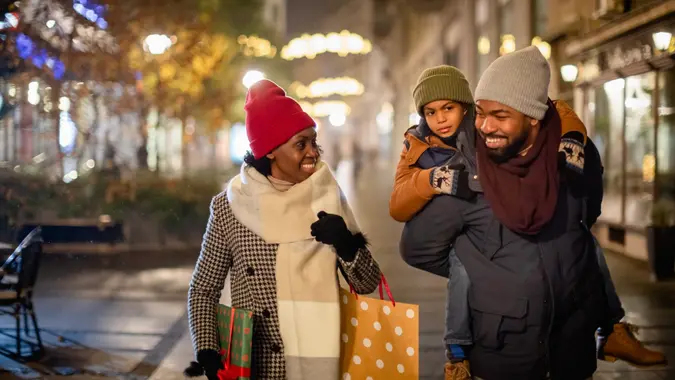 NoSystem images / Getty Images/iStockphoto
It's the season of giving, and for many of us, that equates to the season of spending. The National Retail Federation predicts that Americans will between $843.4 billion and $859 billion on the holidays, up by 8.5% to 10.5% over last year, and more than ever spent before. Presents will eat up a large portion of the pie; according to research from Gallup, shoppers plan to spend an average of $837 on gifts this year.
See: 6 Holidays Purchases That You Should Only Make at Costco
Check Out: 4 Costco Items That Have Remained Cheap for Years
Though buying gifts for all close family members (and often friends and colleagues) is the general rule of thumb for those who celebrate Christmas, it's well understood that the people who need the gifts the most — if we're to measure such a thing — are kids. After all, Santa doesn't care much for grownups. And so the pressure is on parents and other adults with children in their lives to go all out on presents — no matter the cost. 
Make Your Money Work for You
Fortunately, those shopping for kids don't have to break the bank in order to stock the stuffings and skirt the tree with delights. GOBankingRates talked with Julie Ramhold, consumer analyst at DealNews, to get the rundown of the best gifts for children that are easy to find and under $20 a pop. 
Read: Wrapping Paper, Greeting Cards and More Holiday Items to Only Buy at Dollar Stores
Lite-Brite Ultimate Classic
"It's available at multiple stores, including Target and Walmart, for around $13," Ramhold said. "For anyone who played with the original as a kid, this will be a dose of nostalgia as well as a creative project to introduce to your own kids." 
Learn More: 15 Times You Should Splurge, Settle or Skip When Shopping
Nickelodeon Slime Kits
"These will vary in price, but we've seen some for around $15-$17 at stores like Kohl's and Target," Ramhold said. "These are good for kids who like making squishy things to play with and come in a bunch of different varieties, including metallic colors, glitter, scented, 'blendz' and more."
Bop-It! Olaf Edition
"Yes, this is the Disney Frozen 2 Olaf edition of Bop-It!, so it's a step up from the classic many parents probably remember," Ramhold said. "It varies in price, but it should be around $15 to $20 at stores like Amazon and Walmart. Kids will have the classic options to 'pull it, twist it, press it' in random orders on Olaf's body, and the game can be played solo or with friends."
Make Your Money Work for You
Find Out: Shopping Mistakes You're Making and How To Stop
Squishmallows
"These are cuddly stuffed animals that will vary in price based on which size you get. The 16″ ones will go for around $20 at stores like Target, but there are also 14″ and 11″ ones that will go for around $10," Ramhold said. "These are pretty popular in general and come in a ton of different designs. The challenge may be finding which one your kids will like most."
Friendship Bracelet Kits
"For older kids, these are a great gift to encourage their creativity," Ramhold said. "They're made by a few different brands and come in different sizes, so prices will vary, but you should be able to find some for around $10 or less at craft stores like Michaels and Joann, though more extensive kits will go for around $20 at stores like Target."
Check Out: 30 Things You Should Never Buy Without a Coupon
Creativity for Kids Grow n' Glow Terrarium Kit
"This should be around $10 at stores like Amazon, and is a great gift for kids who love science," Ramhold said. "It's an educational gift that teaches kids about the life cycle of plants, and comes with everything you need including potting mix, garden figurines, chia and wheatgrass seeds, and glow-in-the-dark stars."
Make Your Money Work for You
More From GOBankingRates
Make Your Money Work for You