Halloween Decor at Target: Would You Spend $180 on a Jack-o'-Lantern?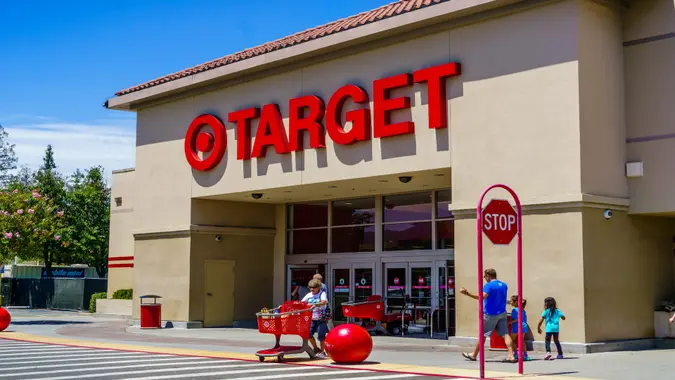 Sundry Photography / iStock.com
Halloween decorations have long been all about witch hats, black cats and all things spooky, but one stand-alone specter has risen above typical cobwebs, plastic skeletons and Styrofoam headstones.
See: How To Get Cash Back on Your Everyday Purchases
This year's must-have item has a long and lanky scarecrow frame topped with a massive grinning jack-o'-lantern and has been sold at Target stores around the country and online for a price likely to inspire a few jump scares.
'I Am Not a Jack-o'-Lantern!'
It's not his ghoulish good looks and nearly 8-foot stature that are the cause of his popularity, but rather his distinct snarky flair, falling somewhere between John Waters and Vincent Price. It's this one-of-a-kind charm that has earned so many devoted fans this Halloween.
This is no ordinary jack-o'-lantern, and it has become so well known that Halloween hopefuls can even ask for him by name. "I am not a jack-o'-lantern!" he'll boom at passersby. "My name is Lewis!"
How Much Is Lewis From Target?
Garnering viral attention on TikTok, this larger-than-life jack-o'-lantern has been embraced by those passionate about their Halloween decor and looking for an upgrade to conventional macabre props. "Lewis" has flown off Target shelves despite a somewhat hefty price tag.
If you're the kind of person who's more interested in finding savings on Halloween costs, this may be one decoration you'll want to skip despite the widespread acclaim. How much does the not-a-jack-o'-lantern Lewis sell for? Cue the spooky music: Lewis's wit and wisdom may be free for trick-or-treaters to enjoy, but having one of your own will set you back $180. Scarier still, Lewis is already sold out online and in most stores.
Make Your Money Work for You
And it's not just store shelves where Lewis is making his mark. Social media platforms, particularly TikTok, have been awash with a flurry of user-generated content featuring Lewis and his iconic attitude. Influencers on Instagram and TikTok have been regularly posting snippets of Lewis to their feeds, showcasing themselves interacting with him and responding to his quirky phrases.
How Soon Does Target Carry Halloween Merchandise?
Lewis may have only recently become social media famous, but he's been around for a while. Shoppers have been able to pick up their very own Lewis decorations since early summer. With holiday decorations being sold earlier and earlier each year, Halloween merchandise can begin materializing in stores as early as the first two weeks of July.
How Often Does Target Restock Halloween Merchandise?
Waves of online sharing have solidified Lewis's place as this year's most hauntingly in-demand Halloween decor. But with Lewis being sold out online and in stores, many shoppers are wondering when — or if — they can expect to be able to purchase their own.
While there are still plenty of bargains at the retailer's stores and website, including items that are almost always cheaper at Target, Target typically restocks its Halloween decorations around the end of September. Christmas decorations usually appear in early November, so Target generally doesn't perform major restocking of Halloween-themed items more than once.
Where Else Can You Buy Lewis?
Halloween decorations are still widely available at other retailers. Dollar Tree has some great Halloween deals, and Amazon has plenty of Halloween candy on sale, but Lewis is a Target exclusive, launched as part of Target's in-house Hyde & Eek Boutique Halloween collection.
Make Your Money Work for You
His overwhelming popularity led to a quick sellout, both online and in most Target stores nationwide, barely leaving enough time for even hardcore Halloween enthusiasts to get their hands on the most coveted decoration of the season.
With his quirky cheer and spooky demeanor, Lewis adds a spirited twist to this year's Halloween decorations. Equipped with both a motion sensor and a switch for manual activation, Lewis will greet all who pass by with phrases like, "Happy Halloween, my little ghouls" or "Trick or treat, all you creepy crawlers."
Back From the Grave?
Despite his price tag, Lewis quickly became a must-have item this Halloween, but don't fret if you missed nabbing this icon. With his immense popularity, fans are hoping Lewis makes a comeback next year.
Other stores may offer Halloween decorations that are easier on your wallet, but if you're a fan of novelty and don't mind shelling out, adventurous choices like Lewis could be just your thing. Even if everyone's favorite pumpkin-headed scarecrow was only part of Target's Hyde & Eek Boutique Halloween collection for this season, hopes are high that we might meet another Halloween hero as unforgettable as Lewis next year.
Editorial Note: This content is not provided by any entity covered in this article. Any opinions, analyses, reviews, ratings or recommendations expressed in this article are those of the author alone and have not been reviewed, approved or otherwise endorsed by any entity named in this article.
Make Your Money Work for You