8 Best Deals for Halloween Items Coming to Dollar Tree in October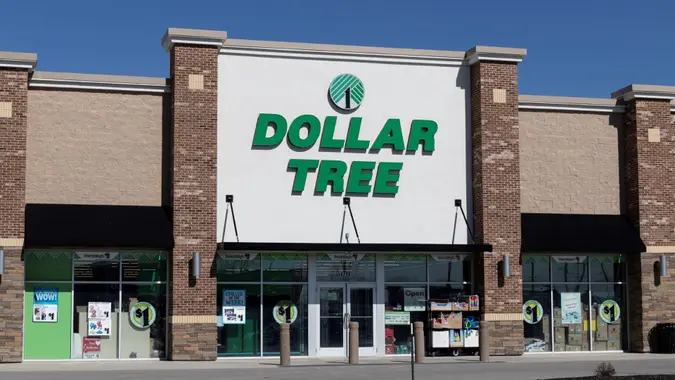 It's officially spooky season, and Dollar Tree is fully stocked with Halloween supplies at a great price. Although Dollar Tree moved its primary price point up to $1.25, you can still score some fang-tastic deals this season on everything from indoor and outdoor Halloween decor, costume accessories, party supplies and more!
Here are some of the best Halloween item purchases to make at Dollar Tree this October.
Craft and Party Supplies
Deck out your home in DIY Halloween decor or grab some craft supplies for the kids! You can find carvable foam pumpkins, craft kits, mesh ribbon and more starting at $1.25. If you're throwing a costume party this October, you can also find Halloween-themed party supplies, including serving trays, cups, bowls, plastic silverware and balloons.
Halloween Decor
Most indoor and outdoor decorations — plastic pumpkins and skeletons, tinsel witch hats, coffins, tabletop and yard signs — start at $1.25, but you can also find a plastic light-up witch cauldron (with fog) for $5. If Halloween lighting is on your shopping list, Dollar Tree has a pack of five-count gold or silver LED hanging lamps for $1.25. There are also packs of mini orange or purple string lights. Each pack is about five feet long for the same low price.
Fleece Blankets and Throw Pillows
Halloween-inspired printed fleece blankets and throw pillows are perfect for chilly fall nights. The blankets are 10×60 inches and come in four styles and colors. The super soft pillows come in three designs — cat, jack-o-lantern and ghost. These are part of the Dollar Tree Plus collection for $5, but it's only available at select stores.
Make Your Money Work for You
Trick-or-Treat Bags and Accessories
If you have little ones, you can't forget buckets or bags for trick-or-treating! Printed Halloween plastic pails come in orange, purple and black designs, or you can get printed drawstring bags or felt treat bags with legs. If you're giving out candy, you can find bowls under party supplies.
Halloween Floral Decorations
Dollar Tree also has decorations to make Halloween floral arrangements for the home or office. Grab a pumpkin-shaped metal wreath form, some glittery branches, roses and dahlias — and maybe a skull or an eyeball — to create your very own spooky arrangement.
Halloween Candy and Snacks
When it's time to stock up on candy and snacks for trick-or-treaters, Dollar Tree has small bags of affordable, brand-name chocolates, lollipops and more for $1.25. Candies are individually wrapped, and you can pick them up in stores or have them shipped to your home in bulk with a minimum quantity.
Pumpkin Carving Kits
There are tons of different pumpkin carving kits out there, but Dollar Tree has a simple kit for only $1.25. The kit includes a serrated knife for carving details and a scoop for scooping out seeds.
Costume Accessories
DIYing your costume this year? Pick up your Halloween costume accessories at Dollar Tree with prices starting at $1.25. Dollar Tree has everything from masks, witch hats, light-up wands and swords, plastic princess crowns, bat wings for pets and more.
More From GOBankingRates
Make Your Money Work for You