Holiday Shopping 2023: 7 Reasons Not To Sign Up for a Store Credit Card This Year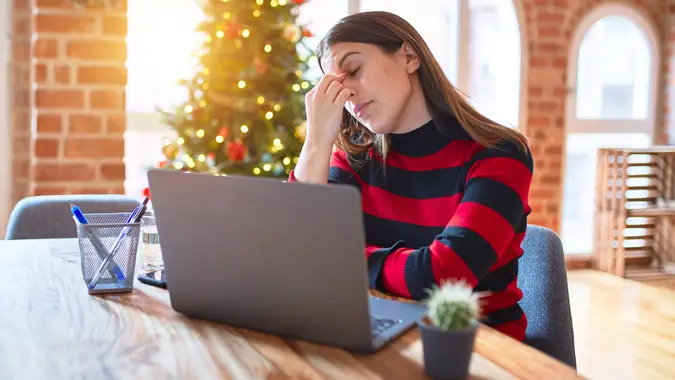 AaronAmat / iStock.com
Americans often spend more than usual this time of year, thanks to the storm of holidays that are just around the corner. According to The Conference Board Holiday Spending Survey, U.S. consumers plan to spend an average of $985 on holiday-related items in 2023. Of this sum, they intend to spend an average of $654 on holiday gifts, up 6.7% from $613 last year.
Amid the spending frenzy, you may be tempted to apply for a store credit card, also known as a retailer credit card. It's almost always best to steer clear of these offers, as they come with big risks and can easily lead to financial pitfalls, if you're not exceedingly careful.
Plus, finance experts generally loathe retailer cards.
"I hate store credit cards the way the Grinch hates children's gifts," said Howard Dvorkin, CPA, chairman of Debt.com. "They're so costly, they should be classified as a weapon of financial destruction."
What exactly is so awful about retailer/store credit cards? Let's have a look.
A Potential Hit to Your Credit Score
One substantial downside of getting a store credit card is that it spurs a credit inquiry, which can potentially hurt your credit score. 
"When you get a new credit card, this counts as a credit inquiry and a new account," said Kendall Meade, financial planner at SoFi. "This can decrease your credit score by increasing your inquiries and decreasing your average age of credit. Especially if you have an upcoming purchase in the next year that you may need a loan for — home or car for example — you will want to avoid new inquiries/accounts to keep your credit as high as possible."
Make Your Money Work for You
Increased Spending Risk
Did you know that it has been proven that it is psychologically more difficult to pay in cash than it is to swipe a card? Additionally, one study by researchers at Carnegie Mellon, Stanford and MIT found that using credit cards provides the effect of anesthetizing "the pain of spending."
"Spending cash also prevents you from spending more than you have," Meade said. "Especially for those who struggle with spending or have credit card debt, I recommend using cash."
Staggeringly High Interest Rates
Perhaps the biggest con associated with store credit cards is their staggeringly high interest rates — higher than what you get with traditional cards.
"The average credit card interest rate is upwards of 20%," Meade said. "If you are not paying your card off in full each month, those purchases are costing you an additional 20%. This means that even if you get a discount or rewards points, the interest you are paying is likely more than your rewards."
And note that the interest rate associated with retailer cards is often way higher than 20%.
"The typical credit card charges around 20% interest, but for store cards, it averages nearly 29%," Dvorkin said. "Michaels and Burlington cards are charging over 33%. That means for every $30 you charge on your store card and don't pay off immediately, you'll owe the store almost $10 in interest. That's crazy."
Make Your Money Work for You
Lousy Benefits Compared to Some Traditional Credit Cards
"Some regular credit cards charge a high interest rate but also offer lucrative rewards," Dvorkin said. "Store cards are notorious for their anemic benefits."
Harder To Keep Up With Payments
Adding another credit card to the mix can make it even more difficult to keep up with your bills.
"If you have too many credit cards, it can be hard to keep up with them all, which can make you miss or be late on a payment hurting your credit," Meade said. "Keeping less cards makes it simpler, but I also recommend setting up automatic payments to avoid forgetting."
False Sense of Saving Money
If you weren't planning on buying something but are then enticed to buy because of the savings from opening a new credit card, are you really saving money? Not necessarily.
"If you buy something for $95 that was $100, you didn't save 5%, you spent $95," said Scott Ferguson, CFP, CEO at Abundant Life Financial and author of "Living the Abundant Life: Adjusting Your Mindset and Finances to Live the Life You've Always Desired."
"Do not let the allure of 'saving' misguide you," Ferguson said. "You are actually spending."
A Short-Term Benefit; A Long Time Risk
You need to be quite picky about the credit cards you have in your life. And a retailer card just doesn't make the cut.
"Let's be honest, you do not need or want a ton of credit cards in your wallet," Ferguson said. "So, if you are only going to have a few, be very intentional on the decision you make about what cards you wish to have. Think about fees, interest rates and the benefits you'd want from your credit card to align with your lifestyle."
Make Your Money Work for You
Ferguson also noted that there is a reason a lot of "holiday" credit cards have some upfront benefits of getting their card. And they aren't strong in a long-term sense.
"[They] entice you to make a short-term decision rather than a long-term, well-thought-out decision," Ferguson said. "If you find yourself in a checkout line trying to make a big financial decision, that is probably not the right time or place to make that decision."
Stick to One Cash-Back-Heavy Card Instead
Rather than using a retailer's credit card when you shop, Trae Bodge, a shopping expert, suggests having one card that allows you to earn cash back on everything you buy.
"Like the Bread Cashback American Express from Bread Financial," Bodge said. "This card has no annual fee and offers 2% cash back across all categories, plus it has the benefits of an American Express card, like no foreign transaction fees. I also like the idea of one main card for shopping, because it simplifies things when it's time to pay your bills each month."
Only Get a Retailer Card If You Can Pay Off the Balance in Full
Yes, retailer cards usually tout alluring pearls like cash back, points and/or exclusive discounts, but they come with extraordinarily high interest rates and other cons. If you really, really want a store credit card, only get one if you're in a financially healthy position.
"I often recommend retailer cards only if you are in a position to pay them off in full each month to take advantage of the benefits but dodge the high APRs," Bodge said.
More From GOBankingRates
Make Your Money Work for You