How To Save Money on Shipping (Especially Around the Holidays)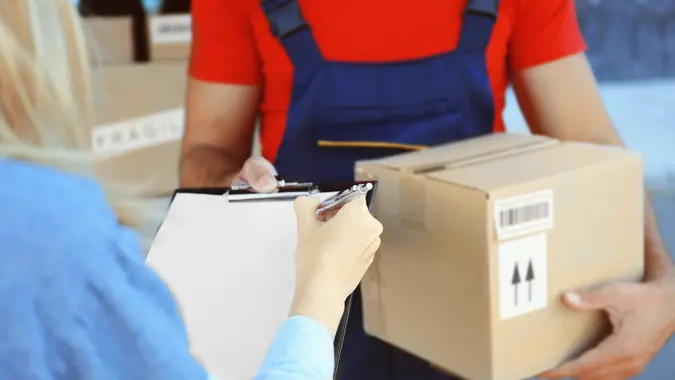 ©Shutterstock.com
Holiday shopping and holiday shipping are hectic and expensive even in the best of times — and these are hardly the best of times. Container shortages, labor shortages, backlogged ports and ever-rising fuel prices have sent shipping costs soaring economy-wide — and the busy holiday season isn't even here yet. If you're on a shoestring budget, you'll have to factor higher shipping costs into your budget while doing whatever you can to keep those costs down.
Read: Forget Black Friday, These Shipping Deadlines Mean You Need to Shop Now
Options: Target Partners With Sezzle & Affirm for Buy Now, Pay Later Holiday Shopping
Get Your Packages in the Mail Early
The shipping delays that are fueling the global supply-chain crisis are expected to last through the holidays — and in the world of logistics, time is money.
Forget your experience from previous years — particularly if you're a procrastinator. Everything is going to take longer in 2021, and if you don't get your packages out early, you'll be forced to pay for expedited shipping just to get them there on time.
Make Your Money Work for You
Not only did USPS jack up its prices on Oct. 3, but FedEx and UPS are also raising their rates for peak season, and delivery schedules are now longer for most kinds of shipping. Even a first-class letter now takes up to five days instead of two to three.
Higher Rates: USPS Rate Hikes and Slowdowns Could Delay Your Child Tax Credit Check
Flock To Stores With Free Shipping
Amazon Prime members get free two-day shipping on most purchases. Walmart has a similar membership program and it — along with Target and many others — ships most items for free with a minimum purchase of $35. But you can also score free shipping on thousands of items at dozens of big-name stores and sites without paying for a membership or reaching a minimum spend, including:
Zappos

DSW

Kate Spade

Tiffany

Nordstrom

Neiman Marcus

Universal Standard
Inflation: Costco, FedEx, Nike Among Companies Expecting Higher Inflation Ahead of Holidays
Use Flat-Rate Shipping for Heavy Items
USPS offers flat-rate shipping starting at $7.95. If it fits in the box and it weighs less than 70 pounds, you can ship it for the posted price. Since shipping costs increase with weight, flat-rate shipping is the perfect way to save money when you need to ship items that are relatively heavy but relatively small. Flat-rate shipping is fast — one to three business days — and you can ship from your home or office with free package pickup or bring it to the post office. You even get free tracking and up to $50 in free insurance.
Make Your Money Work for You
UPS has five flat-rate options starting at $8.80. FedEx offers seven options starting at $8.90.
Find: Walmart Is Hiring 20,000 Workers to Battle Holiday Supply Chain Issues
Upcycle the Stuff That Ships to You
One of the most common pieces of money-saving advice is also one of the easiest to overlook. When you receive a package of your own, open the box carefully, and if it's in good condition, hang onto it and use it to ship your own packages this holiday season. Likewise with the bubble wrap, foam cushion wraps, styrofoam peanuts, tissue paper and gift bags that are inside the box.
More From GOBankingRates
Last updated: Oct. 25, 2021
Make Your Money Work for You