How To Save Money on Shipping (Especially Around the Holidays)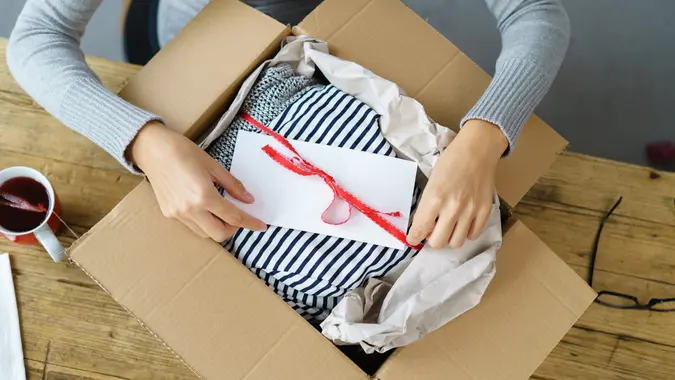 ©Shutterstock.com
Holiday shopping and holiday shipping are hectic and expensive even in the best of times — and these are hardly the best of times. Container shortages, labor shortages, backlogged ports and ever-rising fuel prices have sent shipping costs soaring economy-wide — and the busy holiday season isn't even here yet. If you're on a shoestring budget, you'll have to factor higher shipping costs into your budget while doing whatever you can to keep those costs down.
Get Your Packages in the Mail Early
As in previous pandemic and post-pandemic years, shipping delays are expected to last through the holidays — and in the world of logistics, time is money. Everything is taking longer, and if you don't get your packages out early, you'll be forced to pay for expedited shipping just to get them there on time.
Flock To Stores With Free Shipping
Amazon Prime members get free two-day shipping on most purchases. Walmart has a similar membership program and it — along with Target and many others — ships most items for free with a minimum purchase of $35. But you can also score free shipping on thousands of items at dozens of big-name stores and sites without paying for a membership or reaching a minimum spend, including:
 Zappos
 DSW
 Kate Spade
 Tiffany
 Nordstrom
 Neiman Marcus
 Universal Standard
Use Flat-Rate Shipping for Heavy Items
USPS offers flat-rate shipping starting at $9.35. If it fits in the box and it weighs less than 70 pounds, you can ship it for the posted price. Since shipping costs increase with weight, flat-rate shipping is the perfect way to save money when you need to ship items that are relatively heavy but relatively small. Flat-rate shipping is fast — one to three business days — and you can ship from your home or office with free package pickup or bring it to the post office. You even get free tracking and up to $50 in free insurance.
Make Your Money Work for You
UPS has five flat-rate options starting at $9.45. FedEx offers seven options starting at $11.10.
Upcycle the Stuff That Ships to You
One of the most common pieces of money-saving advice is also one of the easiest to overlook. When you receive a package of your own, open the box carefully, and if it's in good condition, hang onto it and use it to ship your own packages this holiday season. Likewise with the bubble wrap, foam cushion wraps, styrofoam peanuts, tissue paper and gift bags that are inside the box.
Compare, Compare, Compare
Compare shipping rates across multiple carriers. Don't just go with the default shipping option on a website. Take the time to get quotes from USPS, UPS, FedEx and other carriers. Oftentimes one will be significantly cheaper than another for the same delivery speed. Doing a quick comparison can potentially save you 20% or more on shipping costs. 
Look For Discounts
See if you qualify for any discounts. Many shipping companies offer discounted rates for military members, students, seniors or businesses shipping in bulk. Check the carrier's website or call their customer service line to ask about any discounts you may be eligible for. For example, USPS offers discounts for college students on Priority Mail shipping.
Consolidate Orders or Ship To a Store
If you're ordering multiple items from the same online store, see if you can consolidate them into one shipment to avoid multiple shipping charges. Or many retailers allow free ship-to-store, so you can avoid residential shipping fees by having items sent to a local physical store for pickup. This can shave $3-5 off each package.
Make Your Money Work for You
Andrew Lisa contributed to the reporting for this article.
More From GOBankingRates