Is Macy's Open on Thanksgiving?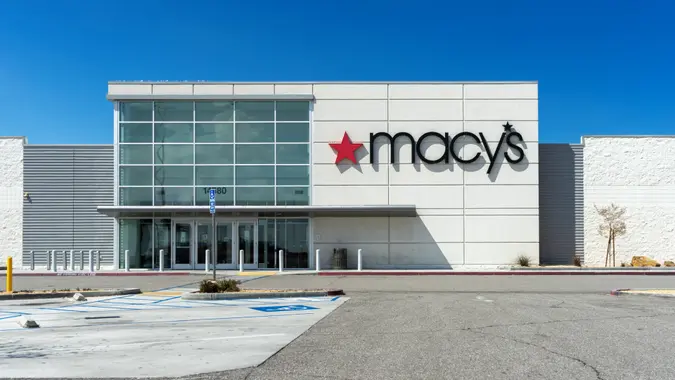 Felipe Sanchez / Shutterstock.com
As the holiday season approaches, it's crucial to plan your shopping around key dates, particularly Thanksgiving, when store hours can be unpredictable. Macy's, a favored destination for many holiday shoppers, has specific hours of operation during this festive time. Understanding Macy's Thanksgiving hours can ensure you don't miss out on your shopping needs or end up facing closed doors.
Is Macy's Open on Thanksgiving?
Macy's, known for its exciting holiday season offerings, will not be open on Thanksgiving Day. This closure allows employees to spend the holiday with their families, but shoppers can take advantage of extended hours and special deals before and after Thanksgiving Day.
Macy's Holiday Hours
During the holiday season, Macy's adjusts its store hours to accommodate the shopping rush, offering extended shopping hours on certain key dates. Below is a look at Macy's holiday hours.
Holiday
Date
Is Macy's Open or Closed?
New Year's Day
Sunday, Jan. 1
Open
Martin Luther King Jr. Day
Monday, Jan. 16
Open
President's Day
Monday, Feb. 20
Open
Good Friday
Friday, April 7
Open
Easter Sunday
Sunday, April 9
Closed
Memorial Day
Monday, May 29
Open
Juneteenth
Monday, June 19
Open
Independence Day
Tuesday, July 4
Open
Labor Day
Monday, Sep. 4
Open
Columbus Day
Indigenous Peoples' Day
Monday, Oct. 9
Open
Veterans Day
Saturday, Nov. 11
Open
Day Before Thanksgiving
Wednesday, Nov. 22
Open
Thanksgiving Day
Thursday, Nov. 23
Closed
Day After Thanksgiving
Friday, Nov. 24
Open
Christmas Eve
Sunday, Dec. 24
Open
Christmas Day
Monday, Dec. 25
Closed
Day After Christmas
Tuesday, Dec. 26
Open
New Year's Eve
Sunday, Dec. 31
Open
Make Your Money Work for You
When Is Macy's Closed?
Macy's is closed on the following holidays:
Easter
Thanksgiving
Christmas Day
Macy's Holiday Return Policy
Most holiday gifts purchased between Oct. 2 and Dec. 31 are eligible for return through Jan. 31, 2024. Note that some gift items are nonreturnable or must be returned more quickly.
Visiting Macy's During the Holidays
Before you head out to Macy's for shopping or returns during the holidays, contact your local store to confirm hours. Although Macy's won't be open on Thanksgiving Day, it will have hours on Black Friday. By calling ahead, you can make sure you'll arrive when the store's doors are open. Otherwise, you may find you've wasted a trip.
Holiday Hours
FAQ
Is Macy's closed on Christmas Eve and Christmas Day?

Macy's is typically open on Christmas Eve. To find out the specific hours, call your local store. Unfortunately, Macy's will not be open on Christmas Day, so if you're planning on doing some last-minute gift shopping at the store, finish it up on Dec. 24.

Is Macy's closed on New Year's Eve and New Year's Day?

Macy's is usually open on both New Year's Eve and New Year's Day. To confirm store hours at your local Macy's, call ahead or check the store locator on the same day you're planning to shop.

What holidays does Macy's pay employees for?

Macy's paid holidays are Christmas Day, Thanksgiving and Easter.

Does Macy's pay employees for Christmas Day?

Yes, Christmas Day is a paid holiday at Macy's.

Is Labor Day a paid holiday for Macy's employees?

Macy's stores are open on Labor Day so it is not a paid holiday.
Make Your Money Work for You
Caitlyn Moorhead contributed to the reporting for this article.
The article above was refined via automated technology and then fine-tuned and verified for accuracy by a member of our editorial team.
Schedules are subject to change and may vary by branch. Information is accurate as of Nov. 22, 2023.