5 Thanksgiving Shopping and Spending Mistakes To Avoid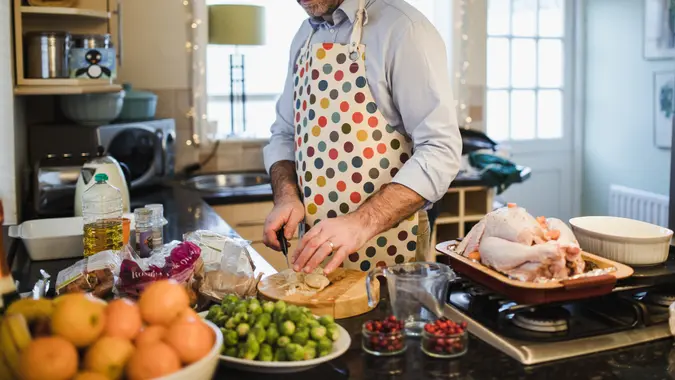 DGLimages / Shutterstock.com
Every dollar counts when you're shopping for the Thanksgiving Day feast. What many people may not realize, however, are the many factors which play a key role in helping you save money as you shop. If you don't pay attention to these factors, like shopping early for sales, you wind up paying more money than planned for the holiday.
GOBankingRates spoke to Jenna Helwig, food director at Real Simple, and Dr. Joan Salge Blake, RDN and nutrition professor at Boston University, to find out which common Thanksgiving shopping mistakes impact your wallet.
Not Taking Advantage of Sale Items in Early November
Blake said now is the time to start stocking up on items that are currently on sale and can be frozen and used later. If your local grocery store has your favorite baking apples and pie crust on sale, Blake recommends buying them now as well as baking that pie and freezing it. 
The more Thanksgiving essentials you can get on sale now, the more Blake said you'll save money and cut back on the stress of having to make the entire meal at one time.
Helwig agrees about shopping for Thanksgiving essentials on sale. "Staples like butter and eggs last in the fridge for two to three weeks. If you see a good deal on these items ahead of time, buy 'em."
Winging Your Menu
You do not want to wing a Thanksgiving Day feast menu. 
By planning the dishes and writing a tight grocery list in advance of shopping, Helwig said you'll save big bucks. Shoppers also avoid making any impulse purchases for ingredients they think they might need, but do not.
Make Your Money Work for You
Waiting Until the Last Minute To Buy the Turkey
Here's a trick to shopping for turkeys at grocery stores. According to Blake, grocery stores often reduce the price of turkeys around the holidays to a low price. The birds are then put on sale and used as a "loss leader." In other words, the grocery chains don't make any profit off the turkey but they want to lure shoppers into the store to buy everything else they need for the meal.
Don't wait to buy, but rather keep checking your grocery store's app. When you see a turkey on sale, Blake recommends grabbing it and keeping it frozen until it's time to cook on Thanksgiving. 
Thinking You Need Fresh Vegetables and a Fresh Turkey
Quite a few shoppers may think they need to buy fresh vegetables to be as festive as possible and a fresh turkey for maximum flavor. This is actually a pretty common Thanksgiving shopping mistake.
In lieu of serving fresh vegetables, Blake said you can substitute canned or even frozen vegetables for the feast. "Depending on the vegetable, the canned versions can be as much as 80% cheaper than fresh and 50% cheaper than frozen."
If you're struggling to choose between an expensive fresh turkey and a less expensive frozen turkey, Helwig recommends picking the inexpensive frozen bird.
"A fresh one might seem like it will be better, but once they're both cooked, honestly the taste difference is negligible," said Helwig. "Just be sure to give yourself several days to defrost it and plan to dry-brine it too to make sure the bird isn't dry after cooking."
Make Your Money Work for You
Serving Thanksgiving Too Late in the Day
You may not realize it, but it's costing you a lot of money to serve Thanksgiving dinner at 6 p.m. or later in the evening.
By setting an earlier launch and eat time, like 1 p.m., Blake said you'll be able to eliminate the need for expensive appetizers and alcohol served to hold guests over until the bird is carved.
More From GOBankingRates