8 Ways to Make Christmas More Affordable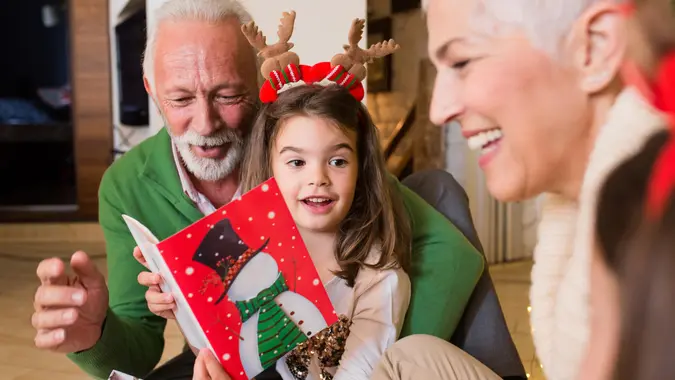 RgStudio / Getty Images
We're officially a few weeks into the holiday season and many people are putting the finishing touches on their plans.
Holiday Spending: Get Top Holiday Shopping and Savings Tips
Related: If Your Credit Score is Under 740, Make These 3 Moves Now
As the countdown to Christmas continues, there are still several upcoming events — holiday parties, gift exchanges and outings with friends and family — to consider and factor into one's budget. Here are some heartfelt ways everyone can make Christmas more affordable and meaningful this year.
Give One Another Homemade Gifts
Whether you already spent the majority of your holiday budget or are looking for extra ways to cut back on spending, consider the idea of gifting one another homemade gifts to make Christmas more affordable.
Chloe Elise, CEO and founder of Deeper Than Money, recommends turning this into a fun challenge in which you shop only at Goodwill or secondhand stores to save money. 
Make Your Money Work for You
Give Practical Gift Cards
Don't feel pressured into buying the must-have items of the season for everyone on your wish list. Instead, ask which types of practical gifts your recipients would like to receive to make Christmas more affordable. You can give gift cards specific to their financial needs, such as prepaid gift cards for gas stations or grocery stores to help fight inflation. 
Take Our Poll: How Do You Typically Split the Restaurant Bill?
If you have any gift cards you haven't used yet, consider re-gifting them — especially if they are practical in nature.
Check Out Free Events
There are plenty of free and festive holiday events you can attend with your loved ones. 
Dr. Ellen Contente, founder of Heart-Centered Programs, recommends looking into any free tree-lighting ceremonies, parades and/or festivals that may be held by your city or town. Families and friends can carpool together to drive around neighborhoods and see all of their holiday decorations. You also can walk around in promenade areas and check out storefront decorations and window displays.
Make Your Money Work for You
Enjoy a Nontraditional Holiday Dinner
If you've been to the grocery store lately, you've probably noticed the rising cost of holiday cooking essentials like spices, meat, butter and eggs. Find creative ways to get around these high expenses, such as purchasing ingredients at the dollar store or opting for store brand instead of name brand.
Or, consider swapping out a traditional Christmas dinner with a different meal instead. Having several guests over? Consider ordering pizzas with side dishes for everyone to enjoy. You also can order from a local restaurant to support small businesses in your area and provide them with a much-needed sale.
Cook or Bake Food
Want to give a gift but looking to stay within your budget? Consider cooking a dish, like a casserole or pasta, or baking festive cookies or bread to make Christmas more affordable.
You can gift these dishes to friends and family, bring them to work for potluck events and even share with neighbors with a handwritten note to brighten their day.
Make Your Money Work for You
Cash In on Credit Card Rewards
If you have spent the year racking up credit card reward points, consider cashing in to use those points during the holidays. You might redeem them for instant cash back or apply them to a monthly statement to instantly slash an upcoming bill. 
Watch for Price-Matching Opportunities
Certain retailers, like Target, are running price match guarantees throughout the holiday months. If you recently purchased a gift at Target and later found it for less on the Target website or at a competitor, you can request a price match from Target. 
Target's Holiday Price Match Guarantee runs from through Dec. 24, 2022. Price matches may be requested at the time of purchase or within 14 days after purchase, and Target requires proof of purchase for price adjustments.
Create New Traditions
Inflation might keep you from buying everything on your list, but it doesn't mean the holidays should be any less festive. 
From cookie decorating to celebrating the new year, create new traditions with family and friends. Instead of hosting major parties, you might hold a themed potluck where everyone brings a dish or host a virtual gathering so all of your friends and family can join in from anywhere in the world.
More From GOBankingRates
Make Your Money Work for You