These Are the 50 Cheapest Countries in the World, Study Finds
Countries with the cheapest cost of living can save you money.
Are you struggling to make ends meet? You could do what most people would suggest and put together a comprehensive budget to ensure that you're carefully tracking your spending.
But, based on the results from a new GOBankingRates study, you could be overlooking a potential solution: moving to a different country.
The cost of living can be much lower outside the United States. So if you're really that fed up with high rents and expensive dinners, moving elsewhere could solve your problem.
The study compared 115 different countries, scoring five different metrics that measure affordability: the local purchasing power index, the rent index, the groceries index, the restaurant price index and the consumer price index. If you're looking for a new place to call home and you're ready to think outside the box, the study's results provide a range of options.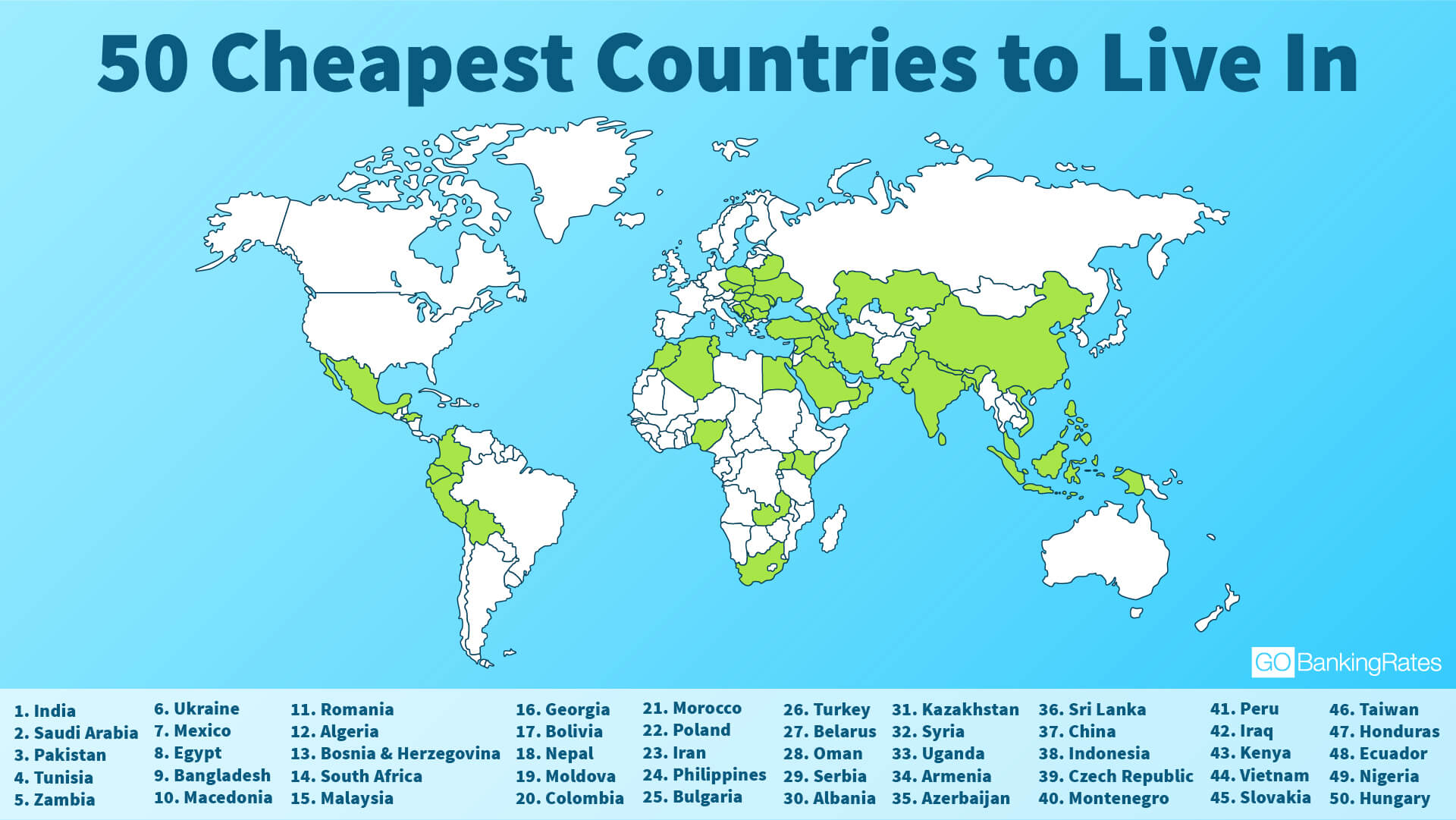 Also See: 50 Cheapest Cities in the World to Live In
One takeaway from the study is that South Asia, home to a rich and vibrant food culture, could be an affordable option. India was the top-ranked country on the list, with Pakistan close behind at No. 3 and Bangladesh still within the top 10 at No. 9.
That said, if you want to move to Europe, you would also have a number of options, almost all of which fall in Eastern Europe. Fifteen of the 50 most affordable countries to live in are in Eastern Europe. In fact, there is a decidedly second-world trend among the countries on the list. Nations that are either in the Eastern Bloc or former parts of the USSR make up a considerable portion of the list on the whole.
Make Your Money Work for You
Sponsors of
Here are the 50 cheapest countries to call home, with No. 1 being the cheapest:
1. India
2. Saudi Arabia
3. Pakistan
4. Tunisia
5. Zambia
6. Ukraine
7. Mexico
8. Egypt
9. Bangladesh
10. Macedonia
11. Romania
12. Algeria
13. Bosnia and Herzegovina
14. South Africa
15. Malaysia
16. Georgia
17. Bolivia
18. Nepal
19. Moldova
20. Colombia
21. Morocco
22. Poland
23. Iran
24. Philippines
25. Bulgaria
26. Turkey
27. Belarus
28. Oman
29. Serbia
30. Albania
31. Kazakhstan
32. Syria
33. Uganda
34. Armenia
35. Azerbaijan
36. Sri Lanka
37. China
38. Indonesia
39. Czech Republic
40. Montenegro
41. Peru
42. Iraq
43. Kenya
44. Vietnam
45. Slovakia
46. Taiwan
47. Honduras
48. Ecuador
49. Nigeria
50. Hungary
Up Next: The World's Most Expensive Countries to Live In
Methodology: Using information from online pricing database Numbeo.com, GOBankingRates assessed foreign nations to determine which were the most budget-friendly. Measuring each against prices found in New York City, we weighted and ranked countries based on these key affordability metrics: 1) Local purchasing power index: Measures the relative purchasing power of a typical salary in the country. A lower purchasing power buys fewer goods, while a higher purchasing power buys more; 2) Rent index: Includes typical home rental prices in the country; 3) Groceries index: Includes typical grocery prices in the country; 4) Cost of living index: Includes costs of local goods and services, such as restaurants, transportation and utilities; and 5) Restaurant price index: A comparison of prices of meals and drinks in restaurants and bars.