10 Cheapest Countries To Live in 2023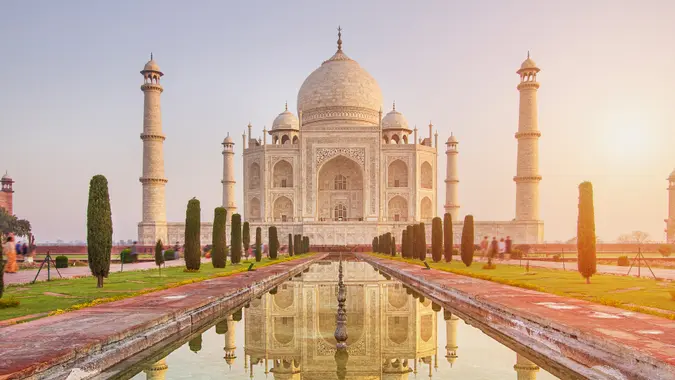 JulieanneBirch / Getty Images
If you've ever wondered what it might be like to live in another part of the world, you're not alone. Nearly 9 million Americans, excluding military, are estimated to live outside of the U.S., according to The Association of Americans Resident Overseas. No matter what your reason for heading abroad, you'll find plenty of countries to choose from where the cost of living is a fraction of what you pay here in America.
Read: How To Get Cash Back on Your Everyday Purchases
10 Cheapest Countries To Live in 2023
GOBankingRates used data from Numbeo, International Living and other sources to compile this list of cheapest countries to live in 2023. Only countries without serious travel warnings from the U.S. State Dept. were included.
10. Croatia
Croatians have a reputation for being very friendly toward visitors and expats, and many speak English. That warmth, coupled with the Mediterranean country's high standard of living and diverse geography make it a natural for expats looking for a cheap European country to live in.
The cost of living here is 36.2% less than in the U.S. A single individual needs $1,259 per month for rent and living expenses, on average. But even in a pricey city like Zagreb, where you might need a few hundred dollars more, you'll still pay over 83% less than you'd pay in New York.
9. Mexico
You don't have to go far to immerse yourself in a different culture and way of life. Mexico offers the the same kinds of conveniences you're accustomed to having in the U.S., plus a rich culture and geographies ranging from Caribbean beaches, to urban centers, to mountains topping 18,000 ft.
Make Your Money Work for You
The cost of living is quite reasonable compared to the U.S. A family of four can live on $2,289 per month plus $727 to $1,017 per month for a three-bedroom apartment, depending on whether you're in or outside of a city center. Mexico City is pricier, but you can live in a beach resort like Puerto Vallarta for about the national average.
8. Belize
This tiny Caribbean country welcomes expats, most of whom come from the U.S., Canada and European countries to take advantage of the laid-back lifestyle and welcoming atmosphere.
While food is expensive here whether you shop for groceries or dine out, low rents more than make up for it. A one-bedroom apartment outside of a city center averages about $244, and you'll pay about $370 downtown. You'll need an additional $708 per month to live comfortably here.
7. Bulgaria
Bulgaria is one of the least expensive European countries to live, and with attractions like the spectacular Rose Valley and beautiful Black Sea beaches, it's also one of the most beautiful.
American expats are likely to be most comfortable in or near a city like Sofia, the capital city and a hotbed of business and culture. While pricey compared to the national average cost of living in Bulgaria, a single person can get by on $690 per month and rent an apartment in the center of the city for $893 more, on average.
6. Uruguay
Uruguay is South America's second-smallest country and, outside of the capital city of Montevideo, is relatively sparsely populated. Street crime is high here, especially in Montevideo, but if you're OK with having to take some precautions, you can live on the cheap compared to the U.S. cost of living.
Make Your Money Work for You
Food could be your biggest expense if you move here. Nearly a third of expenses are for markets vs. about 20% for rent in Montevideo. But at an average of $610 in the city center, that rent is over 83% less than rents in New York.
5. Costa Rica
Costa Rica is a beach lover's dream come true, but the valleys, volcanos, lakes and rivers are equally spectacular. Add to that high-quality healthcare and a welcoming vibe, and it's easy to see why expats flock to the country.
A single individual can get a downtown apartment for under $600 per month, and get by on another $794 to cover other living expenses. While city living in San Jose is cheap compared to New York, smaller cities like Guadalupe are an even bigger bargain.
4. Vietnam
Vietnam has a sizable expat population from North America, the U.K. and elsewhere in Europe, Australia and the Far East. Larger cities attract workers, while retirees are more likely to head to smaller towns and resorts.
Whatever your reason for relocating to Vietnam, you'll save a lot of money on living expenses compared to the U.S. — 54.8%, on average. The cost of living is just $482 per month for an individual, not including rent, or $1,708 for a family of four. Housing is also cheap — 77.9% lower than rent in the U.S.
3. Argentina
Moving from the U.S. to Argentina puts you in the company of over 60,000 other American expats, most of whom live in or near Buenos Aires.
Make Your Money Work for You
As one of the world's least-expensive countries to live in, Argentina's cost of living is 59.8% lower than in the U.S. Rents are more than 84% lower — a one-bedroom downtown apartment is under $300 per month and you can manage your other expenses on $449 per month. That's actually a little more than the average net salary here, but if you're a digital nomad earning a U.S. salary, you'll have no problem fitting some splurges into your budget.
2. Paraguay
Paraguay is known as the Heart of South America for its location in the center of the continent. Expats gravitate to Asunción, the country's capital and it economic and cultural center. That's also where you'll find private schools and better-quality medical care.
If you're living on a U.S. salary or fixed retirement income, you'll have no problem bankrolling a comfortable lifestyle. Other than utilities, which can eat up a good 10% of your $441 cost of living, expenses here are 62% less than in the U.S., on average, and rent is over 80% less. Costs are somewhat higher in Asunción, where a single person can expect to need $473 per month not including rent.
1. India
While a significant percentage of Indian nationals still live in poverty, India has made tremendous inroads in its standard of living over the last quarter century. Most expats live in large cities, such as Mumbai, Bangalore and New Delhi, where you can find apartment complexes and gated communities that cater to the expat community, and enjoy the diversity and culture cities offer.
Make Your Money Work for You
In the country as a whole, living expenses are 69.5% lower than in the U.S., and rent is 88.8% lower. An individual can live in India for about $335 per month, not including rent. You might have higher expensive in a larger city like Bangalore, where an individual needs $386 plus rent. But that's still 90.2% less than if you lived in New York.
Our in-house research team and on-site financial experts work together to create content that's accurate, impartial, and up to date. We fact-check every single statistic, quote and fact using trusted primary resources to make sure the information we provide is correct. You can learn more about GOBankingRates' processes and standards in our editorial policy.