8 Ways To Conserve Water Around the House — and Lower Your Bill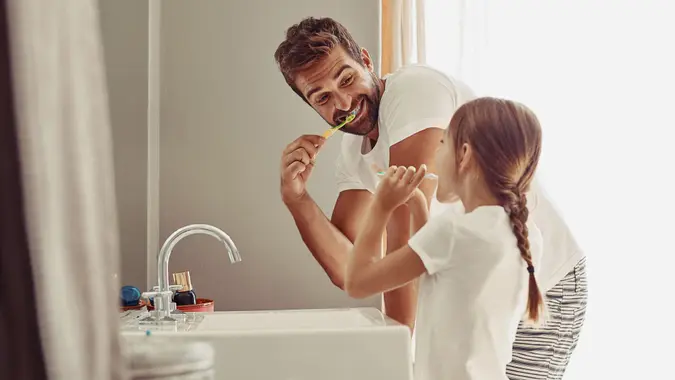 PeopleImages / Getty Images
If you collected all the water you use at home every day in a bucket, you'd need a pretty big bucket. One that holds 82 gallons, according to the U.S. Environmental Protection Agency. And that's just for yourself. If you live in a family of four, you'll need almost 350 one-gallon buckets filled with water to accommodate your daily household needs.
Here It Is: Our 2022 Small Business Spotlight
Read More: 7 Things You Should Never Do When Planning For Retirement
But the world's water supply isn't infinite. In a 2019 article, the Pew Charitable Trusts estimated that by 2025, more than half of the world's population will live in "water-stressed areas." Already, more than 2 billion people are without access to safe drinking water in their homes, according to the report.
There are ways to reduce your water consumption, however. By following these steps — some of them simple and free, others at a relatively small cost — you and your household members can preserve the natural resource and cut down on your bill at the same time.
Make Your Money Work for You
Try these approaches to reduce your water consumption.
Check for Leaks
According to the EPA, the average family can waste 180 gallons of water per week — that equates to 9,400 gallons per year — just from leaks. One of the biggest culprits of leaks is the toilet, and that could account for a waste of 22 gallons per day, or about 8,000 gallons a year, the U.S. Geological Survey reports.
Some leaky toilets continue to run; others leak in silence. Put a few drops of food coloring in the toilet tank. If the water in the bowl reflects the color, you have a leak. Some of the causes of the leak could be a broken float ball or fill valve, or even a worn-out flapper. All of those are sold at a hardware store or home-improvement center and are easy and cheap installations.
If another food color test fails after changing the equipment, you might need the help of a plumber to solve your leak.
Replace Your Toilet
A toilet installed before 1980 wastes about seven gallons of water per flush, and pre-1992 models use 3 ½ to five gallons each, according to the website of home-improvement guru Bob Vila. Today's toilets must meet federal water-efficiency standards of 1.6 gallons or less, and Vila's website recommends swapping your old toilet for a new one.
Some government agencies offer rebates or vouchers to buy a new toilet. Basic low-flow models start at about $99 at The Home Depot.
Make Your Money Work for You
Take Our Poll: Do You Think You Will Be Able To Retire at Age 65?
Change How You Brush Your Teeth and Shave
Here are some astonishing numbers from the EPA. If you turn off the water after getting your toothbrush wet, you'll save eight gallons of water per day. Turn it off while shaving? That's a savings of 10 gallons.
The EPA estimated you'll save 5,700 gallons of water per year if you brush your teeth twice a day and shave five times a week.
Replace Your Shower Head
The EPA says the average family could reduce water consumption used while showering by 2,700 gallons per year if they replaced their shower head with a model that carries the WaterSense label. At the same time, the amount of power needed to heat the water will drop dramatically, reducing your electric bill at the same time.
WaterSense-certified shower heads start at about $35 from Wayfair.
Increase Your Laundry Efficiency
The "Water – Use It Wisely" campaign recommends running the washing machine with full loads of water only. If you must run only a small load, select that setting on your machine so that less water will be used.
Make Your Money Work for You
When it's time to buy a new machine, the campaign recommends selecting an efficient model, which could save up to 7,000 gallons of water per household at the end of a year. Also, you should almost always wash your clothes in cold water to save energy.
Re-Think Your Outdoor Landscape
Replace some of your lawn area with plants that don't require much water or even ornamental grasses, which are water-friendly and also add a different look in terms of color and texture to your yard. They are easy to maintain, too.
The Regional Water Providers Consortium of Portland, Oregon also recommends grouping plants together in the garden that have similar watering needs. By separating low-water plants from thirsty ones, you won't be wasting water by dousing those that can live without it.
Consider Lawn Alternatives
If you planned to reseed your lawn this fall, there are choices other than traditional grass seed. They include alternative seed mixes, which require less irrigation and mowing once established, as well as groundcovers, shrubs and trees. Or, you might want to consider turning to hardscapes, such as a mix of concrete, woods and rocks to create a patio where a lawn once was. No water required.
Tinker With Your Mower
If you do have a traditional mower and standard lawn, you'll save water simply by adjusting your lawn mower to a higher setting. By keeping your grass blades longer, the roots will get some shade. That way, your soil will stay moist longer, and your lawn won't need as much water, the consortium says.
If you have a traditional lawn to water, do it in the morning to maximize the water that reaches the roots. Watering at that time will slow evaporation, and don't water more than one inch per week. How do you tell when you've watered an inch? Set an empty can on the lawn to catch the water and measure.
A few changes in water-using habits, a change in fixtures and a redesigned landscape are just some of the ways we can conserve water. It's not only good for the environment, but it benefits our wallets.
More From GOBankingRates
Make Your Money Work for You