For Richer, for Poorer: Merge Your Finances the Smart Way When You Get Married
Here's how to tackle savings accounts, debts and more together.
Wedding season is here, and brides and grooms everywhere are writing vows, planning menus and making playlists so they can have the special day they've always dreamed of. There's one thing that's not on most wedding planning checklists but is vitally important for a long-lasting union: Merging your finances in a way that works for you. A joint bank account is just the beginning of taking that step in a relationship — combining finances involves debt, investments and financial goals. Before your big day, find out everything you need to know about merging finances successfully.
This guide will cover:
Why It's Smart To Merge Finances
When you combine your finances, you are making a commitment to your union that you will make financial decisions as a couple. With combined finances, it might be more difficult to keep financial secrets from your spouse, which can be a key stressor in marriage.
Make Your Money Work for You
In a recent GOBankingRates survey, 27% of respondents said they would consider divorcing their spouse if their partner kept financial secrets. Women were a little more likely to say they'd think about splitting over financial secrecy than men, at 29% compared with 25%.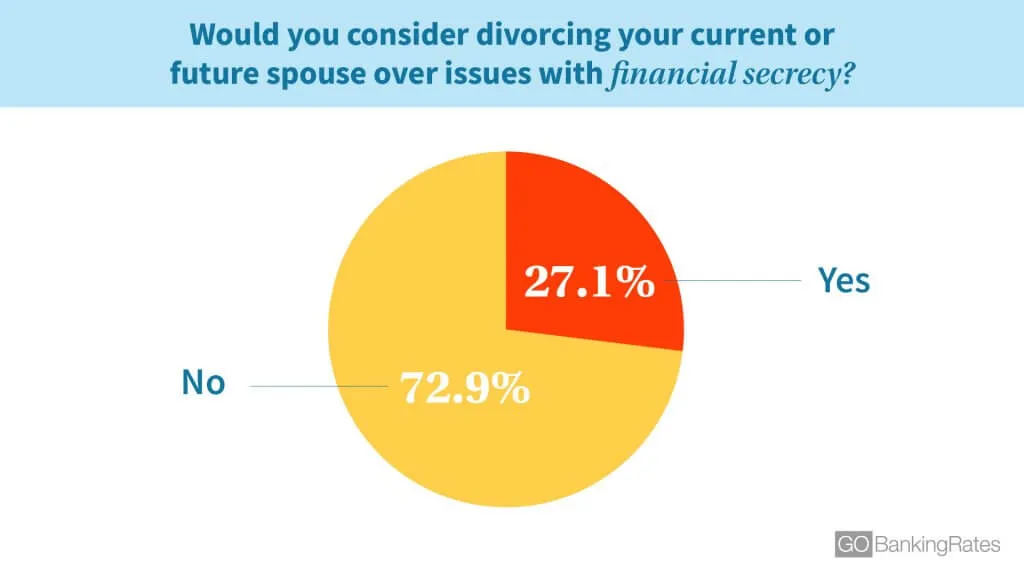 According to the survey, more than three-quarters of people have never lied to their spouse about financial issues.
Of the 22% who have lied, the most common lie was about their spending habits, which 10% of respondents said they have not been truthful about. Over 8% of respondents said they lied about how much debt they have. Other things people lied to their spouses about included their salary, investments, savings, credit score and gambling habits.
Considering Round 2? Don't Miss: Financial Benefits of Getting Remarried
Benefits of Merging Finances
Merging your finances can streamline the process and keep you both on track to meet your financial goals. You'll have fewer accounts to manage and if, heaven forbid, something happened to one of you, the other would still have access to the joint assets.
It can make it easier to pay off your debt faster with two people working toward the same goal. According to Fidelity Investments' Couples & Money study, more than half of couples brought debt into their marriage. What's even more concerning is that nearly half of those couples disagree on whose responsibility it is to pay off the debt.
Make Your Money Work for You
When you merge your finances with your spouse, one partner can take on the responsibility of managing the money, or you can share responsibility. You might have one partner who pays the monthly bills while the other manages your investments. Or, perhaps one of you really likes to track spending and watch the investment account balance go up, while the other couldn't be less interested. Your interests and abilities may determine the best way to split up the financial chores.
Learn: How To Buy a House When Your Spouse Has Terrible Credit
Potential Risks of Merging Finances
If the marriage goes south, each spouse has access to all of the money in any joint accounts. This means that if one spouse decides to leave and the other is unaware of their plans, they could take all the cash on their way out the door.
If one spouse is not forthcoming about their financial situation, or has other skeletons in the closet, the other spouse could be impacted. Similarly, if one spouse has a business that goes bankrupt or is sued, the assets that the other spouse could be affected, depending upon the laws of your state.
Make Your Money Work for You
On a day-to-day basis, having two people who regularly access the same checking account, for example, could result in unintended overdrafts. Overdraft protection on your joint checking account is a good idea for this reason.
See: Why We're Keeping Our Finances Separate Even After We Get Married
How To Merge Finances in Marriage
Finances are an important part of the discussions that should take place prior to getting married, according to the majority of people surveyed by GOBankingRates. Before merging finances, too, it's a good idea to discuss money with your partner.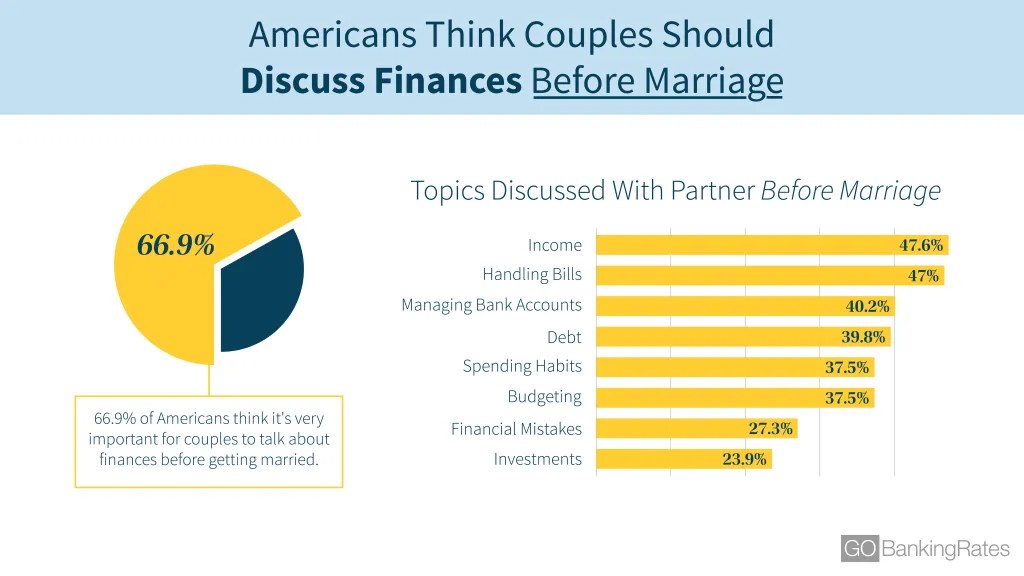 Step one of merging your finances is to talk about where you are and where you want to be. According to a recent GOBankingRates survey, older generations aren't as interested in discussing finances: Almost 68% of 55- to 64-year-olds kept quiet about their debt, income, investments, spending habits, financial mistakes and more. Yet 32.5% of Americans ages 35-44 say their biggest financial worry is their partner spending beyond their means.
You can start merging your finances with your partner's by opening a joint checking and savings account. You can also open investment accounts jointly. Note that if you're saving for retirement, any IRA account must be held in only one person's name, but you can name your spouse as the beneficiary.
Make Your Money Work for You
When you buy property together, you may be faced with the choice to title the property as Tenants in Common or Joint Tenants. Tenants in Common means you each own half of the property (or some other percentage based on what you put into the account). Joint Tenants or Joint Tenants with Rights of Survivorship means that you both own all of the property. If one of you passes away, the entire account becomes the property of the other.
In addition to a joint account, you might consider each having a small account that is yours alone. This is money that you can spend as you wish, without having to consult the other party.
Find Out: Can My Spouse Access My Savings Account Without Permission?
Paying Off Debt vs. Building an Emergency Fund as a Couple
When you're just starting to merge your finances with your partner's, you might be conflicted about whether you should pay off your debt, such as student loans, or start an emergency fund. You should have three months' worth of expenses in the bank as a minimum cushion against an illness or a job loss. Once you've got that, start dividing your savings between adding to the emergency fund and paying off debt. Start with the highest-interest debt first.
Understand: When To Use Your Emergency Fund
Marriage and Budgeting
Twenty-five percent of Americans wish they had discussed budgeting before they tied the knot, according to a survey by GOBankingRates.
Nearly half of respondents talked about their income and how to handle the bills, at 47.6% and 47% respectively. Other topics were raised as well, with 40.2% having talked about managing bank accounts, and 39.8% discussing individual debt. Spending habits and budgeting were each discussed by 37.5% of respondents before they tied the knot.
The first step to a successful joint budget is to have an honest conversation with your spouse about how each of you handles money. If you're both the type to save rather than spend, you may find it easy to agree on a budget that includes savings to reach your financial goals. If one of you is a saver and one is a spender, you might need to reach a compromise. Perhaps the spender gets a set amount of money each month to spend without having to discuss their purchases with their partner, but larger purchases need to be agreed upon before they're made. If you're both spenders, you'll need to tread very carefully. Recognizing that you each need to make a conscious effort to put the brakes on when it comes to spending is a good first step. And agree that you will discuss any non-essential purchases ahead of time so you don't overspend.
Make Your Money Work for You
Related: 14 Completely Free, Easy-To-Use Budget Templates
Money and Marriage: Saving Together for the Future
A wedding — and a marriage — involves a lot of planning. But before you get too wrapped up in creating your signature cocktail or choosing the passed hors d'oeuvres, have a serious conversation about your financial future.
Before you tie the knot, have a conversation about your financial goals. Discussing your goals early on will help keep you on track to meet them. Some questions you should ask yourselves include:
Do you plan to buy a home?
Would you like to have children? If so, how many?
Will you pay for your children's college education, or help them to finance it themselves?
Where do you envision living in retirement?
Is it important to you to be philanthropic?
Do you want to leave a legacy to your heirs?
It's impossible to start discussing these issues too early, but it is possible to start too late.
Once you've discussed your goals, you'll need to work together to achieve them. Decide together how much money you want to set aside for each goal. Automate this so that neither one of you is tempted to "borrow" your goal money for something else. If you have a portion of each of your paychecks deposited into a joint savings account, you'll never "see" this money and you'll be less tempted to spend it instead of saving it. Or, if one of you is admittedly a spender and the other a saver, put the saver in charge of making sure this money gets put away every month.
Revisit your goals periodically to make sure you're on track and to determine if your goals may have changed. If you end up with three children instead of two, or if one of your children gets a scholarship to college so you don't have to pay, adjust your other goals accordingly. Life almost never plays out exactly as we envision it, so be flexible.
How To Invest Money After Merging Finances
Once you've decided to merge your finances, you will need to decide how to invest the money you're saving for the long term. Learn a bit about investing for beginners if this is unfamiliar territory for you.
Putting money into a savings account is a great idea for accumulating funds for specific goals, but they typically don't earn much interest. You'll want to invest money you're saving for the long term in mutual funds, stocks or bonds to get a higher rate of return. Having a mix of these investments will help you manage the effects of the ups and downs of the market.
Move your money into more conservative investments as you get closer to the time when you will need to fund your goal. For example, if you are saving for your children's college education, you can invest the money in mutual funds while they're young. By the time they get to high school, you may want to move that money into a CD or savings account. If the market takes a tumble during their senior year of high school, you don't want to be left with a college fund that's suddenly worth 20% less than you planned for.
As with most decisions around money, the key is frequent and honest communication. Discuss what you want to get from your investments and how much risk you're willing to take. If it's important that you invest in certain things and not invest in others, discuss that.
If either or both of you have investments from before the marriage, you can either keep them as they are or liquidate them and invest in something you both agree on. Just be sure you understand the tax consequences of liquidation.
See: 29 Biggest Tax Questions for Married Couples
The decision to merge your finances when you marry is a personal one. Consider the pros and cons, and your unique situation before you make the best decision for your specific circumstances.
Karen Doyle is a personal finance writer and former financial advisor.
More on Money and Relationships