1-in-3 Americans Added Nothing To Their Savings This Year: 4 Reasons People Can't Afford To Save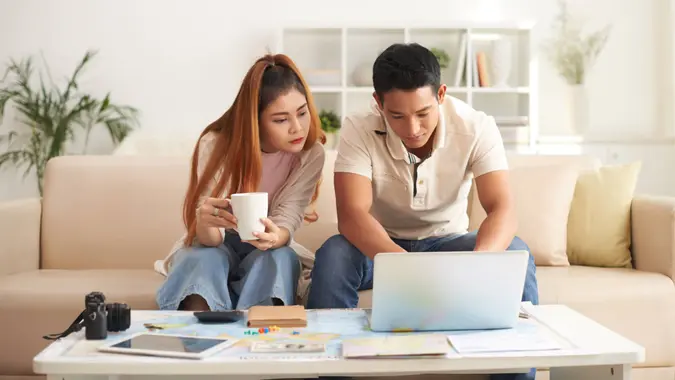 Dragon Images / Shutterstock.com
It's no secret that saving money has been difficult for many Americans lately. Inflation, soaring interest rates–which are impacting everything from credit cards to mortgage payments–and now, the resumption of student loan payments, have all put a strain on Americans' wallets.

Find Out: How To Get Cash Back on
Indeed, a new GOBankingRates survey found that one in three Americans, a whopping 32%, have added nothing to their savings this year. Meanwhile, 23% of Americans added up to $1,000 to their savings this year, while a meager 4% added between $4,000 and $5,000 this year.
"There are several contributing factors to this but there isn't one main cause, rather multiple," said Chris Keller, chief marketing officer of Empower Federal Credit Union. "There are still significant pressures inflation is placing on people, and as the prices of goods and services increase, purchasing power decreases making it harder to set aside money to save."
Higher Interest Rates
Many consumers may also be unable to save currently due to tight budgets and high-interest-rate debt.
As Kendall Meade, certified financial planner at SoFi, explained, as of the second quarter of 2023,credit card balances increased by $45 billion to reach a high of $1.03 trillion.
"While higher interest rates are great for high-yield savings accounts it has also caused debts such as credit cards to get even more expensive. High inflation has also caused tighter budgets leaving many consumers struggling to save," said Meade.
Inflation
Several experts did not find the GOBankingRates outcomes surprising given the sticky inflation, which, while decreasing, is still hitting Americans in every aspect of their lives.
Make Your Money Work for You
"We are continuously being hit with higher prices at every turn from the grocery store to health care and rent," said Melissa Cid, consumer savings expert with MySavings.com. "It's hard to grow a savings account when we are just trying to play catchup as wage increases still aren't aligning with inflation."
Unfortunately, she added, basic financial literacy is not being taught in school or at home with enough emphasis as it should.
"This lack of knowledge leads to a cycle of poor financial decisions that get passed down generations," she said.
Pandemic Savings
According to Austin Kilgore, an analyst with the Achieve Center for Consumer Insights, Americans went on a record-high savings streak during the pandemic. In turn, he added that those who haven't had to dip into their savings since then may feel like they've put in the work to build an emergency fund and now have better uses for the money they had been setting aside each month.
Kilgore noted that while ideally, people in this situation are now allocating the savings portion of their household budget to longer-term investments, given recent Federal Reserve data showing credit card balances surpassed $1 trillion for the first time, that's likely not the experience of most Americans.
"The reality is that inflation and higher interest rates have made everyday purchases and managing debts much more expensive, and it's less consequential to forgo a savings account deposit than to miss a credit card or loan payment," added Kilgore.
Lifestyle Inflation
 Some experts noted that another factor contributing to the lack of savings is lifestyle inflation.
"I have seen in my practice in financial advisory that most folks often change their lifestyle to a higher standard when they get more income," said Young Pham, a financial advisor and wealth management professional affiliated with BizReport. "So, whatever extra money that would have ordinarily gone towards savings ends up being spent on the lifestyle upgrade. This is why an increase in income does not necessarily translate to added savings in the bank."
Make Your Money Work for You
Robert R. Johnson, Ph.D., CFA, CAIA, and professor of finance at Heider College of Business in Creighton University, echoed the sentiment, saying that themost common mistake people make is letting their spending increase commensurate with their new salary.
For instance, he said, people move into a bigger apartment or buy a more expensive car or home to reward themselves for receiving the raise.
"People are wise to effectively invest any money from a raise and act as if you didn't receive the raise," he said. "That is, continue to live the same lifestyle you led before receiving a raise and invest the difference."
More From GOBankingRates