Americans Are Fleeing These 10 States To Save Money — Should You?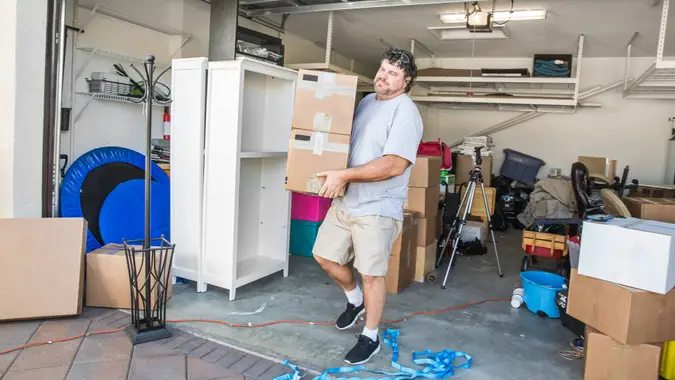 JodiJacobson / Getty Images/iStockphoto
The phrase "follow the money" gets new meaning from the millions of Americans who leave their home state every year in the hopes of saving money and making a better life for themselves.
Having tracked migration patterns since 1977, United Van Lines knows a thing or two about household moves and shipments. According to its 46th annual National Movers Study, Americans moved to lower-density and more affordable states in search of lucrative jobs, new retirement residences and to be closer to family in 2022.
The largest percentage of outbound migrations in 2022 occurred in New Jersey (about 67% total outbound and 33% total inbound), Illinois (about 64% and 36%) and New York (about 62% and 38%). It's surprising that California doesn't figure in the top five, with its high cost of living, housing and taxes. Forbes, citing United States Postal Service change-of-address data, found that California is the No. 1 state people are fleeing, but it ranks No. 10 in United Van Lines' study.
The pandemic has changed how people work and opened a lot of new opportunities for people to follow the money, often inter-state. People often move to a new state for financial reasons, such as to change jobs, and United's study supports this claim, revealing that 33% of inbound moves are due to a company transfer or new job. However, family reasons is the primary motivator, with 35% moving to be closer to family. Twenty percent relocate for retirement.
Here are the top ten states people are fleeing, per United Van Lines' 2022 National Movers Study. To see where your home state ranks in the study, click this interactive map. 
Make Your Money Work for You
1. New Jersey – 63.8%
Not as expensive as its New York neighbor, the densely populated state of New Jersey is still a tough place to live if you're a penny pincher. According to RentCafe, the cost of living is 13% higher than the national average, housing is 31% higher, utilities are 8% higher and groceries and clothing are 4% higher.
2. Illinois – 63.8%
In 2022, 63.8% of moves in Illinois were outbound ones. The Chicago Sun-Times, citing Census data, reported that Illinois lost residents about 3.5 times faster than Michigan and Missouri and 1.5 times faster than Indiana from 2020 to 2022.
3. New York – 61.9%
A notoriously costly state to live in, New York led the nation in population loss, losing 180,341 residents between July 2021 and July 2022, per the Hudson Valley Post, citing Census data. Cost of living and getting a new job were the fourth and fifth top reasons that New Yorkers moved out of state, behind wanting to be closer to family, looking for a different lifestyle and desiring a new residence in retirement, according to United Van Lines.
Here are the rest of the top states for outbound moves:
4. Michigan – 57.8%
5. Wyoming – 57.0%  
6. Pennsylvania – 56.8% 
7. Massachusetts – 56.6% 
8. Nebraska – 56.3%
9. Louisiana – 56.0%
10. California – 56.0%
More From GOBankingRates