How to Do a Free Reverse Phone Lookup & the 8 Best Sites to Use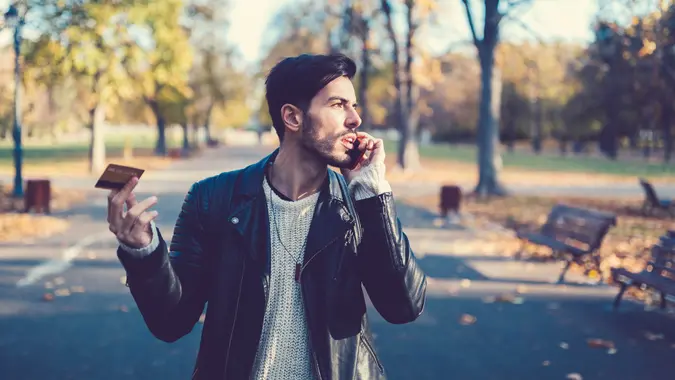 martin-dm / Getty Images
Have you ever wondered who owns that phone number? You know, the one that keeps calling you and won't leave you alone? You just want to know who it is so you can tell them to stop calling. There's an easy way to find out: conduct a reverse phone lookup — for free.
But is there a truly free reverse phone lookup? Yes — there are plenty of sites that offer free reverse phone lookups. First, here's a look at exactly what a reverse phone lookup is and how it works, then you can get started finding numbers on your own.
What Is a Reverse Phone Lookup?
A reverse phone lookup is a service that enables you to find out who owns any given telephone number by entering it into their database.
How Does a Reverse Phone Lookup Work?
The company provides a service to look up the owner of any given number — whether it's listed or unlisted. They have access to databases all over the world, including landline numbers, as well as cell phones and Voice over IP numbers (VoIP) — which are not typically listed.
Here Are 8 of the Best Sites for Free Reverse Phone Lookups
There are a lot of sites out there that promise to do these searches for you, and it can be hard to tell which ones are legitimate. To make it easier for you, here are the best free reverse phone lookup sites out there.
1. Instant Checkmate
Instant Checkmate's database is linked to every state agency and public database, meaning that it has every phone number that's publicly recorded. The company can also provide you with the following information regarding the caller:
Name
Birthdate and age
Email addresses
Present and past home addresses
Social media pages
Criminal history
Relationship status — single or married
Make Your Money Work for You
In addition, you can refine your search — depending on how much information you can provide — by using the website's filtering tools.
2. BeenVerified
You can use BeenVerified's search functions in a number of ways. Not only can you find phone numbers, you can also conduct searches for addresses and vehicle VINs — and do people searches. You can also download the application on iOS and Android devices and save the reports on your device to peruse whenever you like.
Bonus: BeenVerified enables you to remove your own information from the site, and it doesn't store your sign-up information.  
3. Spokeo
You may have heard of Spokeo, since it's a very popular site for looking up phone numbers. When you conduct a search, you can get the person's name, email, home address and social accounts. You can also get background information on a person that includes the following:
Name, age and gender
Contact information
Location
Relatives
Estimated income
Social media accounts
Just sign up for a free trial membership and search away. But don't forget to cancel that membership if you decide you no longer want the service.
4. Intelius
Intelius is known for providing searchers with comprehensive results on any caller. You can also pinpoint connections between the person you find and their previous addresses, work history and acquaintances. These details can help you by providing information that might not be available on other free number lookup sites.
5. GreatPeopleSearch
GreatPeopleSearch is a user-friendly free reverse phone number lookup site that provides searchers with fast and accurate results. It draws on publicly available national, county, state and municipal records to get the data you want in your search results.
Make Your Money Work for You
GreatPeopleSearch also enables you to do a free phone lookup free on VoIP numbers, which are real phone numbers that are assigned to users, but not specific phone lines. This company can provide you with a caller's basic information, including the following:
Name
Address
Employment status
Relatives
Social media profiles
Properties and businesses owned
You can also do a reverse cell phone lookup on your mobile device or desktop, which makes it convenient whether you're at home or on the go.
6. FindPeopleEasy
You can find as much information as you can about the caller you want to identify by scanning through FindPeopleEasy's phone directories and other archives. The company updates its database on an ongoing basis to make sure all data is up to date.
7. BestPeopleFinder
You don't need to subscribe or sign up to use BestPeopleFinder for a free reverse phone lookup. The site enables you to find more than just reverse lookup names; you can search for addresses, phone numbers and email addresses.
BestPeopleFinder gets all its data from official public, state and federal documents, so results are accurate. It's also simple to use the site — all you need to do is plug in the number, and you'll get your information.
8. Spy Dialer
Spy Dialer is a free reverse phone lookup service that accesses public databases of registered phone numbers to help users find information on cell phone and landline numbers and emails. You might even be lucky and find some unlisted numbers, and you can conduct as many searches as you want free of charge.
Make Your Money Work for You
Bottom Line
If you've ever been the victim phone harassment, you know how awful it can be. But now that you're armed with information on how to find out who was behind those calls, you can do something about it.
By using a free reverse phone search service, you can enter the phone number that's been calling you into a search engine and find out who owns that number. It's a great way to find out if the person who is annoying you is someone you know or if it's a stranger. And once you know who it is, you can take steps to stop them in their tracks.
Editorial Note: This content is not provided by any entity covered in this article. Any opinions, analyses, reviews, ratings or recommendations expressed in this article are those of the author alone and have not been reviewed, approved or otherwise endorsed by any entity named in this article.