Make 6 Figures? You Can Save $200,000 a Year If You Move to This Florida City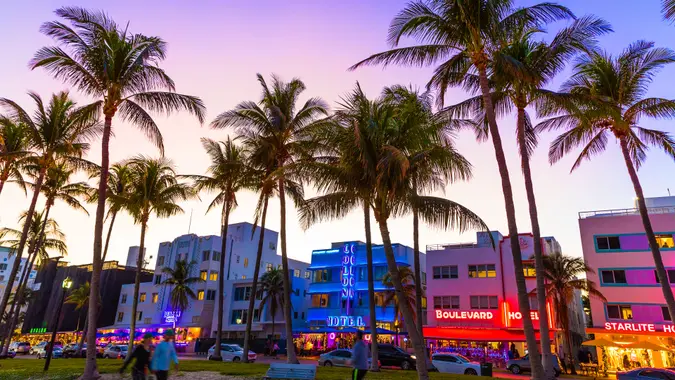 LeoPatrizi / Getty Images/iStockphoto
Most Americans don't pull in six figures a year. In fact, the average salary in the U.S. was $58,260, with an average hourly wage of $28.01, according to the May 2021 National Occupational Employment and Wages Estimates from the BLS. That said, quite a few do top six figures in annual income — roughly 33% of the adult working population according to Zippia.  
Find Out: Why Home Prices Are Plummeting in These 6 CitiesMore: 3 Things You Must Do When Your Savings Reach $50,000
If you bring in between $150,000 and $650,000, and reside in one of the country's most expensive cities in states with high tax rates, such as NYC or San Francisco, you could save a bundle by relocating to Miami, FL. And by a bundle, we're talking up to $195k. 
SmartAsset determined how much you can save — depending on your income tier and current cost of living –by moving to Miami, which, though definitely not cheap (cost of living there is 21% higher than the national average, according to RentCafe) can be far more affordable in comparison to more expensive cities. Plus, Florida doesn't charge state tax, which is where the biggest chunk of savings come into play
Let's look at what high rollers pulling in six figures stand to save by moving to Miami, according to SmartAsset's research.    
Chicago to Miami
Those who earn $150,000 a year and live in Chicago can save $1,926.82 a year by relocating to Miami. This may not sound very impressive, but that money can potentially cover a great family vacation that you may not currently be able to afford living in the Windy City. If you rake in $650,000 in Chicago, you stand to save $10,573.24 by living in Miami instead.  
San Francisco to Miami 
If you make $150,000 a year and live in San Francisco, you can save $36,455 by relocating to Miami. High rollers in the Golden City making $650,000 a year can save $153,195.09 a year by choosing to dwell in Miami. 
Manhattan, NY to Miami 
The NYC to Miami move offers the most substantial savings opportunity. If you're earning a salary of $150,000 and living in the Big Apple, you could save $48,695.75 by living in Miami instead. If you're making $650,000 in Manhattan, you can save $195,000 annually by opting for Miami.
Take Our Poll: Are You Planning To Buy or Sell a House This Year?I'm a Real Estate Agent: Here Are the 5 Best Cities To Buy a Home This Summer
Relocating from expensive cities like Chicago, San Francisco, and Manhattan to Miami, Florida can result in significant savings for high earners. Depending on their income tier, individuals can potentially save thousands to hundreds of thousands of dollars annually. By taking advantage of Miami's lower cost of living and the absence of state taxes, individuals earning six figures can enjoy a more affordable lifestyle.
More From GOBankingRates