Suze Orman: 'Get as Much Pleasure Out of Saving as You Do Spending'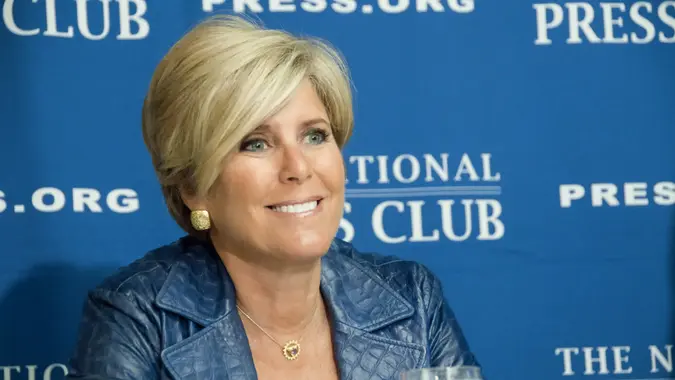 Albert H. Teich / Shutterstock.com
Saving money feels challenging since it's often easier to enjoy spending money. When you spend money, you get to treat yourself in the moment, and you can get a quick dopamine hit. Saving money doesn't come with the same dopamine hit and burst of energy. However, if you want to pay off your debt or get ahead financially, you will need to get into the habit of saving money. If you're always spending money, you're going to struggle with saving and planning for the future. 
"Get as much pleasure out of saving as you do spending," said Suze Orman, money expert and co-founder of emergency savings startup SecureSave, in an exclusive interview with GOBankingRates. In this article, we will explore how you can get as much pleasure out of saving as you do spending to get your finances on track. 
How can you find pleasure in saving money?
Think of the Long-Term Rewards
When saving money, it's essential to have a purpose behind why you're doing so. Financial experts like Suze Orman and others like Dave Ramsey often share the concept of planning for the future because you can't work forever. One of the primary rewards of saving money instead of spending it frivolously is that you can live your dream lifestyle or even retire earlier. 
The long-term rewards of saving money need to be on your mind. You can keep your eye on the prize by having visual reminders, like putting up a picture of your dream vacation destination in your room or changing your screensaver to your favorite beach as a way to think of the bigger picture. 
Make Your Money Work for You
Make Your Retirement a Priority
Suze Orman has some strong feelings about saving for retirement because too many people will neglect preparing for their golden years. One of the best ways to get more pleasure from saving money is to write out your dream lifestyle in retirement. Here are a few points to consider when doing this:
Do you want to travel full time in retirement?
Do you want to move to the beach?
Do you want to stay close to family?
It's crucial to figure out your dream lifestyle and make the necessary financial moves to determine how to get there. The money you save today will fund your dream lifestyle when you eventually escape the workforce. As an added incentive, it's worth considering how much sooner you can leave the workforce if you make saving money a priority. 
Find an Inspiration for Saving Money
Is there someone in your life that you feel has a dream lifestyle? Do you look up to anyone on social media because of how they get to live? This person likely created this lifestyle by saving and investing instead of constantly spending money. It will benefit you greatly if you find an inspiration for saving money so that you don't feel like spending money is the only way to use your income to enjoy yourself. 
Treat Saving Money Like a Game
Many apps and programs have been created to gamify habit building. There are apps like Duolingo that turn learning languages into a game. You can do something similar with saving money. For example, you can use a budgeting app that helps you save money by cutting out subscriptions. From there, you could set rules where you can treat yourself every time you reach a particular financial milestone. So, let's say you managed to save $100 by cutting out a subscription you weren't getting any value from. You can then treat yourself to your preferred snack or an indulgence of your choosing. 
Make Your Money Work for You
When you make saving money fun, you're more likely to stick with it. Too many of us will view money management as some restrictive activity where we must constantly say no to everything. Personal finance is about rejecting things you don't care for to have the money for what you truly value.  
Make Your Saving Automatic
Many people will try to spend first and then save later. This doesn't always work out, and Orman suggests you save first by setting up automatic withdrawals. You can contact your bank or employer to ensure that a specific amount comes off your paycheck without any additional effort. When you automate the process of saving money, you'll find that it's not that challenging to set funds aside. You can also leave some money in your checking account for entertainment purposes once your automated withdrawals have gone through. 
Think of Your Future Self
When you save money, you're doing your future self a favor. Suze Orman believes that not setting up an emergency fund is a path to poverty. You're only hurting your future self when you spend money instead of setting aside some cash in an emergency fund. An emergency fund is an essential financial tool since the last few years have shown us that we must be prepared for anything life throws at us. 
Clear Out Clutter
Suze Orman has suggested that you cut out those pesky expenses that come in the form of subscriptions that auto-renew. Orman believes that you can clear about $1,000 from your annual budget if you stop the auto-renewals on services that you don't use. This is one of those examples where you would save money without compromising your quality of life. There's a good chance that you're paying for a subscription that you totally forgot about.  
Make Your Money Work for You
Closing Thoughts
If you apply the financial advice from Suze Orman and start to enjoy saving money, you'll get ahead financially. Even though it's easier than ever to spend money, it's critical that we get into the habit of saving and planning for the future. 
More From GOBankingRates