8 TikTok Money-Saving Tips That Actually Work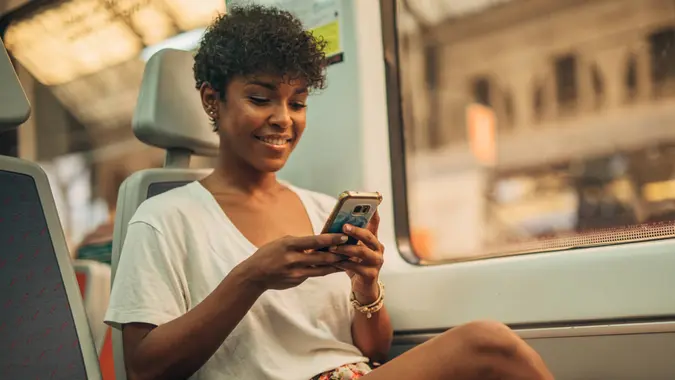 South_agency / Getty Images
TikTok is an extremely popular social media platform. It has over 150 million users in the United States alone. While the app has tons of videos of people dancing, having laughs and more, the platform isn't only for entertainment. It's also a great place for self-expression and connecting with it others. It can also be a useful platform for education on various topics, including saving money.
8 of the Best TikTok Money-Saving Tips
Some money-saving tips you see on TikTok can be suspect at best, but others can be legitimate. Here are some of the best TikTok money-saving tips that actually work.
1. Use Cashback Apps
You might see TikTokers praising cashback apps like Honey, Rakuten and Ibotta. They certainly sound easy — perhaps too easy. But these apps indeed offer cashback at several of the most popular retailers. Some also track prices over time so you can avoid overpaying for items that have increased in price.
2. Start a Budget
Starting a budget may not be revolutionary, but there's no shortage of people recommending it on TiKTok. Why? Simple: it works. Saving money can be difficult if you don't know where your money is going. But starting a budget can help you start keeping track. Then, you can take things a step further with a 50/30/20 budget.
With this method, 50% of your income goes toward needs, 30% to wants and 20% to savings. This helps ensure you have enough money while putting a significant portion toward savings. If you are unable to meet the 20% savings target, you must cut back in other areas. While cutting back on wants would be preferable, you can also reduce your needs in otehr ways. Such as by moving to a cheaper place or reducing the number of cars your household owns.
Make Your Money Work for You
3. Shop Secondhand
TikTokers often recommend secondhand shopping. You can shop at thrift stores, garage sales or consignment shops. You can also shop at online marketplaces like Craigslist, Facebook Marketplace and eBay.
Of course, buying items secondhand can save you a lot of money. But you might be able to find unique and interesting items that you'd never see at department stores. You could also find items at a big enough discount that you could consider flipping them for a profit.
4. Cut Unnecessary Expenses
Cutting unnecessary expenses is a broad concept, but that means there might be a lot of ways you can cut back. For example, you can cancel subscriptions rarely used. Use public transportation instead of driving, if you have that available in your town. You can also consider delaying purchases of things you want but don't need by a few days. This is a great way to reduce impulse buys — often, you'll find your desire to buy that thing fades after a few days.
5. Meal Prepping
Meal prepping is popular among TikTok users because it's a great way to save money on food and preparation doesn't take too long. @themealprepmanual shared 16 meal prep meals for $30. Meals include peanut butter and jelly baked oatmeal, spicy adobo chicken and peppers, and ground chicken taco bowls. Your results may vary depending on the cost of ingredients at your grocery store. Though, this strategy will likely save you money compared to eating out daily.
6. Use Coupons
Couponing is nothing new. But sometimes, the tried-and-true methods can produce the best results. This is an old-school money-saving strategy. It can be advantageous because there are many ways to find coupons. For example, you can find them on coupon sites, store websites and social media for promo codes. Look for coupons in these places before you shop. This can also help you target items that are a good deal.
Make Your Money Work for You
There are other things to keep in mind about coupons. For example, they often have expiration dates, so you must use them before they expire.
What Is Coupon Stacking?
You could potentially use multiple coupons on a single purchase. Just check first whether the store where you are shopping allows coupon stacking.
7. Freeze Your Fruits
You can do many things with fruits that are going bad, like making banana bread, muffins, etc. However, Juliana Deliberais (@julianadeliberais) has a different idea: try freezing them. Deliberais mentions using your frozen fruits to make acai bowls. Beyond that, there are many delicious ways you could give your few-days-old fruit another life. You could make smoothies, fruit salads and sorbet. Or, use them to bake. These ideas can help you reduce food waste and the money you otherwise would have wasted on fruit that ended up going bad.
8. Take Advantage of Your Local Library
Your local library is a great way to get access to thousands of books and audiobooks–completely free. But you may not know that libraries today often have much more than books and audiobooks. Libraries let you read magazines and newspapers, give you access to online courses and even have ways to let you stream TV shows and movies. Again, all you need to access these resources is a library card.
However, some libraries don't have the resources to offer all these things for free. But as Wired notes, applying for and using a library card for a neighboring county is perfectly fine and even encouraged. So if you live in a small, rural area with a bigger city or county nearby, it might be worth using their library, assuming the commute isn't terribly far.
The Bottom Line
Although TikTok is known for its viral challenges and dance videos, it has a wide variety of content, some of which includes money-saving tips. While not all the money-saving tips you'll find on TikTok are worth using, the tips mentioned here can help you save a significant amount.
Our in-house research team and on-site financial experts work together to create content that's accurate, impartial, and up to date. We fact-check every single statistic, quote and fact using trusted primary resources to make sure the information we provide is correct. You can learn more about GOBankingRates' processes and standards in our editorial policy.