Latest WhatsApp Scams in 2023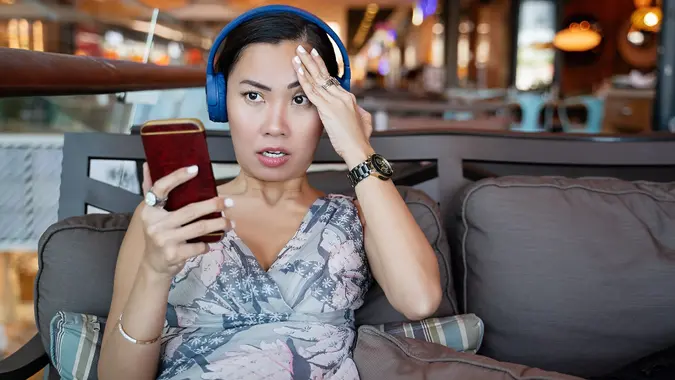 Enes Evren / iStock.com
Owned by Meta, WhatsApp is a popular messaging tool worldwide with over two billion users. As with all popular platforms and apps, there is danger lurking in the form of fraudsters and thieves. 
While WhatsApp does have some privacy and security protocols such as end-to-end encryption, which ensures that only you and the person you're messaging with are able to see the communications, there are still risks when using the app. This guide updates you on the latest WhatsApp scams you need to know about.
Top WhatsApp Scams
Most of the commonly used WhatsApp scams involve people you don't know. That's often where the most risk lies, so it's best to understand what's going on and what you could do about it.
1. Loved One in Need Scam
One WhatsApp scam that you may be at risk for is someone else impersonating someone you know to financially take advantage of you. In this scam, you may receive a message that someone you know is in trouble and needs you to help them get out of jail, send money for a flight home or something similar. The trouble is, the person messaging you is most likely a scammer and not your actual friend or loved one.
Make Your Money Work for You
Fraudsters impersonating someone you love and trust may ask you to wire money or transfer funds to their account. Once you do, it will be hard to trace the money, which will be gone before you even realize you weren't really speaking with your special person.
How To Protect Yourself
Before you send money, do some verifying to ensure that your friend is actually the one in need. You could ask questions only the friend would know, such as the name of the last restaurant you ate at together. Or you can reach out to your friend by calling or asking loved ones to check and see if the messages are real.
Can You Be Catfished on WhatsApp?
As mentioned, it's fairly easy to impersonate someone else on WhatsApp. It's hard to tell who you're texting with, since all you can see is a phone number and potentially, a profile photo. However, some users don't upload profile photos — and if they do, the image may not be real. When in doubt, it's best to avoid the individual in question. Or you could always make a WhatsApp video chat to speak face to face and confirm who they are.
Make Your Money Work for You
2. WhatsApp Verification Scam
WhatsApp uses two-factor authentication to secure your account. When installing the app or logging back in, you may receive a six-digit code to your mobile phone you can use to access your WhatsApp account. If you didn't request this verification, it may be a red flag that someone else is trying to steal your account or has access to your phone.
How To Protect Yourself
Watch out for friends or people you know that may request the code. It's probably not them — your account or theirs may have already been hacked and the scammer wants your verification code to take over. Never share your SMS code to ensure your account is safe. If you catch the issue early enough, you may be able to save your account.
3. WhatsApp Gold
One WhatsApp scam that seems to come around every few years is WhatsApp Gold membership. You might see a message offering an exclusive, higher-level, feature-rich version of WhatsApp designed for celebrities and high-profile accounts. Scammers might also send a message warning that if you do not upgrade, your phone will be hacked. However, there is no such release from WhatsApp. The invitation link provided is malware which could take over your phone or steal your information.
How To Protect Yourself
If you receive an invitation to WhatsApp Gold, set the flattery aside that you're part of a special circle of influential people and delete the message. Clicking on the link could cause you — and the friends and family you're tied to — a big headache.
Make Your Money Work for You
4. Coupon Scams
Everyone wants to save money these days. However, if you receive links for coupons and specials for your favorite shopping places, supermarkets and more, think twice before you click on the links. As with WhatsApp Gold, opening the links may lead to a sea of malware or other issues that could cause problems with your accounts and mobile phone.
How To Protect Yourself
To avoid trouble, don't open any links on WhatsApp from individuals you don't know. Remember that the person on the other side of the message may not be who you expect.
Why Am I Getting Random WhatsApp Messages?
Although WhatsApp is relatively private, anyone can message you if they know your number. Scammers can collect hundreds or thousands of phone numbers to spam with WhatsApp messages. If you receive unwanted messages, don't open or forward them. You could block or report them to WhatsApp by tapping and holding down the message and selecting "Report."
Can I Control Who Sends Me Messages?
Although you can't entirely stop messages from coming in, you could manage spammers and scammers by blocking, reporting or deleting the numbers from your contacts.
Make Your Money Work for You
If you find that the messages are inappropriate, holding down the message opens up an options list so you can report the message to WhatsApp. Doing so helps the platform recognize what's spam — and what isn't — protecting you and other users in the future.
How Private Is My Info on WhatsApp?
WhatsApp users have some protections when using WhatsApp. You can adjust your account settings to hide your profile information, such as your contact photo or when you're online from strangers or people who aren't on your contact list. Although someone can send you a message, it's up to you to decide if you'd like to engage, delete or block the stranger.
Takeaway
WhatsApp is a great way to stay in touch with friends and family around the world. While the main feature is texting, WhatsApp also allows you to create statuses, send voice messages, share your location and make voice and video calls.
However, the popularity of the app and the fact that anyone who knows your phone number could send you a message means that WhatsApp scamming is real. There is some risk involved, especially if you're messaging with people you don't know. It's best to be aware of the latest WhatsApp scams and protect your account to avoid trouble.
Make Your Money Work for You
Information is accurate as of March 8, 2023.
Editorial Note: This content is not provided by any entity covered in this article. Any opinions, analyses, reviews, ratings or recommendations expressed in this article are those of the author alone and have not been reviewed, approved or otherwise endorsed by any entity named in this article.
Our in-house research team and on-site financial experts work together to create content that's accurate, impartial, and up to date. We fact-check every single statistic, quote and fact using trusted primary resources to make sure the information we provide is correct. You can learn more about GOBankingRates' processes and standards in our editorial policy.
Make Your Money Work for You