7 Places To Save Money and Earn Interest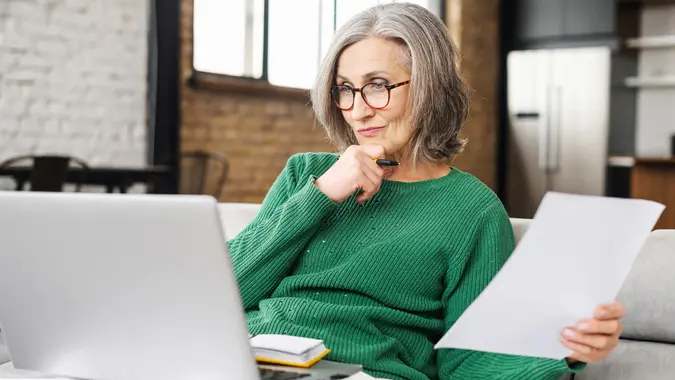 Vadym Pastukh / iStock.com
The collapse of Silicon Valley Bank and Signature Bank has left many Americans wondering, "Is a bank a safe place to save money?" You may also be asking yourself, "Where should I put my money to earn interest?" Here's what you need to know.
See: 3 Signs You're Serious About Raising Your Credit Score
Where Should I Put My Money To Earn Interest?
In addition to conventional banks, you have other options to save money and earn interest — including a few that may surprise you. Here are seven to consider:
High-yield savings account
Interest-bearing checking account
Money market account
Certificates of deposit
Fintech company or online bank
PayPal
Treasury bills
1. High-Yield Savings Account
Credit unions and banks offer high-yield savings accounts. While the definition of high yield may vary, it typically refers to a savings account offering an APY greater than the 0.02% or so that many traditional banks, like Chase, offer to customers.
Many online banks offer high-yield savings accounts delivering interest between 2.75% to 4.00% APY, with some even higher.
TAB Bank, an online bank based in Ogden, Utah, currently offers APY with its high-yield savings account. TAB has no monthly fees and no minimum deposit required.
Make Your Money Work for You
Capital One has some of the highest yields among banks with a brick-and-mortar presence. You can earn APY with a 360 Performance Savings account, with no minimum deposit to open the account, no minimum balance requirements and no monthly fees.
2. Interest-Bearing Checking Account
If you want the flexibility of a checking account so that you don't have to transfer funds from your savings account when you need them, but you still want to earn interest on your money, an interest-earning checking account could be the solution.
In general, you won't earn as much with an interest-earning checking account as you would with the other options on this list. But your money will always be working for you.
Ally Bank is an online bank with an interest checking account that offers an APY of . The bank has no monthly maintenance fees and no overdraft fees. Plus, your Ally debit card gives you fee-free access to the Allpoint network of 43,000-plus ATMs.
3. Money Market Account
A money market account is similar to a savings account but may offer slightly higher interest rates. Plus, it offers the ability to access the money in your account through a debit card, giving you more flexibility than you'd have with some of the other options on this list.  
Make Your Money Work for You
Money market accounts often have minimum deposit requirements and minimum daily balances to avoid a monthly fee.
One of the best money market accounts for 2023, based on GOBankingRates' research, is offered by Sallie Mae. Sallie Mae offers a APY. There's no minimum deposit to open an account and no minimum balance or monthly fee.
First Internet Bank offers an APY of on balances of $1 million or less, but you'll need a $100 minimum opening deposit and an average daily balance of $4,000 to avoid the monthly fee.
4. Certificates of Deposit
CDs provide less liquidity than other interest-earning accounts on this list. You will generally be locked into a term of anywhere from three months to five years or more, depending on the CD you choose.
However, CDs often offer some of the highest interest rates available.
Synchrony Bank, for example, offers a 14-month CD with an APY of and no minimum balance.
Be aware that CDs often have early withdrawal penalties. This is a good place to keep your money if you are saving for a specific event that has a known date, such as a wedding or vacation. CDs are not a good option for emergency savings because you never know when you will need the money.
Make Your Money Work for You
5. Fintech Company or Online Bank
Financial technology companies are companies that offer financial services, including banking, without brick-and-mortar branches.
GOBankingRates ranked SoFi's combined checking and savings account as best for high interest among the Best Checking Accounts of 2023. Earn APY on your checking account balance, and earn 4.00% on funds you designate as savings when you set up direct deposit. SoFi's financial services are backed by SoFi Bank, NA, Member FDIC.
Aspiration is a fintech offering high interest rates for its online cash management account. Earn 1.00% APY on your savings with a basic account, or APY with an Aspiration Plus account, which costs $5.99 per month if paid annually or $7.99 monthly. To earn interest, you must have at least $500 in qualifying debit card purchases per month.
Unlike some other banks and financial institutions, money in an Aspiration cash management account is FDIC-insured up to $2.25 million per depositor, rather than the minimum $250,000 required by law.
6. PayPal
PayPal is a fintech company backed by Synchrony Bank, Member FDIC. Because of the popularity of the platform, it's worth mentioning that PayPal now offers 4.00% APY on balances held in your PayPal Savings account.
It's easy to transfer funds from your linked bank account to your PayPal Balance account (that is, your regular PayPal account you use to send and receive money) and then into your PayPal Savings to earn interest.  
7. Treasury Bills
Treasury bills, or T-bills, provide a secure investment for funds exceeding $250,000, which is the maximum amount covered by FDIC or NCUA insurance in banks or credit unions. They are also highly liquid. Unlike savings bonds, you can sell them before they mature with no penalty or even sell them on the secondary market. They typically have terms of four weeks up to one year.
Interest rates on Treasury bills aren't very high, but they are secure. You can earn roughly 0.145%. You can buy Treasury bills at TreasuryDirect.gov.
What To Consider When Choosing Places To Put Your Money
Investments such as stocks, mutual funds and exchange-traded funds can offer high returns on your money. For instance, a look at the 10 best ETFs in recent years shows returns as high as 18.5% for the Invesco Solar ETF (TAN).
The S&P 500 stock index is up more than 7% in 2023 compared to last year's lows.  
However, these types of investments are not guaranteed to rise. You could lose your money as easily as you could earn a return on your investment. Plus, stocks, ETFs and mutual funds lack liquidity. That means if the market is down, you may not want to sell because you'll lose money on your investment. You may not be able to cash out at any time.
In general, the riskier the investment, the greater the return.
Stocks, ETFs and mutual funds are not ideal places to stash emergency savings that you could need at any time, or even money for a vacation or large purchase.
If you are looking for a safe place to keep your money to earn interest, other options — including options listed above — offer guaranteed gains. Your savings may not keep pace with inflation, but at least you won't end up with less money than you expected.  
Plus, if you put your money in an FDIC-insured bank, your deposits are covered by the Federal Deposit Insurance Corp. for up to $250,000 per bank. Credit unions offer similar protection through the National Credit Union Administration.
FAQ
Where can I get 5% interest on my money?

Some CDs offer interest rates as high as 5.00% or more. One such example is Bread Savings, which offers an APY of 5.05% on its one-year CD. 

Which savings account will earn you the most money?

Online banks and financial technology companies tend to offer higher interest rates for savings accounts than traditional brick-and-mortar banks. TAB Bank, an online bank based in Ogden, Utah, is offering a high-yield savings account with an

APY of 4.06%, which is well above the national average.

Where can I put my money so it grows with interest?

To build up emergency cash reserves with little risk, consider putting your savings in a high-yield savings account, an account with an online financial technology company, an interest-bearing checking account, a money market account, a CD or share certificate or PayPal. You might also consider investing in Treasury bills.
Rates are subject to change; unless otherwise noted, rates are updated periodically. All other information on accounts is accurate as of March 15, 2023.
Make Your Money Work for You