5 Best Sources To Find Black Friday Deals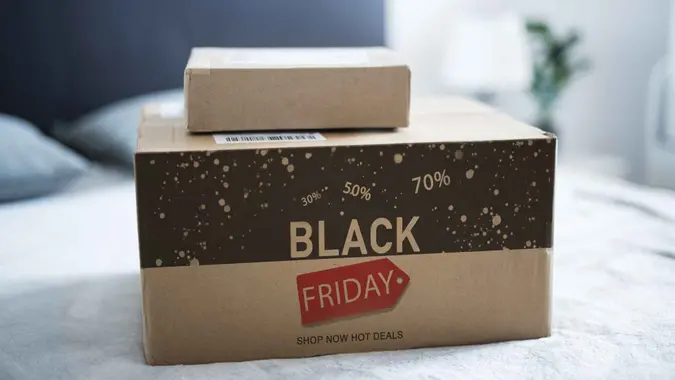 ArtistGNDphotography / Getty Images
With Black Friday sales starting earlier every year, you should be soon sick to death of seeing flashing pop-ups and commercials advertising Black Friday blowout bashes and doorbuster deals. Retailers will be the real winners come November 24, but that doesn't mean you can't score some sweet sales leading up to the big discount day.
Sales started in October but virtually every large retailer — including Walmart, Lowe's, Amazon, Costco, Macy's, JC Penney, Best Buy and Home Depot — has jumped into the fray by now. You should have received holiday flyers from most of these retailers already.
Black Friday is big business, and while many retailers will be coming to you, you should also know where to go to get the most up-to-date event information long before you actually travel to a store. Aside from BlackFriday.com, there are sources you can tap to ensure you're not missing out on savings.
Start Now at Stores
The period leading up to Black Friday tends to see a series of sales events at stores, with new deals rolling out every week. While some items will only be available at events taking place on the 24th, deals in every category are happening now in-person, so it might pay to start browsing now. As Consumer Reports noted, many retailers have holiday refund and return policies that that include price match adjustments on products bought by early bird shoppers.
Make Your Money Work for You
Shop Online for Deals 
Unless you're an adrenaline junkie, skipping the noise and crowds at brick-and-mortar stores on Black Friday might save you just as much money (and some sanity, besides). Many retailers have changed their targeting strategies since the pandemic and offer specific online deals not available at physical stores. If you're regularly scanning your screen for deals, you'll likely find more deals, be able to comparison shop across a variety of stores and complete purchases from the comfort of your couch.
Use Loyalty Programs
Shoppers want something meaningful and personalized and retailers are increasingly catering to their customers by offering enticing loyalty and rewards programs. If there are particular companies you like, check if they have membership programs that offer early access to the best bargains, even Black Friday bargains. Most retailers have some sort of rewards program, and many are free. Others like Amazon Prime and Walmart+ both come with costs, but it might be worth it for the benefits.
Sign Up for Email and Text Alerts
The Black Friday site has an alert sign-up to stay informed of the best deals and information about events and sales throughout the year at popular stores. And do the same at your favorite shop sites and ones you are thinking of shopping at, before Black Friday. Signing up for store alerts are free and you might be rewarded right off the bat with welcome discounts and early access to sales or exclusive offers. You can also sign up for price alerts as well, which will notify you about deals on specific products you're tracking.
Check Your Socials
All retailers realize that a social media strategy is essential for increasing their in-store and online sales, building relationships and improving their share of a customer's spending. For shoppers, the Facebook, Instagram and X (formerly Twitter) feeds of your favorite retailers are essential to follow to find out about exclusive promotions and discounts. They are the best place to get information on Black Friday deals because they are updated frequently. Further, retailers will often reward customers who like or follow them with special alerts targeting Black Friday discounts and incentives.
Make Your Money Work for You
More From GOBankingRates