11 Accessories That Don't Cost a Lot but Make You Look Rich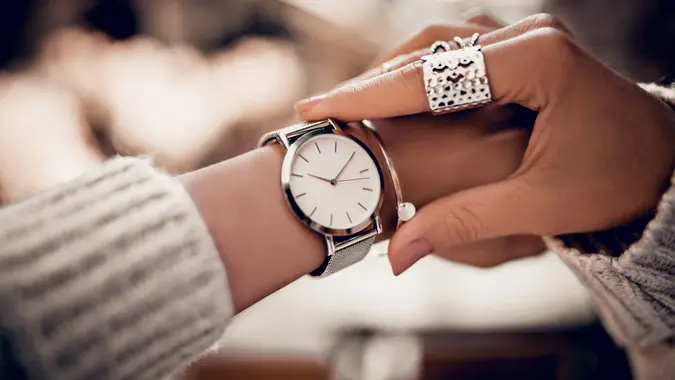 ©Shutterstock.com
You don't need to splurge on designer labels to look like a million bucks. We spoke to stylists Michelle Barrett and Leanne Lee who recommend affordable accessories that instantly impart sophistication.
Read on for their tips to elevate your style through key wardrobe additions.
Silk Scarves Refine Any Outfit  
Both Barrett and Lee advise incorporating neck scarves and ties to polish your look. "A silk neck scarf will finish off an otherwise dull outfit and give it that old-money feel," said Barrett.
Lee, who works as the head fashion stylist at Blue Bungalow, agreed that silk scarves "can add a touch of class to a woman's outfit." She suggests infinity styles and lightweight shawls that can be draped or knotted in various ways. 
When selecting scarves, Barrett recommends classic prints and pre-loved pieces for value. Lee focuses on versatile solid colors or patterns. Worn around the neck, even with casual attire, silk scarves exude refinement.
Sophistication Starts With the Right Jewelry
Minimalist, delicate jewelry conveys elegance according to Lee. "Subtle details can make a grand statement," she said.
Both stylists advise layering slender necklaces and stackable rings in complementary metals. Barrett shared, "Jewelry should be understated. If you look at the inside of your wrist and your veins are blue, choose silver. If they are green, choose gold." 
Rather than bold statement pieces, she suggests stud earrings and simple bracelets. Lee focuses on timeless styles that transition from casual to formal with ease. Quality needn't be costly — affordable metals like steel and plated silver or gold provide sophistication.
Make Your Money Work for You
An Elegant Watch Ties Your Look Together  
A classic watch polishes any outfit. Lee recommends clean, simple designs. She said, "A slim profile and neutral color palette exude elegance."
Barrett says to imagine your watch "as part of your jewelry rather than a singing, dancing piece of tech." Both suggest complementing the metal color to other accessories. 
While luxury brands have hefty price tags, Lee says quality mid-range options offer similar looks. Focus on traditional shapes and materials like leather or mesh bands. An elegant watch provides the perfect sophisticated touch.
Luxe-Looking Sunglasses Frame Your Face
"Nothing says money since time memorial than a pair of sunglasses," said Barrett. Both stylists recommend large, bold yet classic frames.
Barrett focuses on plain black aviators or wayfarers to convey refined style. Lee lists aviators, cat-eyes and oversized rounds as timeless trends. Polarized lenses offer protection without increasing cost.
Sunglasses must properly fit your face shape to avoid looking mismatched. Stick to traditionally luxe styles in neutrals or tortoiseshell and complete your polished look.
Use Belts To Define Your Silhouette  
A belt may seem like an afterthought, but both experts agree it's a versatile way to pull together refined style. "A well-chosen belt can cinch your look, literally and figuratively," said Lee. 
She and Barrett advise slimmer belts with subtle buckles in materials like leather and suede. Neutrals like black and tan complement any outfit from jeans to dress clothes.
Make Your Money Work for You
Wear one to define your waistline and overall silhouette. Lee says quality belts transition seamlessly from casual to formal occasions with ease.
Cozy Up With a Blanket Scarf
With chillier weather approaching, a chic way to keep warm is with a chunky blanket scarf. 
Barrett said a large blanket scarf over knitwear or a long-tailored woollen coat "can work wonders." As far as picking the perfect one, she suggested choosing "one in a lighter or brighter color than the rest of your outfit to make it a statement piece."
The oversized proportions and sumptuous fabrics of a blanket scarf envelop you in luxury. Drape one around the shoulders to take any outfit from casual to sophisticated. 
Chic Leather Tote Bags Are a Look
Time to donate the old canvas tote you got as a free gift with purchase and look for a sophisticated, sleek leather or faux leather tote bag.
"Look for one in black, tan or beige and match it to your belt and shoes for that sophisticated chic look," said Barrett. To avoid it looking inexpensive, she also says to stay away from anything patent or shiny.
A supple leather carryall bag lends refinement, while quality construction conveys value. This handbag hero transitions seamlessly from work to weekends.
Give Flats a Break With Classic Pumps
Flats and sneakers have their place, but sometimes you need a lift. Barrett recommends a pair of classic leather pumps in a neutral color to pull together dressy looks.
Make Your Money Work for You
The modest 2-3 inch heel elongates legs and defines calves. Combined with the pointed toe, pumps streamline the silhouette for elongating polish. 
A luxury touch, but at far less cost, pumps transition tailored separates from standard to standout with ease. 
Add Lightweight Layers With Gossamer Tops  
While you might not consider a layering piece an accessory, they can be mixed and matched to elevate a basic 'fit. Breezy layered tops add dimension while allowing you to comfortably transition between indoor and outdoor settings.
Sheer chiffon blouses with minimal details convey understated chic. Pair them under blazers or cardigans to create the illusion of perfectly coordinated layers. 
Billowy chiffon and georgette tops provide beautiful movement and moneyed look. Neutral earth tones and pastels keep the outfit refined.
Dress It Up With Faux Pearls
Stylists recommend quality faux pearls to impart timeless elegance for a fraction of the cost of real. A strand of creamy pearls enhances any neckline and pairs well with other jewelry.
Combining the luxe look of pearls with other refined accents like silk scarves and classic pumps for an inexpensive but opulent upgrade. 
Carry a Structured Crossbody Bag
An elegant crossbody bag keeps you hands-free for errands while looking polished and practical. Structured materials like leather, acrylic and nylon hold their shape and protection. Neutral colors integrate seamlessly.
With quality hardware and compartments, crossbody bags add function and finesse. Take your look from casual to classy by donning this versatile style.
Make Your Money Work for You
It's All in the Details
Accessories like silk scarves, elegant watches, dainty jewelry, oversized sunglasses, and leather belts instantly upgrade your look. These affordable additions can transform the appearance of any outfit.
By incorporating their styling tips, you can cultivate sophistication on a budget. You don't need designer labels to look like a million bucks.
With luxurious accents tied, layered, draped and framed across your ensemble, you'll emanate refined polish worthy of the pages of Vogue. Ooh la la!
More From GOBankingRates