Amazon Finally Opens Massive $1.5 Billion Air Hub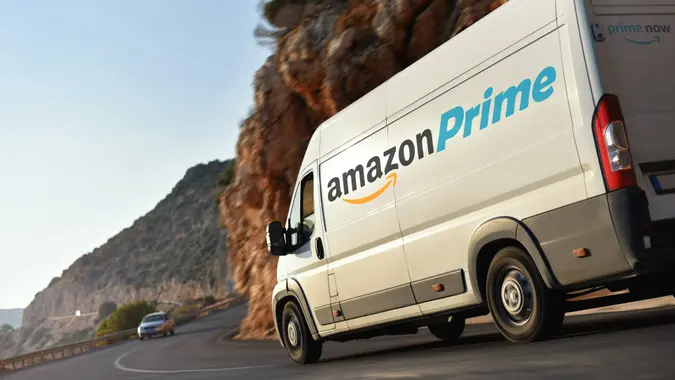 alexfan32 / Shutterstock.com
About two years ago, then CEO Jeff Bezos broke ground on the northern Kentucky/ Ohio Amazon air hub, and on Wednesday the base was officially opened. The air hub in northern Kentucky will help accelerate faster delivery of Amazon and Amazon Prime products.
Amazon Air first launched in 2016, with its routes flown by several different contracted carriers. Planes are a crucial part of the logistics network that ensures the second-and-same day delivery options of Amazon Prime. These delivery windows are one of Amazon's most competitive advantages over other online retailers, and the new air hub will only add to its already sprawling network.
See: Costco, Amazon and 16 Other Companies That Raised Their Minimum Wage to $15 (or More)
Get What You Want: 23 Secret Ways To Save Money on Amazon
Amazon Air currently operates out of more than 40 airports in the United States, but the new hub at the Cincinnati/Northern Kentucky International Airport will serve as the central base of the nationwide cargo network. Amazon Air also expanded internationally, opening a 20,000 soiree meter air hub in Germany last year. 
Make Your Money Work for You
Analysts have been eagerly awaiting the hub's launch because of its potential to significantly speed up deliveries, CNBC reports. This move will help Amazon catch up to carriers like UPS and FedEx, and will have the capacity for 100 Amazon-branded planes and handle an estimated 200 flights per day. Investors have also questioned whether or not Amazon will offer its air cargo services to other companies as a way of bringing in new revenue streams, as CNBC adds.
Read: The 37 Mistakes We Make When Shopping at Costco, Amazon, Target and Walmart
Good To Know: 25 Biggest Companies You've Never Heard Of
Up until this year, Amazon did not own any aircraft outright. Instead, the company chartered out aircraft services through different operators. In January of 2021 though, Amazon purchased 11 used Boeing 767-300 jets from Delta and WestJet, taking advantage of revenue-stricken airlines offering a discount during the pandemic. 
The expanded network comes amidst news of New York  Democratic mayoral candidate Eric Adams' openness to building stronger ties with Amazon to create a presence in the city after a deal for a Queens headquarters was rejected in 2019. City legislators at the time were against the tech giant coming into the city, but now as other cities are starting to benefit from Amazon's presence, future legislators might change their minds.
Make Your Money Work for You
More From GOBankingRates
Last updated: Aug. 13, 2021
Make Your Money Work for You