3 Amazon Prime Day Scams To Watch For in 2023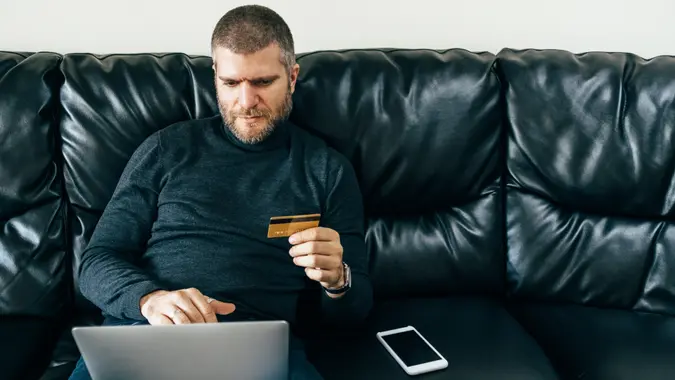 martin-dm / iStock.com
As Prime Day approaches on July 11 and 12, many Amazon shoppers will receive an uptick in shopping emails. With shopping scams on the rise, it can be difficult to determine whether what you're receiving is legitimate or not and easier than ever to fall victim to a fraudster. 
GOBankingRates spoke to Darius Kingsley, head of consumer business practices at Chase Bank, to learn more about how shoppers can protect themselves from scams. This year, watch out for these three Amazon Prime Day scams while you hunt for great deals on Amazon.
Delivery Scams
Many Amazon shoppers will be counting on receiving emails confirming their Prime Day orders and deliveries. Kingsley recommends watching out for phishing scam emails disguised to look as though they are coming from the UPS, FedEx or U.S. Postal Service. 
These emails and text messages include links shoppers are told to click to view their "missed deliveries." These links can lead to phony sign-in pages asking for personal information or to websites infected with malware, Kingsley said.
"Don't reply to an email, phone call or text message which asks you for your personal or financial information," he said, "including asking you to send money or cryptocurrencies to avoid a service interruption or to receive your delivery."
What if you receive a message threatening to close or suspend your Amazon account, asking you to verify your credit card information or inviting you to take a survey where you need to enter personal information? This is also spam and should be immediately deleted.
Make Your Money Work for You
Online Shopping Scams
Do not trust any websites or private sellers offering their own versions of "Prime Day sales" or any unrealistic discounts on popular merchandise. 
"Be sure to make purchases from trusted websites and vendors only," Kingsley recommended. "Scammers can extract personal information if you're not protecting yourself."
Amazon Prime Day sales will be available only on Amazon, and shoppers should make their purchases directly at the official website.
Gift Card Scams
Unless you are using an Amazon-approved gift card, be cautious about buying gift cards from any third-party websites. Kingsley said you'll likely be scammed, as many of these cards have already expired.
Tips To Protect Yourself
Stay safe while shopping on Prime Day by following these four simple rules:
Don't engage with emails, texts or calls from sources you don't know. After all, you would not open the front door to a stranger or answer an unknown call. 
Never give out your personal information. This includes Social Security numbers, account numbers or passwords.
Shop only via trusted sites and vendors. Kingsley recommends using payment methods that protect you from fraud.
Use digital tools. If you're not sure what's currently available to you, Kingsley said there are digital tools in your banking app to help you protect yourself from potential fraud and scams.
More From GOBankingRates