Amazon Subscribe & Save: How It Works and How To Maximize Your Savings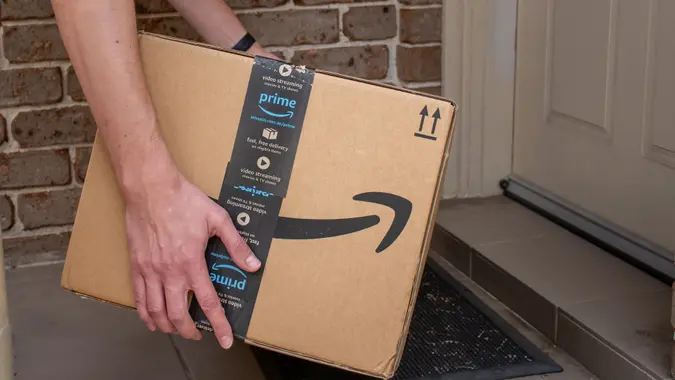 Daria Nipot / iStock.com
The ubiquitous e-commerce retailer Amazon has a program called Subscribe & Save that allows you to have your favorite everyday items delivered to your doorstep on a recurring schedule. Types of goods available through Subscribe & Save include personal care items, pet food, diapers and some groceries.
See: How To Save $200 on Your Grocery Bill Every Month
Amazon's Subscribe & Save is more than just a delivery solution. You can potentially save money on products you purchase regularly. The trick is to manage your subscriptions carefully to maximize your benefits.
How Amazon's Subscribe & Save Works
Amazon Subscribe & Save is available through the Amazon website. There are thousands of products to choose from, including laundry detergent, toilet paper, pet food, coffee pods and bottled water. Many of the products available come in large sizes you'd find at discount wholesalers like Sam's Club or Costco. For instance, you can order a box of 198 diapers, which would be enough to last a newborn for a month or two, or purchase Starbucks K-Cup pods in packs of 96 servings.
To sign up for Amazon Subscribe & Save:
Navigate to the Subscribe & Save page and select the items you use most frequently. 
As you choose the items you need, select the Subscribe & Save option that appears for eligible goods. 
After clicking "Set Up Now," you can set a delivery frequency and enter your address. 
You must use a credit card or Amazon gift card to pay for your items.
Once Amazon approves your purchase, you'll receive the items you subscribed to according to the set schedule, such as once a month or every two weeks.
Amazon allows you to easily manage your subscription. To do so, log in to your Amazon account and select "Subscribe & Save Items" from the menu that appears under "Account & Lists" in the upper right corner. You can skip a delivery, pause the subscription or remove items you don't want anymore. You'll also receive reminder emails before each subscription shipment, which notify you of the things you'll receive and their prices.
Make Your Money Work for You
You don't need an Amazon Prime account to sign up for Subscribe & Save. However, those who don't have Prime may incur shipping and delivery costs on their first order.
You Can Save Money With Amazon Subscribe & Save
There are a few ways that Amazon Subscribe & Save can help you conserve cash. 
First, some items are available in bulk, which is typically cheaper than buying regular size. For instance, at the time of writing, a pack of 198 Pampers diapers in size 1 is $53.14. A smaller package of just 20 Pampers diapers costs $14.99, meaning you'd have to pay nearly three times as much to get the same number of diapers.
Another benefit of Subscribe & Save is the automatic 15% off for shipments of five or more items. The 15% off applies to qualifying Subscribe & Save items. To receive the discount, your order items must go to one address in a single shipment. If you don't have five things, you'll receive only a 5% discount on your order.
Amazon also has a helpful coupon feature for Subscribe & Save, which provides even more savings. To review coupons:
Visit the Subscribe & Save coupon page. 
Make sure you're logged in to your account, and click "Clip Coupon" for every item you might buy.
Amazon automatically saves your coupons and applies them during checkout. 
Beware of Over-Ordering or Mismanaging Your Subscription
There are a few downsides to Amazon's Subscribe & Save, but they're entirely in your power to control. Here are a few things to keep in mind.
Regularly Check Your Supplies
If your order frequency doesn't match your usage, you may end up with more items than you need. For example, say you set up a recurring subscription for laundry detergent every month. If you don't use all the laundry detergent from your previous order, you'll have excess detergent when your next order arrives. You'll need to store the detergent, which will take up valuable space in your home.
Make Your Money Work for You
To avoid over-ordering, check your supplies a week before Amazon sends your subscription. If you don't think you need the items, reschedule the delivery date for further in the future.
Include 5 or More Items
Another problem you may encounter is having too few items to qualify for the 15% discount. Without the 15% discount, you won't maximize your savings, and your price may be similar to what you'd find in your local grocery store. Find a cheap filler item or two and add them to your subscription to overcome that issue. You can always remove them from your future orders so you don't end up with things you don't need. 
Watch for Subscribe & Save Notifications
Pay attention to your account and read the Subscribe & Save notifications that Amazon sends you. If you receive lots of emails, you may overlook the notices and forget to pause or cancel a subscription you don't need. 
Final Take
Amazon Subscribe & Save can save you money, especially on expensive household goods like laundry detergent, toilet paper and diapers. Look for available coupons and order at least five items in each shipment to maximize your savings. Also, pay close attention to your account and pause or cancel future shipments you don't need. With proper management, you'll find Amazon Subscribe & Save a cost-effective service.
Information is accurate as of Aug. 15, 2023.
Editorial Note: This content is not provided by any entity covered in this article. Any opinions, analyses, reviews, ratings or recommendations expressed in this article are those of the author alone and have not been reviewed, approved or otherwise endorsed by any entity named in this article.
Make Your Money Work for You