Are These Target Circle Deals Worth It?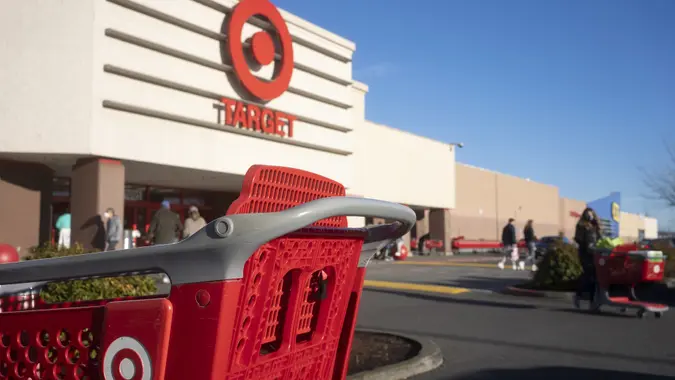 hapabapa / iStock.com
If you're a Target shopper but not a Target Circle member, you could be missing out on some savings. This quick guide explains what Target Circle is, how it works and whether those Target Circle deals are worth it.
What Is Target Circle and How Does It Work?
Target Circle is Target's free loyalty program that enables members to earn rewards on in-store and online Target purchases and receive member-only discounts and deals. The Target Circle program rewards members with the following:
1% cash-back rewards on non-RedCard Target purchases to use for future Target purchases
Discounts and coupons for hundreds of items
Deals on products and services from Target partners
5% discount on a single purchase on your birthday
Rewards are not earned on purchases made with a Target RedCard credit, debit or reloadable card since RedCard cardholders receive a 5% discount on purchases. However, RedCard cardholders can take advantage of Target Circle discounts, coupons and partner deals.
So how does Target Circle work? Once you've signed up for the program, you can use the app or go online to peruse the many available offers and then save any relevant ones to your account. You can have up to 75 offers saved to your account at one time.
Make Your Money Work for You
When you shop in-store or on Target.com, any saved offers that apply to your purchase will automatically be deducted from your total. If you don't use a Target RedCard at checkout, you'll earn a 1% reward on the final purchase amount that you can apply to a future Target purchase.
Costco's Best Deals? Employee Reveals 10 Standout Buys for Your Money
Are These Target Circle Deals Worth It?
Depending on the brands you frequently buy, you may feel coupon clipping isn't worth the time. Is this the case with Target Circle?
Target Circle Grocery Deals
If you do your grocery shopping at Target, you can find many Target Circle offers to help you save. The food category has far more offers than other Target Circle categories. A small sampling of special offers on food products currently include:
40% off Humm Kombucha
$1 off Field Roast Chao Creamy Original Vegan Cheese Shreds
20% off Starbucks Cold Brew Concentrates
20% off KIND Healthy Grains Bars
Deals on Other Target Circle Categories
In addition to food deals, you can find a decent number of discount offers for household supplies and beauty products. However, if groceries, household supplies and beauty products aren't the primary Target sections you shop in, you may not find too many Circle offers that apply to your purchases. 
Make Your Money Work for You
Categories such as home, tech, apparel and pets don't have many offers, but you may occasionally spot a good deal. For example, consider the offer for $20 off on a Philips Sonicare DiamondClean 9300 electric toothbrush. The item was on sale on Target.com for $199.99, a discount of $30 and a Target Circle cash back reward of about $1.80.
If you're looking for a new espresso machine, 20% off a L'OR Barista Coffee and Espresso Machine might appeal to you. It retails for $189.99 on Target.com, so the 20% off Target Circle offer would save you about $38, and you'd earn about $1.52 in rewards. 
Target Partner Deals
Partner deals won't earn you Target Circle rewards, but they can help you try out services for free.
If you want to try Tripadvisor Plus, you can get a free year with Target Circle and save 10% on more than 400,000 worldwide "bookable experiences." According to the offer details, Tripadvisor Plus members save an average of $350 on their first hotel booking. 
Target Circle members can also try a few months of several Apple services for free, including Apple TV +, Apple Fitness+, iCloud+ and Apple Music. For example, Target Circle members can try Apple TV+ free for three months. If you sign up for Apple TV+ on the Apple website, you only get a seven-day free trial, so those three free months will save you about $21. 
Make Your Money Work for You
Is It Worth Getting Target Circle?
If you're a frequent Target shopper, you should consider signing up for the free Target Circle rewards program, especially if you shop at Target for grocery, beauty and household products. If you're using Circle offers for higher-priced items, compare prices at other stores. A Target Circle offer won't always provide you with the best deal. You might also consider getting a Target RedCard for your Target purchases. The RedCard discount will save you 5% on every purchase rather than earning only 1% in Target Circle rewards using other payment methods.
More From GOBankingRates