What Is the Average Amount Spent at Costco Per Visit?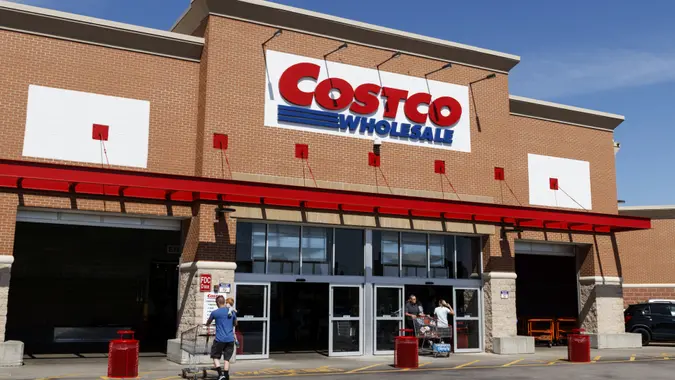 jetcityimage / Getty Images
If you shop at Costco a lot, you definitely leave the store with lighter pockets after every trip. Considering the value you get, this seems normal, but you might wonder how your spending compares to other members.
The average Costco customer spends around $100 per trip, according to data from analytics firm Numerator, prepared for Insider. The average Costco shopper typically visits every two weeks or around 30 times per year.
Getting even more specific, the researchers determined the average U.S. Costco customer is an Asian American woman between 35 and 44 years old. At minimum, she typically has a four-year degree and earns more than $125,000 per year.
Keep reading to learn more about buying in bulk at Costco and the best membership type to maximize your money.
The Value of Shopping at Costco
"The value of shopping at Costco is going to come from making smart purchases," said Julie Ramhold, a consumer analyst with DealNews.com. "It's important to be honest about what you have for storage space, as well as what you can consume before it goes off; otherwise, you'll end up throwing money away."
However, she said that doesn't necessarily mean you should focus on buying small quantities.
"In general, buying in bulk is a much better deal than not, because the unit price is almost always cheaper in bulk than not," she said. "Given that Costco has highly rated store-brand products and often provides the opportunity to try new products you might not find elsewhere — at least in those quantities — it's a valuable resource for most households."
Make Your Money Work for You
Jeanel Alvarado, CEO at Retailboss, said research has shown that higher income families purchase Costco memberships to save money. She agreed that buying in bulk offers incredible savings opportunities.
"Cost effectiveness is one of the most significant benefits of bulk buying," she said. "It has been estimated that up to 40% can be saved on grocery bills when buying in bulk."
Of course, buying in bulk isn't something that's financially realistic for every family.
?
"Higher-income families are particularly adept at taking advantage of this cost-saving benefit of bulk buying," she said. "Because they have greater access to reliable income sources, they can spend more up front on items and realize greater cost savings down the line."
She said buying in bulk can be a great way to save time and money.
"Higher-income families, in particular, are more likely to benefit from bulk purchases," she said. "However, with the right mindset and strategies, anyone can reap the rewards of bulk buying."
Different Membership Types
Costco membership comes in two forms. You can choose to be a Gold Star Member for $60 per year or an Executive Member for $120 annually.
Alvarado recommends the Executive Membership, especially for big families who shop at Costco often. She said one of the best perks of this elevated membership is getting 2% cash back at the end of the year, up to $1,000.
"That means $2 for every $100 of purchase will go back to you," she said. "So if I purchase $550 per month from Costco or $6,600 per year, the cash back is going to pay for the membership fee and then some."
Make Your Money Work for You
Personally, she said she has an Executive Membership. "I received a rewards coupon of $122, which basically is the cost of the annual membership … so it pays for itself and more."
Ramhold agreed that the Executive Membership is the best option. She used the average customer's approximately 30 trips per year to the warehouse club, spending roughly $100 each time — as highlighted by Insider — to prove her point.
"That's about a total of about $3,000 spent at Costco in a year; and, with the 2% annual earnings, that makes the $120 membership cost negligible," she said. "That membership also provides discounts on Costco services, so it has an added benefit beyond just shopping at the retailer for bulk groceries and other items."
Takeaways
While the average person spends $100 per Costco shopping trip, it's OK if that's not your reality. No matter how much you spend or how often you shop there, it's important to remember these are just averages.
Truthfully, all that really matters is how much you spend at Costco and the value you feel you're getting from both the warehouse club store and your membership type. If you're satisfied with your current Costco situation, keep on with exactly what you're doing.
More From GOBankingRates
Make Your Money Work for You