10 Best Cheap Dupes for Luxury and Designer Items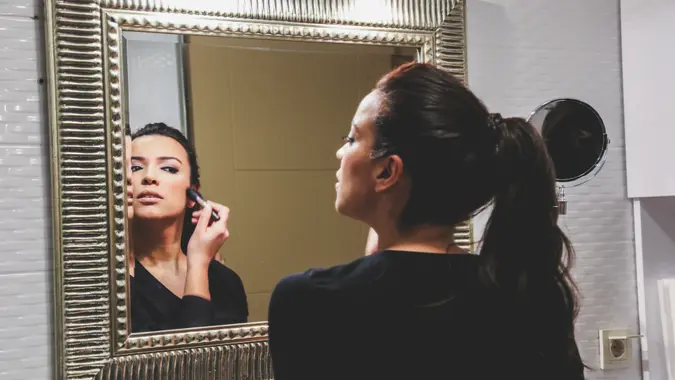 petekarici / Getty Images/iStockphoto
First there is an immediately timeless and downright perfect product. Then, there is the ensuing list of products claiming to be just as good, but for half the price. Welcome to the world of dupes — products that have been found to closely match the effects of a far more expensive product that it was (likely) inspired by.
The word "dupes" — short for duplicates — has a negative connotation. For example, it's hard to imagine someone opting to buy a dupe over "the real thing" if they have the money. But thanks largely to social media, dupes are increasingly being perceived not just as the cheap alternative, but an economically sound way to enjoy fashion and trends in general. Sometimes, dupes end up being better reviewed than the so-called original!
With the help of experts, GOBankingRates determined 10 of the best cheap dupes for luxury and designer items.
Too Faced 'Better Than Sex' Mascara 
The name of this favorite mascara by Too Faced creates quite a lot of hype, and hordes of fans of the product suggest it's worth its $29 price tag. But mascara doesn't last long and $30 is a lot to dish out on a tube of black gel that may smear up your glasses.
Maria Velniceriu, fashion and beauty enthusiast and founder of MissMV, suggests that consumers opt for the perfect dupe instead — L'oreal Paris Voluminous Lash Paradise Mascara.   
Mac Matte Lipstick 
The cult following around Mac matte lipsticks is fierce. They go on smoothly and stay on matte — a strangely hard to find combination in this world. But you don't need to spend $23 on a tube of this stuff to get that lusciously dry look. Take Velniceriu's advice and opt for the NYX matte lipstick instead. It's only $9.
Make Your Money Work for You
Tarte Shape Tape Concealer 
If you've spent much time watching YouTube makeup tutorials by beauty influencers, you need no introduction to Tarte's Shape Tape concealer, which costs upwards of $30. While this is inarguably an amazing makeup product for those who have struggled with chunky or flaky concealer, it may not be the only high-quality option out there.
Velniceriu recommends checking out Wet 'n Wild Photo Focus concealer as a dupe. It costs $4. This is a price-tag that is much easier to live with if you end up needing a different shade. 
Laura Mercier Translucent Loose Setting Powder
Darling, you don't just need concealer if you want to do it up, you also need translucent setting powder. You can get the hotly hyped one from Laura Mercier and spend $43 on something that could get all over the place if you sneeze wrong as a result; or you could follow Velniceriu's advice and check out the Rimmel London Stay Matte powder, which costs less than $4 on Amazon.  
Hermes 'Kelly Bag' Dupe 
One of the most revered and expensive handbag designers in the world is, without question, Hermes. These purses not only tend to have long waitlists, but they also easily retail for tens of thousands of dollars. Some Hermes bags have even gone for hundreds of thousands.
If you've been eyeing the ultra-expensive Kelly bag by Hermes, you may want to check out Carro Positano's dupe. 
"A small leather company based in Italy, this brand has created the Borsa Mini Kelly that is under $100," said Grace Thomas, founder and lead stylist of Built Gracefully. "Constructed of a high quality Italian leather, I love the color range this bag comes in. Plus with this amazing price tag, you don't have to choose just one."
Make Your Money Work for You
Hermes 'Oran Sandal' Dupe 
Another often unattainably high-priced fashion fave from Hermes is the Oran Sandal — which starts at $700.
"Fear not, Steve Madden has designed a perfect dupe for this item this year," Thomas said. "The Hadyn Sandal is perfect for those that find their footwear wears quickly. At under $50, these sandals feature the same iconic design and are available in luxurious colors like cognac brown and black. What's even better about this dupe is that the sole already comes with grip, which the Hermes' do not."  
Chanel 2.55 Handbag 
Even those who aren't familiar with fashion and handbags probably recognize the name Chanel, the trailblazing designer. Among Chanel's many iconic bags is the 2.55 handbag, a rectangular clutch that you apparently have to book an appointment to buy new from Chanel, which is a big hint at just how expensive it is.
Why spend your paycheck and then some when you can, as Mark Stewart, an in-house CPA for Step By Step Business points out, spend $63 on a beautiful dupe by Charles and Keith? 
Celine Box Bag 
"The Marks & Spencer Faux Leather Cross Body Bag is a dupe of the Celine box bag," Stewart asserts. 
The biggest difference between the two is the price-tag. The Marks & Spencer bag costs $61. The Celine bag goes for thousands. 
Vivienne Westwood Choker 
The influence and integrity of Vivienne Westwood must never be understated, but the designer's price tags? Not always so friendly. Consider the Vivienne Westwood Mini Bas Relief Pearl Choker, which costs $240. You can get a perfectly passable dupe on Amazon.
"This set of artificial pearl necklaces from Amazon resembles the Vivienne Westwood Mini Bas Relief Pearl Choker," said Samantha Landau, consumer expert at TopCashback.com. "Amazon offers a two-pack with both the silver and gold charm for $15.99, or you can buy them separately for $9.99 each."
Cartier Love Bracelet 
Cartier's Love Bracelets are timeless and stunning. They're also breathtakingly pricey. Just one can set you back $62,000! Fortunately, there are far, far more affordable dupes on the market. 
"The regular bangle and the cubic zirconia version [bracelets] are very similar to the famous Cartier Love bracelet," said Melissa Fiorentino, a professional stylist and trends forecaster. "These dupes are gold-plated, but customers love how shiny and high-end they look. The best part is that these two dupes each retail for less than $15!"
More From GOBankingRates