7 Best Clothing Deals at Costco This April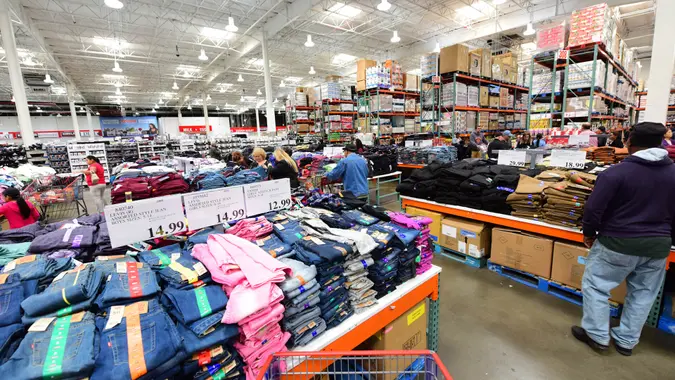 a katz / Shutterstock.com
Want to refresh your wardrobe without breaking the bank? Costco has your back — literally! This beloved wholesale club is known for offering incredible deals on everything from groceries to electronics, and their clothing department is no exception. With a wide range of styles and sizes available, Costco has become a go-to destination for savvy shoppers looking to snag the best clothing deals around.
Whether you're in the market for a light spring sweater, stylish shorts or a pair of Kirkland brand joggers, Costco has got you covered this April. 
Hang Ten Men's Swim Trunk
These swim trunks are a steal at $16.99, especially as we gear up for summer. And the sizing is pretty inclusive, ranging from small to 3XL. Costco has three different color and design options to choose from.
"We don't normally see great prices on swimwear this early in the season, so it's a good idea to grab these before your next trip to the beach," shares Heather Lovett of DealNews.
Make Your Money Work for You
Hurley Ladies' Swimsuit
This one-piece suit is available in three colors and ranges in size from X-Small to 2XL, all for  $21.99. While it's a simple design, it's got your back with UPF 50-plus sun protection, and the removable cups make it easy to get a comfortable fit.
"Again, it's rare to see swimwear at decent prices this far ahead of summer," shares Lovett. "Many retailers are just putting swimwear on their shelves so it's very much full-price, but this is a great price for a swimsuit in general."
Kirkland Signature Swim Short
If you're looking for another swim trunk option, check out Kirkland's Signature Men's Swim Shorts. They come in tons of cool colors and are made from super comfy material. Plus, they've got a stretchy fabric that lets you move around without any hassle. And the best part? They're only $15. So grab a pair (or two) and get ready to hit the pool or beach in style.
32 Degrees Ladies' Skort
These skorts are a must-have for summer. Available in four colors, they feature inner layer shorts and two convenient front pockets. Lovett says they're mega-comfy, and they range in size from X-Small to 3X. They're also just $14.99 each, so you can stock up without breaking the bank.
Make Your Money Work for You
Max & Mia Ladies' French Terry Legging
These leggings are now on sale for $13.99 at Costco — substantially less than the same item sold on Amazon, which retails at $19.87. While it may be the result of the item being out of season, this article of clothing has become a staple of my fall and winter wardrobe, and I cannot recommend it enough. This versatile garment can be worn under a variety of skirts and dresses and is available in both black and gray.
Don't just take my word for it: Gigi Lehman of Living on the Cheap agrees and even purchased a second pair in each color.
Orvis Men's Tech Pant 
These pants are a great spring buy at $14.97. They have more than 1,200 reviews, and almost 1,000 of them are five stars.
"My husband bought several pairs for a trip to Europe in the fall and they were just the right weight," shares Lehman. "They're dressier than jeans and, unlike jeans, are water-resistant. They start at $25.99 on Amazon." Clearly, Costco has the edge on this buy.
Make Your Money Work for You
Kirkland Signature Ladies' Logo Jogger
No list of Costco clothing deals would be complete without these amazing sweatpants. Featuring the Kirkland logo down the side, they are truly one of the sweetest pair of pants on the market. Rep your love for all things Costco this April with these comfortable and stylish pants for only $21.99.
The reviews are outstanding too. Kayla writes, "So soft and comfortable! These sweats are thick, and soft. The elastic on the ankles isn't too tight, so it doesn't cut off your circulation. The drawstring holds tight and the Kirkland logo is the perfect size. Love these. Probably too much."
More From GOBankingRates
Make Your Money Work for You