12 Best Costco Items To Buy for Less Than $20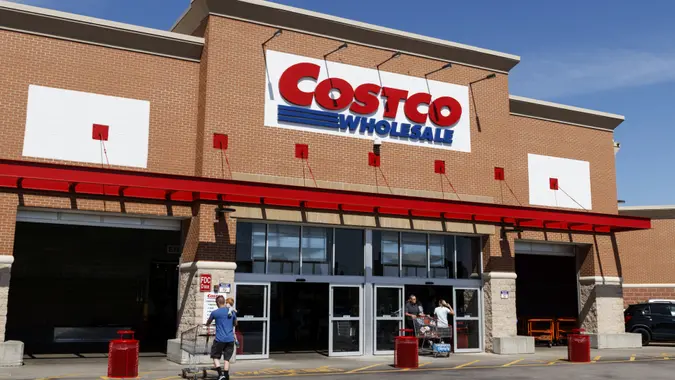 jetcityimage / Getty Images
There's good news if you're on a budget and need to make a Costco shopping run. Costco members will find plenty of essential bulk buys under $20 each, designed to last you for a substantial amount of time.
GOBankingRates reviewed prices on the Costco website and checked in with Costco superfans to see which items are always worth the purchase and tend to be priced under $20. Some might be old favorites while others are new to your grocery shopping list. Here are the 12 best Costco items to buy for less than $20.
Kirkland Signature Organic Pure Maple Syrup
Price: $14.99
The Kirkland Signature organic maple syrup is often cited online as one of the best purchases to make at Costco. 
Each container weighs 33.8 ounces which comes out to a price per ounce of 44 cents. In an interview with CNBC, Julie Ramhold, consumer analyst with DealNews.com, said this is a much better deal than buying maple syrup at competing grocery stores where shoppers are likely to pay a few dollars more.
Kirkland Signature Organic Large Brown Eggs (Two Dozen)
Price: $8.49
Buying eggs at Costco means members avoid the sticker shock of soaring inflation rates impacting egg prices. 
The Kirkland Signature brand sells organic large brown eggs at two dozen for $8.49. This means the price per dozen breaks down to $4.25 per dozen, and roughly 35 cents per egg.
Make Your Money Work for You
Kirkland Signature Butter
Price: $14.99
Costco carries a wide variety of unsalted and salted butter options across various brands. Members who purchase the Kirkland Signature butter receive four sticks per package for $14.99. This means the price per pound is $3.75.
Kirkland Signature 100% Colombian Coffee
Price: $14.79
Whether you're shopping for K-Cups, beans or grounds, Costco has you covered for all your bulk coffee-buying needs. 
At $14.79, the Kirkland Signature Colombian ground coffee has three pounds of coffee grounds inside every container. This means the price per pound equals to about $4.93 — much more affordable compared to buying coffee daily at coffee shops. 
Kirkland Signature Extra Virgin Italian Olive Oil
Price: $18.99
Priced at $18.99, Costco's Kirkland Signature extra virgin Italian olive oil sneaks into the cutoff for our under-$20 list. Each bottle weighs two liters, meaning shoppers pay $9.49 per liter.
Natasha Kravchuk, writer and creator at Natasha's Kitchen, wrote in a blog post that olive oil is one of 20 must-buys at Costco. Kravchuk, who purchases all of her cooking oils at Costco, said these buys are worth it because the cost-effective bottles last awhile. 
Kirkland Signature Extra Fancy Mixed Nuts, Salted
Price: $15.99
Bulk nuts are another item under $20 worth picking up at Costco. 
Meghan Rabuse, founder and writer at Family Finance Mom, wrote in a blog post that Costco's nuts are among the top 10 best things to buy. Rabuse said you receive more bang for your buck compared to shopping at a grocery store where nuts are usually more expensive and come in smaller quantities.
Make Your Money Work for You
Kirkland Signature Microwave Popcorn
Price: $16.99
The second salty snack to make our list is Costco's Kirkland Signature microwave popcorn. 
Priced at $16.99, each box includes 44 popcorn packages. This means each package comes out to roughly 38 cents and more than a few delicious bowls of popcorn to share and enjoy.
Kirkland Signature Ultra Clean Free & Clear HE Liquid Laundry Detergent
Price: $19.99
Most laundry detergent at Costco is priced over $20, but the Kirkland Signature liquid laundry detergent just makes it onto the list.
Each container is equipped with enough detergent for 146 loads of laundry. If you do the math breakdown, this means you're paying roughly 13 cents per laundry load.
Kirkland Signature Non-Drowsy AllerClear Antihistamine
Price: $11.69
There are several over-the-counter medication items, including pain relievers and allergy meds, which are sold at Costco for a fraction of the price you'd pay shopping at a competing drugstore. 
Our recommendation is Kirkland Signature non-drowsy antihistamine. Priced at $11.69, each container is filled with 365 tablets. This means Costco shoppers pay just three cents per tablet. As an added bonus, this item is FSA eligible and may be purchased through your Flexible Spending Account.
LaCroix Sparkling Water, Variety Pack
Price: $13.79
If you love sparkling water, but don't like the expensive price tags at your local grocery stores, head to Costco to stock up on LaCroix sparkling water. 
Priced at $13.79, each package includes 24 cans in a variety of flavors. After doing the math, this equals about 57 cents per can.
Swiss Miss Hot Cocoa Mix
Price: $9.99
The perfect drink to enjoy during the chilly weather months — or anytime you want a cup of hot cocoa, really. 
Swiss Miss hot cocoa mix is $9.99 at Costco. Each box includes 50 drink packets, which breaks down to about 19 cents per cup of hot cocoa.
Rotisserie Chicken
Price: $4.99
The last item on the list may not have a direct link on the Costco website, but it shares the same kind of infamy akin to the $1.50 hot dogs you can pick up at Costco's food court. If you know, you know about this chicken.
At $4.99, Costco's rotisserie chicken is a must-buy for anyone seeking inflation-proof protein with plenty of mealtime versatility. You can find it in the premade meal and deli section of the warehouse club.
More From GOBankingRates