10 Best Dollar Tree Items To Buy Online in Bulk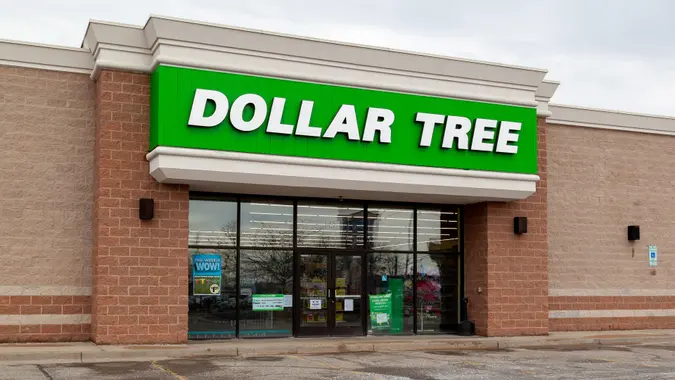 JHVEPhoto / iStock.com
Dollar stores have always been popular, but they're becoming even more so as the price of food skyrockets across the U.S. Among this category of discount destinations, Dollar Tree is one of the biggest names. The company operates over 16,000 stores across the U.S. and Canada. In the fourth quarter of 2022, the company saw consolidated net sales spike 7.6% to $28.32 billion.
In addition to having an ever-growing suite of products sold individually for $1.25 a pop, Dollar Tree also vends tons of items that can be bought in bulk. What are the best Dollar Tree items to buy in bulk and how much do they cost in comparison to what other mega-retailers charge? Let's have a look. 
Paper Towels 
Paper towels are a great pick that you can order in bulk online from Dollar Tree. This case for $30 sports 24 rolls — that's $1.25 a roll. A mere six-pack of Great Value paper towels at Walmart goes for $9.63, which breaks down to about $1.60 per roll.  
Make Your Money Work for You
Colgate Toothpaste
At Walmart, a two-pack of Colgate Total Whitening Toothpaste, Mint, 5.1 Oz Tubes costs $7.32. At Dollar Tree, you can buy a variety of types of Colgate toothpaste, including Colgate CinnaMint Sparkling White Gel Toothpaste, 4 oz. Tubes for $30 for 24 tubes. The toothpaste tubes do tout less product than what you get at Walmart, but even when considering that, you're still saving money by ordering in bulk at Dollar Tree. 
Window Cleaner 
If you're OK with ditching brand names like Windex in favor of The Home Store Glass Cleaner, which Dollar Tree sells in 32-ounce bottles, you can save heaps. A 12-pack of this product goes for just $15 there. A 23-ounce bottle with a 32-ounce refill of Windex costs $7.64 on Amazon. If you're cleaning your home frequently, or perhaps cleaning an entire office, having this much window cleaner on hand will come in handy. 
Rice
Rice is a commonly stocked-up-on item because it's nonperishable and integral to so many meals. A 2-pound (or 24-ounce) bag of long grain rice at Target sells for $1.79. That would be about $24 for 12 packs. At Dollar Tree, you can get the same amount of rice for $1.25, which adds up to just $15 for 12. 
Make Your Money Work for You
Greeting Cards 
It's that time of the year again: Mother's Day or Father's Day or some other occasion that requires a greeting card. Stock up at Dollar Tree for as low as 50 cents per Hallmark card. Other retailers, like Target, sell greeting cards for as much as $6.95 a pop! 
Dental Flossers 
Dentists recommend that you floss at least once a day, and if you like using flossers instead of tape, you're going through 365 a year at minimum. Rather than paying $3 for a pack of 90 flossers at Target, spend $1.25 on a pack of 60, or buy a case of 24 packs for $30  and have flossers at your disposal for well over three years.      
Hangers 
Creating a new wardrobe or adding to your current one? You'll likely need a lot of hangers. A five-pack of plastic hangers sells for $2.25 at Target, while a seven-pack of plastic hangers sells at Dollar Tree for just $1.25. 
Gatorade 
At Dollar Tree, 24-ounce bottles of Gatorade (a variety of flavors) sell for $1.25 each. Shoppers also have the option of buying a case of 24 for $30. At Target, a 20-ounce bottle of Gatorade costs $2.49, which would add up to about $60 if bought in bulk. Less product for double the money.  
Make Your Money Work for You
Pregnancy Tests 
If you're attempting to get pregnant, you know just how many pregnancy tests you can go through in the span of a few months. At Dollar Tree, you can buy a 72-case of pregnancy tests for $90. This is a great deal considering that Amazon sells pregnancy tests for $19 for just 5 tests. That works out to $3.80 per test, whereas you're paying $3.33 per test at Dollar Tree. 
Wedding Supplies 
Having a wedding or another sizable event that calls for a ton of glasses, silverware, plates and tablecloths? Don't get suckered into spending a fortune on Amazon or at another retailer. Buy in bulk from Dollar Tree where each of these items may be priced at $1.25.
More From GOBankingRates