10 Best Groceries To Buy on Food Stamps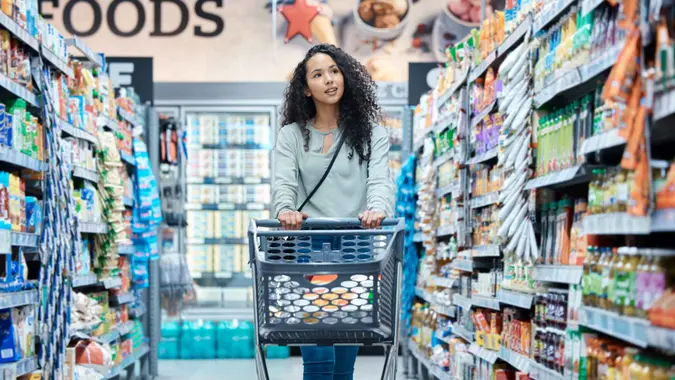 PeopleImages / Getty Images/iStockphoto
In August 2023, GOBankingRates surveyed 1,091 Americans to find out if they have ever been on food stamps. Of the overall respondents surveyed, 25% said they are currently enrolled in or using a food stamp program. The highest age range surveyed which said they are using food stamps, at 30%, are Americans between the ages of 25 to 44. Following closely behind them, at 28%, are Americans ages 18 to 24.
Every penny counts when you're utilizing food stamp benefits, especially when buying groceries. GOBankingRates spoke to several cooking and nutrition experts to determine which groceries are worth stocking up if you're on food stamps. Stock up on these healthy groceries with a long shelf life.
Apples
This fresh produce recommendation comes from Maggie Turansky, founder and head recipe developer at No Frills Kitchen. If you purchase apples and store them in your refrigerator instead of leaving them out in the kitchen, Turansky said they can last for ages.
Pinto Beans
Generally, beans are considered one of the best pantry staples to buy if you're on a budget or on food stamps. They have a long shelf life, are wildly versatile to cook and offer plenty of health benefits as legumes.
Blanca Garcia, nutrition specialist at Healthcanal, recommends buying pinto beans if you're on food stamps. According to Garcia, pinto beans are packed with nutrients including folate, manganese and phosphorus. Those on food stamps can purchase pinto beans and use them to make bean burritos, soup and tostadas. Doing this, Garcia said, helps families better stay on budget and avoid buying fast food.
Make Your Money Work for You
If possible, Garcia also recommends buying canned beans. Dried beans will take longer to cook compared to canned beans which may be used for quick meals.
Quinoa and Other Dry Pasta
Another pantry staple must-have is dry pasta. Pasta noodles can be used for a wide variety of dishes and have a long shelf life.
Aside from commonly known pasta noodles, like spaghetti, Turansky recommends using foods stamps to buy pasta with plenty of whole grains. Think quinoa, farro and freekeh. All of these noodles are high in fiber, which is a great way to get fiber and protein in your diet and shelf stable. Much like beans, they're also pretty versatile and may be incorporated into salads or side dishes.
Broccoli
Broccoli, especially if you buy it frozen, is another piece of produce worth buying if you're on food stamps. It can be used across a wide range of dishes. Some of Turansky's suggested ways to use broccoli include making a raw broccoli salad, cooking roasted florets or beefing up a stir fry.
Fresh Bread
We use bread for a wide variety of uses, from making sandwiches for lunch to whipping up breakfast essentials like French toast. 
Why emphasize buying it fresh? Jenn Nicken, founder and CEO of The Chef & The Dish, said bread is easy to freeze. Freezing fresh bread means you can enjoy it for a little while longer.
Canned Tomatoes
If your food stamp budget doesn't have enough wiggle room in it for fresh tomatoes, opt for canned whole tomatoes. These easily add a boost of acidity and produce to your meals and can be used in soups, marinara sauce and chili.
Make Your Money Work for You
Peanut Butter
Aside from being inexpensive, peanut butter is a good source of protein, helps keep stomachs full and has a pretty long shelf life.
Canned Tuna
Another protein-rich pantry staple worth buying is canned tuna. This has a long shelf life and may be used in everything from sandwiches to casseroles. If you're out shopping with food stamps and don't see any canned tuna available, you can purchase other types of canned fish like salmon.
Basic Herbs
A few herbs Nicken recommends always keeping on hand in your pantry include oregano, rosemary, thyme, bay leaves and garlic powder.
Many of these herbs are also sold at dollar stores like Dollar Tree to help keep within your food stamp budget.
Spinach
Garcia highly recommends purchasing spinach for those on food stamps. Spinach is an excellent source of vitamin A, folate, vitamin C and iron, among even more nutrients. 
"The cool thing about spinach is it's mild in flavor," said Garcia. "It can be added to any dish, fresh or cooked, without significantly affecting the flavor."
If you purchase fresh spinach, remember to freeze it. Garcia said frozen spinach can be added in soups or shakes for a fiber and iron boost.
More From GOBankingRates