10 Best Items To Buy in Bulk at BJ's Wholesale Club This Summer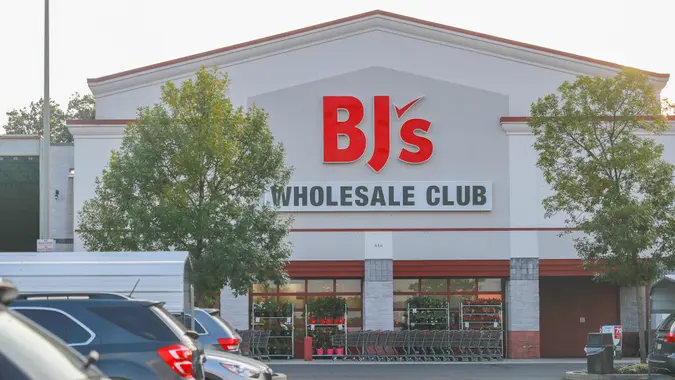 Helen89 / Shutterstock.com
Summer is a time for easy cooking, not having to think too hard about what you're going to buy, make or eat, and creating a feeling of leisure — even if you still have to work. What better way to have enough of your favorites on hand than buying them in bulk from BJ's Wholesale Club?
Here we've identified great deals on the following 10 items at BJ's.
Bulk Turkey Meat, $6.49/lb
Turkey is often a lunchtime staple for many households. Fold it in with some bacon, lettuce and tomatoes for a twist on an iconic sandwich. Slap it together with some provolone and melt for an unforgettable hot sandwich, or just chop it up in a salad for lighter fare.
BJ's sells their fresh turkey breast at $6.49/lb, which is cheaper than many regular grocery store prices.
Johnsonville Mild Italian Sausage, 12-pack, $11.49
Summer weather calls for breaking out the barbecue, or just pretending you're eating barbecue style fare. What grilled meal is complete without a nice set of sausage? You can prepare a meal for your family, and freeze the rest, or bring a sausage platter to a party with Johnsonville's mild Italian sausage party pack of 12 sausages for just $11.49.
Heinz Mustard, Ketchup, Relish pack, 118 oz, $10.99
Whether you're a beef burger, turkey burger, veggie burger or hot dog fan, you'll want to be prepared for any of this delicious fare by having your favorite condiments on hand. You can get a condiment four-pack of Heinz best selling items: two ketchups, a mustard and a relish, totaling 118 oz of delicious taste for just $10.99.
Make Your Money Work for You
Dole Mixed Fruit Cups, 16-pack. $8.99
While summer is definitely the time for fresh fruit, depending on where you live and how picky your eaters, there's no harm in keeping some pre-packaged fruit cups on hand. These make great on-the-go snacks or a sweet treat for kids without all that extra sugar. At BJ's you can purchase a 16-pack of mixed fruit cups for just $8.99.
Kraft Mac n' Cheese, 18-pack, $15.99
For every day you feel like whipping up an incredible meal, there are probably just as many nights when the thought of cooking after a long day's work are too much. And if you have picky eaters for kids or family members, sometimes the best thing you can do is whip up a big pot of Mac n' Cheese. BJ's makes this affordable to do, with an 18-pack of the Kraft favorite for just $15.99.
Wellsley Farms Sirloin and Beef Patties, 12-pack, $19.49
If you're a meat eater, there's probably no better smell than a freshly cooking hamburger, sizzling and spitting juices on the grill or stovetop. And who wants to heat up the house in the summer months by turning on the stovetop when you can slap meat on the grill and call it a day. BJ's offers an especially tasty burger pack of 12 burgers, made from sirloin and beef, at just $19.49.
Cardini's Caesar Dressing, 2-pack, $5.99
Summer is the season for light fare, such as salads. Buying individually prepared salads, or getting them to go from a favorite restaurant can really run a high tab. Instead, with just a few ingredients: fresh lettuce, some shaved parmesan, chicken, croutons and of course delicious dressing, you've got a salad to shout about.
Make Your Money Work for You
Cardini's Caesar dressing two-pack at the super low price of $5.99 makes it easy to whip up as many tasty salads as you can stand to eat.
4C Iced Tea Packets, 44-count, $7.49
If you love a good glass (or several) of iced tea in the warmer months, but you don't like wasting bottles or finding a place to store big cases of drinks, check out 4C powdered iced tea packets sold in bulk at BJ's. Make a big jug for an afternoon event, take it to go on your way to work or the gym, and never have to worry about wasting plastic or glass either. You can get a 44 packet variety for just $7.49.
Berkley Jensen 18-piece Food Storage Set, $14.98
When you start making all this delicious summer food, you might find yourself needing to save some leftovers for later. BJ's can help here too, with an excellent deal on a BPA-free food storage set that will cover all your leftover needs.
Memory Foam Pillow Set, 2-count, $29.99
Summer is a time for sleeping in, and catching up on rest you've missed. If you're waking up in the morning with headaches, stiffness, or general discomfort, you might need a new pillow. BJ's has you covered here, too –with a two-pack on standard size memory foam pillows for just $29.99. You could replace all the pillows in your bed without breaking the bank.
Make Your Money Work for You
More From GOBankingRates