7 Biggest Reasons Why You Should Avoid Shopping at the Dollar Store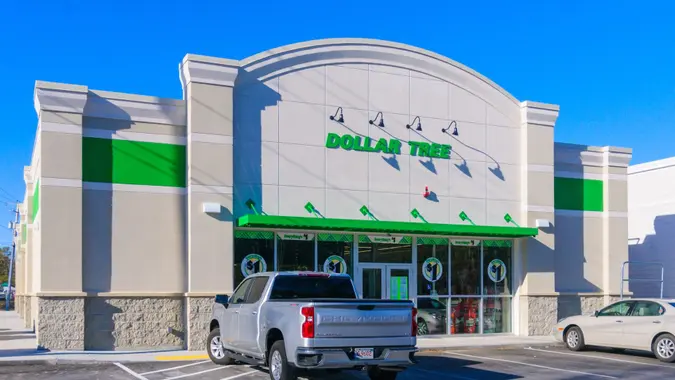 KenWiedemann / Getty Images
Are you a fan of dollar stores? While they may seem like (and often are) a bargain-hunter's paradise, it turns out that shopping at the dollar store may not always be the best choice for your wallet or your health. In fact, there are some big reasons why you should think twice before heading to your local dollar store for your shopping needs.
From questionable product quality to limited inventory options, here's why you may want to skip your next trip to the dollar store.
Limited Selection
One reason to avoid shopping at dollar stores is their limited selection. These stores are not designed to offer a wide range of products, which can greatly restrict your purchasing options.
According to consumer analyst Julie Ramhold from DealNews.com, Dollar Tree may only have a few choices when it comes to mac and cheese, such as two sizes of Cheetos macaroni and cheese and the standard blue box Kraft. In contrast, if you shop at larger stores like Target, you can expect to find over 100 different mac and cheese items, and at grocery stores like Kroger, there could be even more options, with up to 317 results appearing in a search.
Make Your Money Work for You
Moreover, Brian Meiggs from My Millennial Guide notes that dollar stores may offer limited clothing sizes or styles, which can make it challenging for shoppers to find what they're looking for. Additionally, certain dollar stores may not stock particular products, including specialty foods or niche items, thereby limiting the range of options available to shoppers.
Take Our Poll: What Are You Worth to Your Company?
You Won't Be Supporting Local Stores
Financial consultant Peter Hoopis from Peter Hoopis Ventures suggests that while shopping at the dollar store might bring deals, it also stops people from supporting local businesses or small-scale producers. As many of the products sold at the dollar store are manufactured overseas and sold at an extremely low margin, it can be challenging for smaller businesses to compete and generate a sustainable income.
You May Have To Buy in Bulk
Although this may not apply to all dollar stores and online shopping scenarios, it's still worth noting that shopping in bulk is not always the best choice. Ramhold explains, for instance, that if you can't locate Kraft macaroni and cheese at Dollar Tree in-person, you can purchase it online and have it delivered to your preferred location. However, there's a minimum order requirement of 35 boxes, which at $1.25 per box, amounts to $43.75 before tax. Given that the same product can be found at other retailers like Kroger for the same price of $1.25, it's more advantageous to purchase such items elsewhere.
Make Your Money Work for You
Unit Prices Are More Expensive on Some Items 
Purchasing specific items like painkillers at dollar stores may not be cost-effective, as you may end up paying more than necessary.
Ramhold mentions that a 24-count bottle of extra strength Tylenol costs around $5.15 at Dollar General, while the same product can be purchased for $4.99 at Target and $4.79 at Kroger. If you prefer to purchase name-brand items, it's advisable to shop at other stores rather than dollar stores to get better value for your money.
Long-Term Cost
Although dollar store products may appear to be a great deal initially, they may not provide the best long-term value.
According to Meiggs, a low-quality product purchased from a dollar store may need to be replaced more frequently than a higher-quality item from a different retailer, resulting in increased costs over time. Furthermore, if you have to purchase multiple items from the dollar store to match the quality of a single item from another retailer, your overall spending may be higher.
Make Your Money Work for You
Inventory May Be Smaller
Stocking up on necessary items may not be feasible at dollar stores, simply because they often don't have a lot of product. For instance, when it comes to baby products like food, the options available may be severely limited.
Ramhold explains that Dollar General only has between one and six baby food items in stock, which means that if you need to buy more, you'll likely have to make additional trips frequently. While it may be useful in emergency situations, some items may be priced higher at dollar stores, such as stage two baby food costing $2.10 as compared to $1.99 elsewhere, making it an impractical long-term strategy if alternatives are available.
More From GOBankingRates
Make Your Money Work for You